the city to check out a huge sauna/indoor waterpark called THERME. Opened just two years ago, it is located about a 35 minutes' ride outside of the city with free shuttle rides offering pick ups and drop offs at main bus stops throughout the city. Size wise, King Spa and Spa Castle has nothing on this place. Seven saunas (including one that is movie theater style) are located on the second floor. On the first floor in one section you will find various pools surrounded by palm trees (imported from Thailand) that are planted everywhere creating a tropical ambiance, and in another section family friendly pools as well as fun water slides. This place is indoor water park on steroids! However, as a seasoned Asian sauna patron (and the only Asian customer here), the water in the pool and the temperature in the steam/saunas are just so lukewarm, leaving me dissatisfied.
Overall this was a good long weekend getaway because I have the company of these two ladies. They are great to travel with. As someone who appreciates good food, I don't think I will be coming back to Bucharest (or Romania) anytime soon.
Colombia is always a place I have wanted to visit. Sofia Vergara of "Modern Family", a Colombian import, got me intrigued with her accent. Then my interest was greatly enhanced after watching the first two seasons of Netflix's original series "Narcos", depicting the mostly devastating impact that the late drug lord Pablo Escobar had brought to the country. I am sure this city has more to offer than a polarizing drug lord and a sexy vixen with an annoying laugh. So during the week of Thanksgiving this year, I decided to give myself thanks by visiting Medellin and Bogota, the two largest cities in Colombia.
I started off my trip in Medellin after a semi eventful flight (Avianca is an airline operating flights that are constantly delayed and announcements that are only made in Spanish). By the way, Colombians are really friendly but they don't speak much English, so it's wise to drag someone who is fluent in Spanish. I was lucky enough to have my married couple friends Elaine and Lian traveling with me. Lian is from Madrid and is quite revered in this part of the world.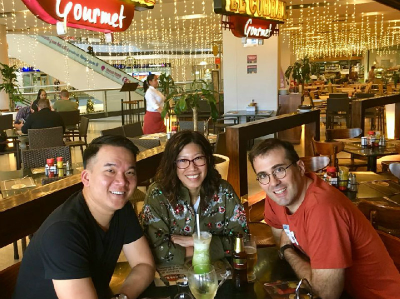 A city located in a valley that is surrounded by mountains, Medellin (or Me-De-Gin as the locals known as Paisa pronounce it) has a population of over 2 million and enjoys a temperate weather (60s/70s) year round, hence it is nicknamed "The City of Eternal Spring". When we were there, it would rain a bit and the sun would come out but the climate always remained in the low 70s. It was indeed enjoyable to tour around in such climate.
The old part of Medellin is rather underwhelming. Aside from Museum of Antioquia which houses a great collection of Medellin's native, Fernardo Botero's paintings (and the park outside which has a number of his sculptures), the old town is just filled with dilapidated buildings and dirty streets. When we visited, the park was also filled with locals trying to sell us stuff. The neighborhood that we like is El Poblado which is where our hotel (Four Points Sheraton) was located and has a great array of upscale malls, restaurants and commercial buildings. It's said to be the most affluent neighborhood in the city (ok now I sound a bit snooty).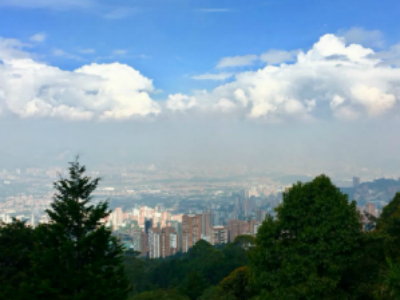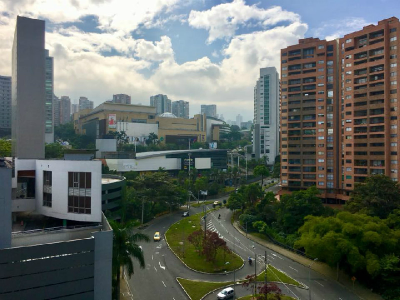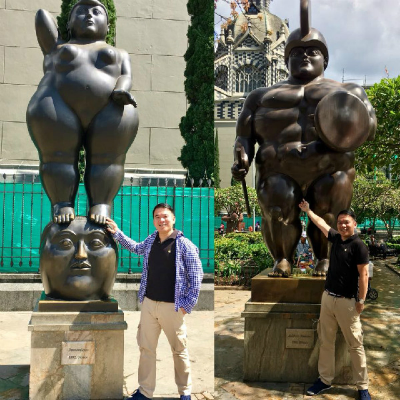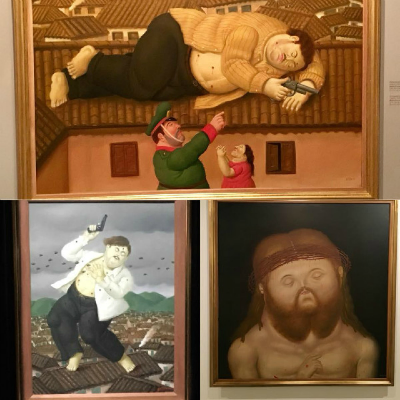 A trip to Medellin is not complete without a tour to understand the history of Medellin's native Pablo Escobar. The late Pablo Escobar is no doubt a polarizing figure in Medellin. While an older Paisa (what people in Medellin are generally called) from a disenfranchised and marginalized group might still revere him for the Robin Hood he was during his heydays of running his drug cartel, a younger or educated Colombian would detest him to the core and would want desperately to rid Colombia of any negative image associated with him, such as the woman who confronted our tour guide during our tour asking her why she would show us the history of this vile man when there were so many beautiful things Medellin had to offer visitors to see. Ironically, Pablo's grave (alongside his mom's and other family members') offers a phenomenal view of the city he once tried to destroy by planting multiple bombings throughout the city, killing those who tried to take him down. Where he was finally taken down is now a Spanish language school. Fortunately, the Colombian government has managed to improve the quality of life in shantytowns like the 13th community (Comuna 13) that was once Pablo's recruiting ground by building facilities like vocational schools and outdoor escalators to improve the residents' skills and mobility. If you ask me, Pablo really screwed the country.
A visit to Medellin would also not be complete without taking its cable car (part of the city's well developed public transportation) up to Santo Domingo, overlooking the city and colorful rooftops in the different shantytowns. These areas were where Pablo used to do his recruiting.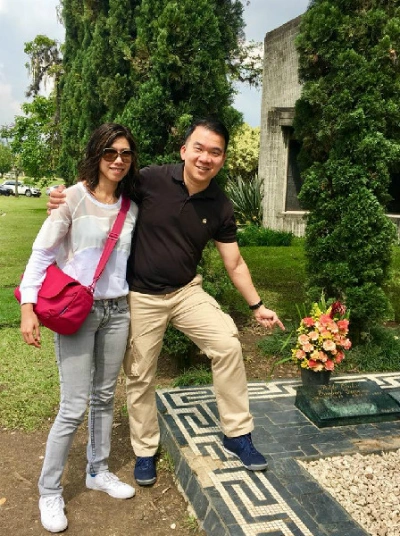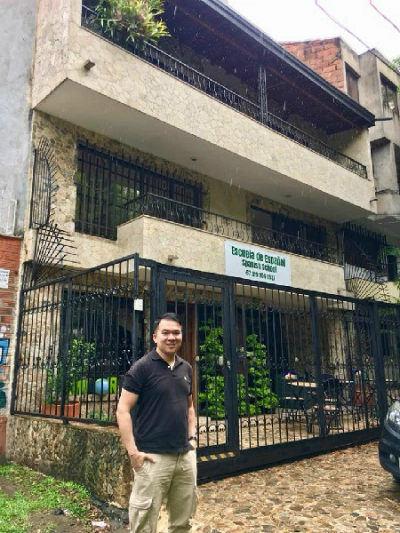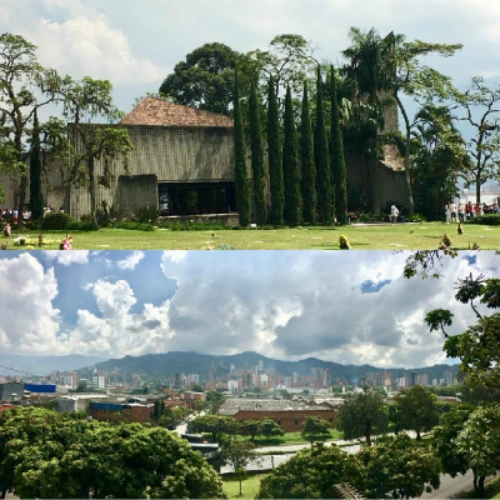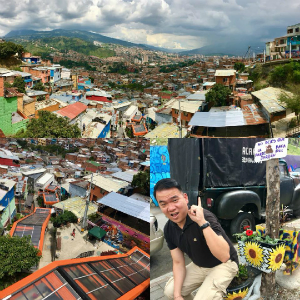 While in Medelin, we explored one the favorite getaway spots for the locals there, El Penon de Guatape or the Guatape Rock. The two-hour bumpy ride and the 740 steps' climb up to the top of the rock were so worth it when we were greeted by the panoramic view of the Guatape dam after we reached the top. The colorful buildings in the town nearby did not pale in comparison to the view of the dam either.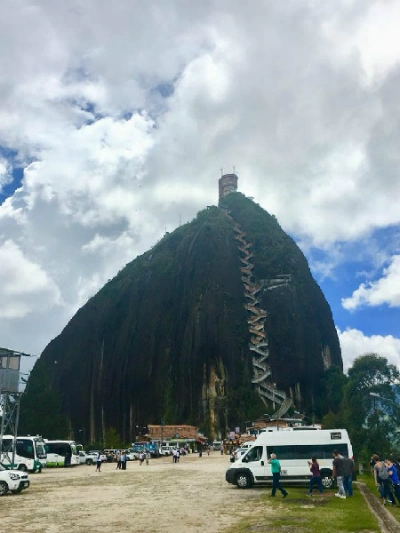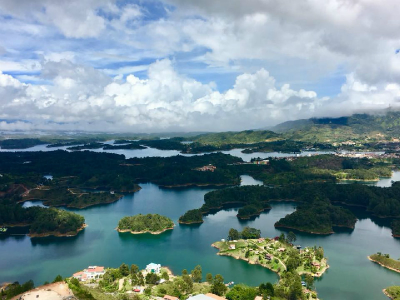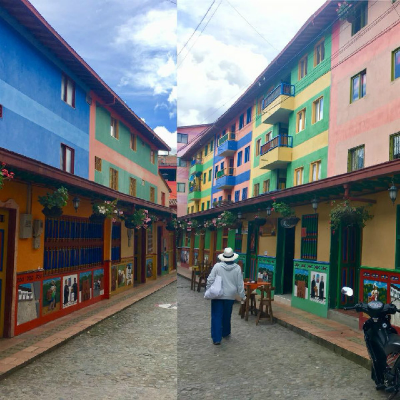 A few days at the picturesque Medellin were followed by another few days at the nation's capital, Bogota. A city with roughly four times the population size of Medellin (8+ million), Bogota definitely offers better hotel choices like the W Bogota (where we stayed). It's located in a neighborhood populated with embassies, malls and good restaurants.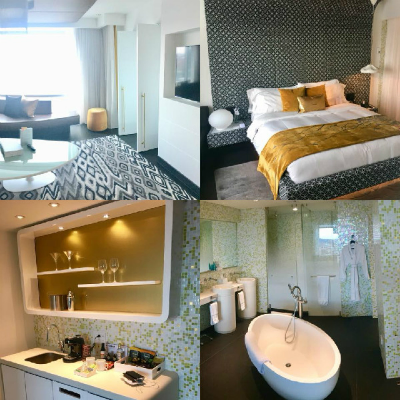 Bogota shows polarizing dynamics typical of a city that is fast growing in population in a developing country. Traffic is horrendous and the income gap continues to widen, as chic hotels like W Bogota continue to pop up everywhere accompanied by a string of restaurants serving modern and sustainable cuisine in affluent neighborhoods and business districts. The oldest neighborhood, La Candelaria (this is where Spanish founded the city some 600 years ago), houses several landmarks like the Botero Museum (more Botero's original works can be found here) and Bolivar Plaza, the main square witnessing daily activities which range from angry protests by guerrilla forces like FARC accusing the government of killing many of its members, to peaceful Taiwanese sending warm embraces through their meaningful calligraphy work. It's best to start your tour by visiting the top of Monserrate which overlooks the entire city of Bogota.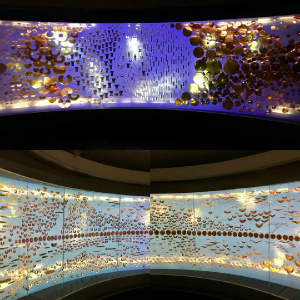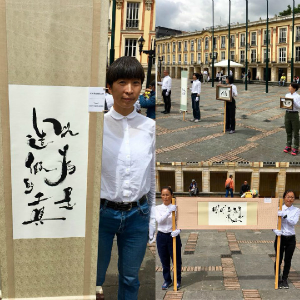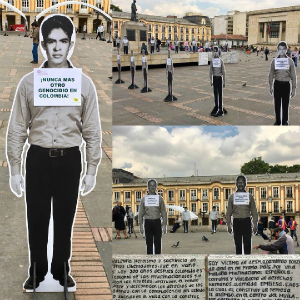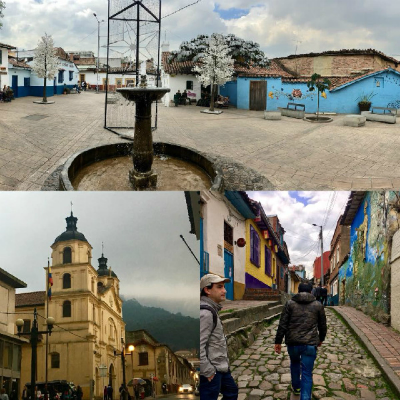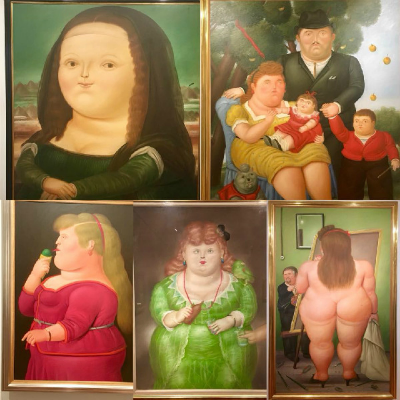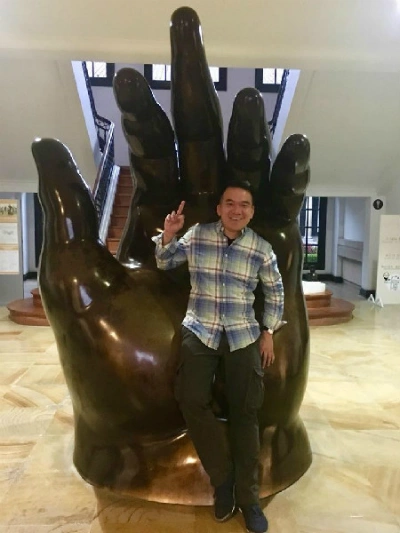 Colombia is the 3rd largest coffee producer after Brazil and Vietnam so it is a must to pay a visit to a coffee plantation here. Hacienda Coloma in Fusa (about an hour drive from Bogota) provided a great and fun learning experience. the best part was, there were four visitors from the States on this tour and three of us have our birthdays in the following week, all a day apart of each other's. Saggitarians reunited at a coffee plantation down south.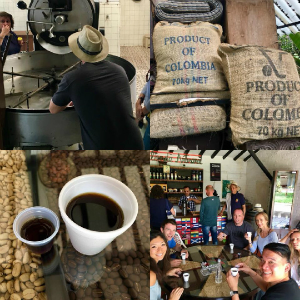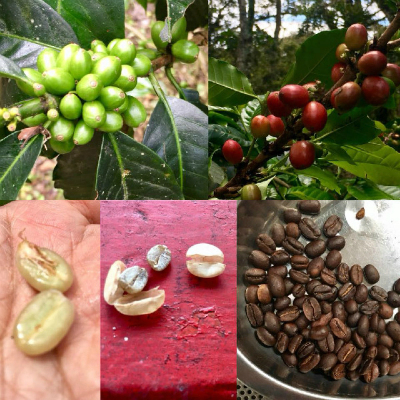 Coffee aside, Colombian food is not something one would rave about after his or her visit. The staples would include chincharrons (fried pork belly), fried plantains and some rice that is over cooked. Even our visit to Restaurante La Provincia (Cra. 42 #3 Sur 81, Medellín), supposedly the #1 restaurant in Medellin, was a mildly disappointing experience. Fortunately, restaurants in Bogota are better especially 80 Sillas (Cl. 118 #6A-05, Bogotá) which drew us with its no-fuss fresh seafood dishes and inviting décor, and the mother/daughter team of Leo Cocina Y Cava (Calle 27B #6-75, Pasaje Mompox, Centro Internacional, Bogotá) delivered an impressive dining experience with its ingredients sourcing to the Amazon forest as well as Colombia. Also, Bogota offers a chain with multiple locations called Wok (Cra. 6a #117-02, Bogotá) which offers decent Asian dishes if you crave for a plate of sautéed bok choy. Vegetables are not a common item in Colombian's diet (fried food is). Overall, Colombia still has a lot of catching up to do when it comes to Cuisine compared to its South American neighbor Peru. The only exception being Leo Cocina y Cava.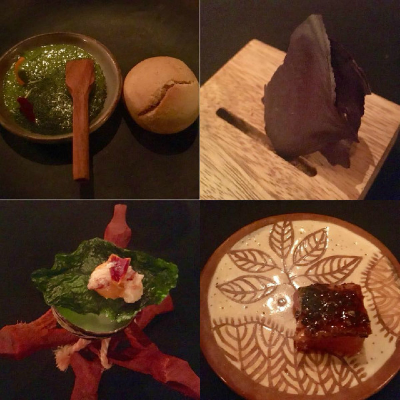 What makes Colombia an enjoyable destination is the low cost of traveling and its very friendly people. Hotels at 3-4 star establishments go at USD90-USD200 a night. Restaurant meals are highly affordable. Entrance to museums, including the Botero Museum in Bogota, costs no more than $3 (Botero Museum is free). There is Uber in big cities like Medellin and Bogota (although they are still a company operating business illegally and are much hated by the cabbies, but they sure are a safe and reliable alternative for those travelers who are cautious of flagging down cabs on the street). Traffic, however, can be a nightmare, especially in Bogota. Going 7 miles during rush hours can take up to 90 minutes so it definitely requires patience when visiting this country. Colombia has a bad reputation for being unsafe, but we felt completely safe when we were there. We even ran into one cab driver that is really honest.
I'd recommend a trip to Colombia.
Trip Report:
La Dolce Vita in Tuscany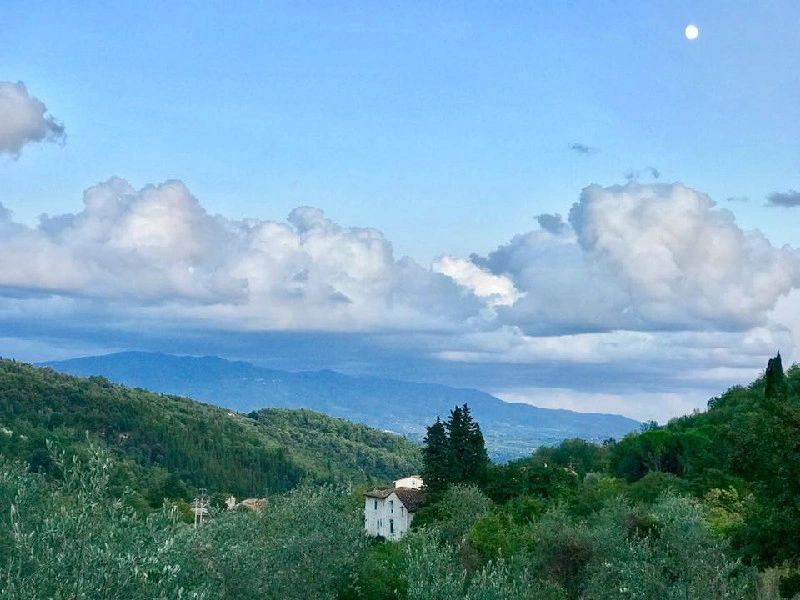 I love Tuscany. In fact, I have been there six times and counting, with the last time being this past labor day week. It's always a good idea to visit Europe during the first week of September. The weather is still warm then but prices have come down as crowds have thinned out considerably since many locals and tourists have returned to work and school that week after a month long vacation.

Similar to the last few visits, I had rented a villa in a town not too far from Florence (20-30 mins drive). This time it was the beautiful Villa Dei Giardini situated near the little town called "Compiobbi". The beautiful 4-bedroom villa was worth the nervewrecking 4-km drive that we had to take on a narrow and windy road to and from the villa (going uphill in one direction and down in the other). The width of the road accommodates one car but the road is used by cars going the opposite direction. I honked my horn at every turn eliciting laughter and annoyed feeling from some of my travel buddies. But hey, it was better be safe than sorry.



Beautiful Villa Dei Giardini taken on the first day of our arrival

Food and food related activities were definitely the highlight of this trip (other than shopping at the famous Prada outlet that is). First of all, the Prada outlet in Montervarchi continued to deliver with many reasonably priced and heavily discounted designer shoes, bags and swag. As usual, I went there twice during my visit. I also went to The Mall outlet located in Leccio not far from Forence. The Mall offers many designer brands including a smaller Prada shop (compared to the one in Montervarchi).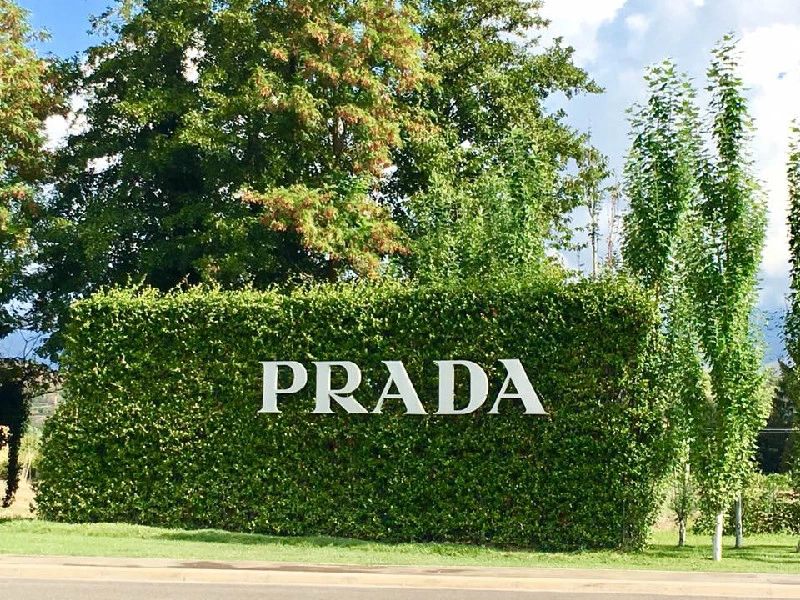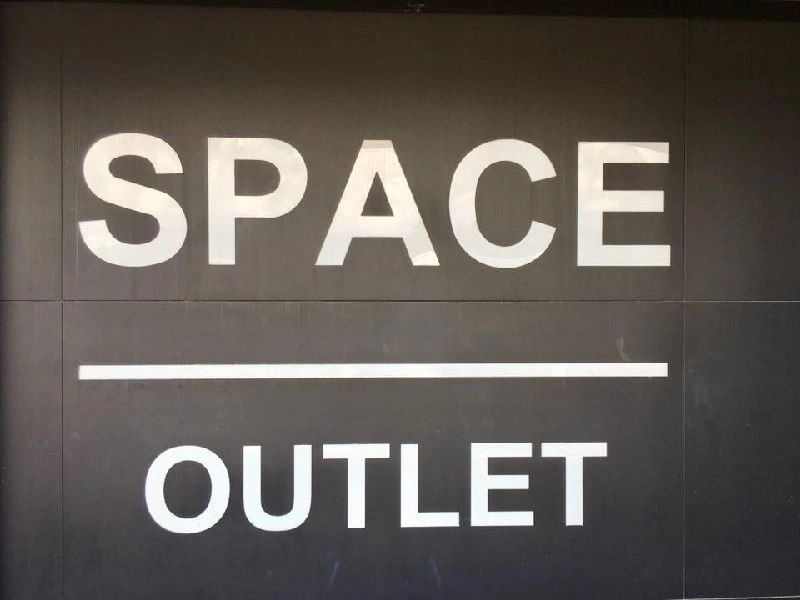 Prada outlet in Montervarchi

Before I get into the list of restaurants we went to (and food we made at home), I'd like to talk a bit about the unforgettable truffle hunting tour we did. Conducted by Sarvini Tartufi, a family run truffle company located in Farcoli near Pisa, the two-hour hunting experience was simply fun and educational, thanks to a knowledgeable hunter and his adorable dog as well as the lovely weather. Our experience was further enhanced by a delicious four-course truffle meal. Even our dessert (ice cream bonbons) was made with truffle from the farm, ending our meal and hunting experience on a high note. Would highly recommend this tour to any truffle lovers, both the fungus kind and the chocolate kind.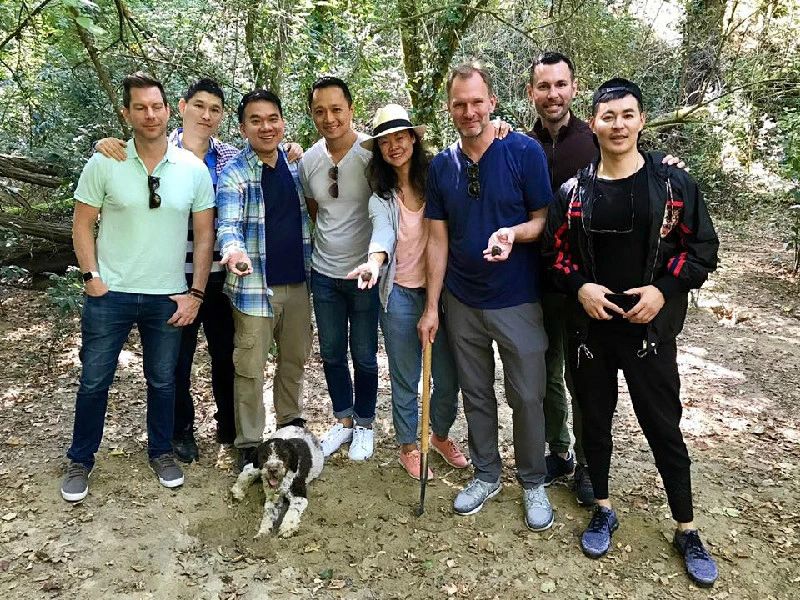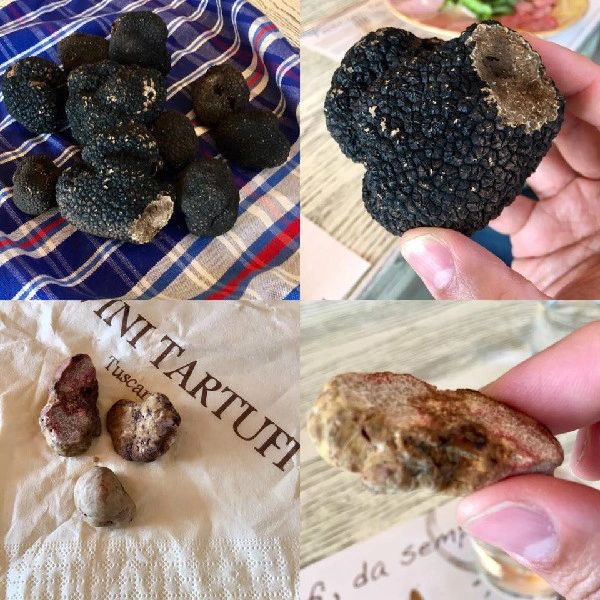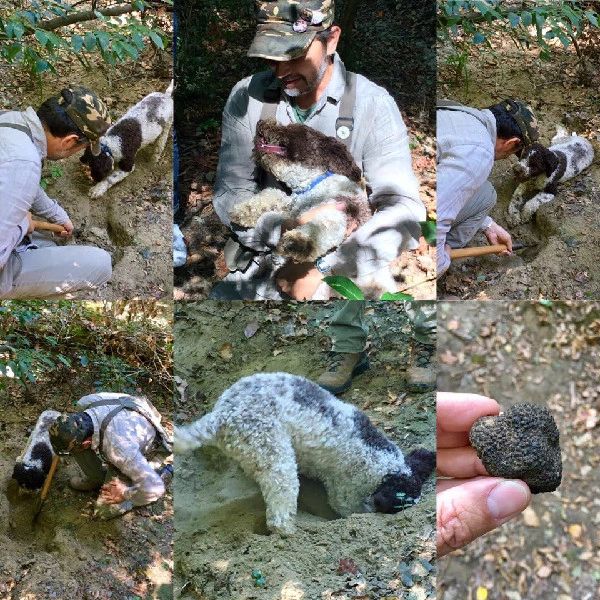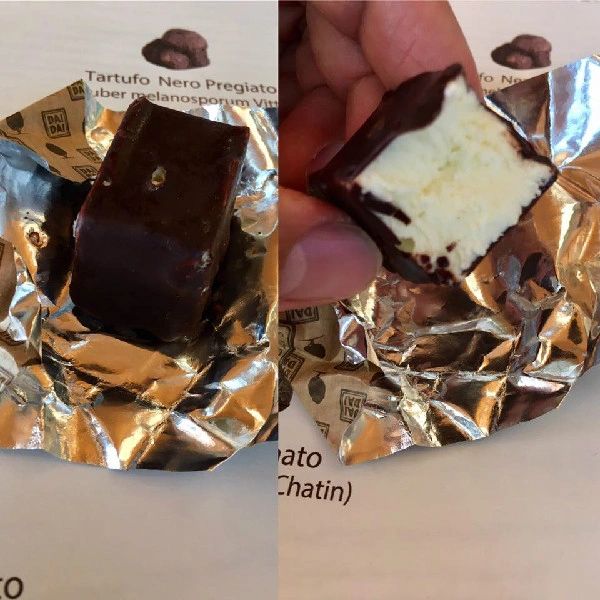 Amazing truffle hunting experience

While we did a good amount of cooking and eating at home (much thanks to our dear friend Nils who happens to be a trained professional chef), we did go to several restaurants that serve amazing first pasta courses and second meat courses. "L'Anitco Forno" serves up some fantastic pasta and some unforgettable fried treats including fried brains. Yes, brains. It was tasty and did not taste slimy at all.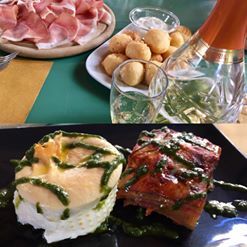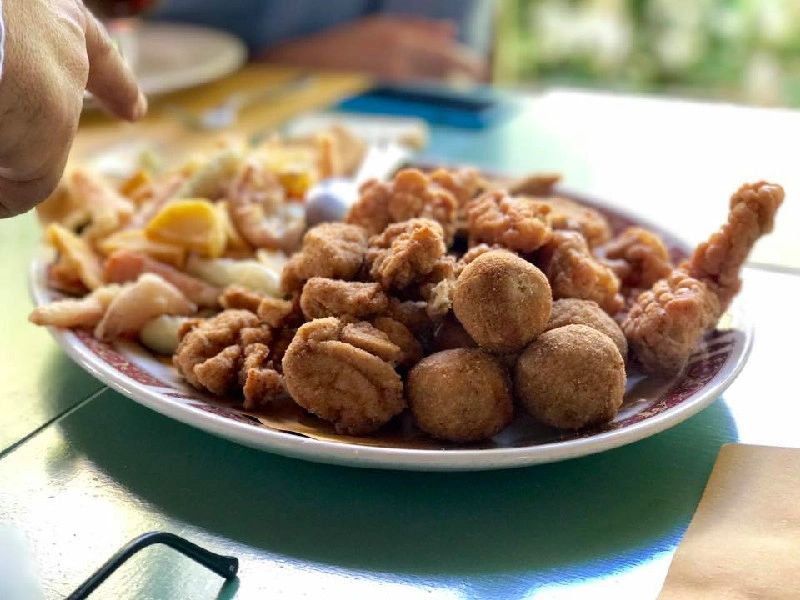 Michelin recommended "Zeb Gastronomia" is always fantastic, and the pastas are so worth the attitude given by chef Alberto who can come across like a primadonna especially in the beginning of the meal. He warms up like a cat. Upon entrance he asks why you are there (even though you have made a reservation). But after the first course he will crack a smile at you and as you leave he will shake your hands and give you flying kisses. Perhaps his initial surly demeanor is why the restaurant lacks the coveted Michelin star.



The truffle pasta dish is a must get for truffle fans.

While the meals we had at restaurants were memorable, nothing was more memorable than the scrumptious meals we had at our beautiful villa surounded by great company. The meals were all prepared by our dear friend Nils. I guess it's great to travel with a master chef. The endless flow of vino rosso and vino bianco helped too.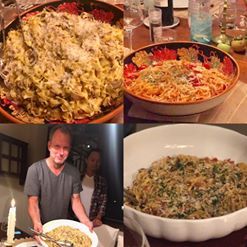 Looking forward to my seventh visit, Tuscany. Till then, arrivederci!






Trip Report: July 4th Long Weekend on Vieques Island


Vieques island getaway over July 4th weekend sounded like a great idea as this was part of the US territory (hence my patriotism could still be observed for this national holiday) but a little far away from the political craziness of DC (mainly caused by the orange "Twitter" enabled by the heartless and spineless GOP).
We checked in at W Retreat and Spa. Formerly Wyndham, this was the only property on the island that was part a global five-star chain property on the island. Frankly, the food quality and taste offered by the only restaurant onsite do not live up to the W standard . The service has much room for improvement too. The staff do try their best to please but the lack of efficiency and attentiveness, tracing to the local laid back culture, can be quite frustrating especially for those who are used to great service efficiency. The properties are nice with a beach for adults and one for families. The ocean-facing one bedroom suite that they provided us made for a very comfortable stay however.

Beautiful property, but service and food left a lot ot be desired
Skinny horses and their droppings are everywhere to be seen on the island. Contrary to popular beliefs, these horses are not wild. They are bred and domesticated. Their owners let them roam around the island because grass is aplenty there so that they don't need to feed them (an obvious economic choice). You can see emaciated horses everywhere on the island. The only place where you will see people outnumbering them is Esperanza, the biggest town on the island. When we were there, there was a festival going on celebrating the town existence. After asking a few locals about the reason for celebrating, none could give us a clear answer so we decided that there was no unique celebratory reason for it other than being able to dance on the street with drinks in hand and music blasting from the truck - holding up traffic for at least half a mile long and partying only a Boricua would know how to do. Blasting music on a serene beach from a surround sound speaker with wheels is also something the locals like to do (as confirmed by my visit to the beautiful La Chiva aka blue beach).
Speaking of beaches, the two most spectacular beaches one should hit on Vieques are Caracas aka the red beach and La Chiva aka the blue beach. The latter is much harder to get to (unpaved rocky roads and all) hence it is quieter and the shallow and calm water that stretches for a quarter mile off the beach makes it a perfect beach for families with kids and alcoholics who prefer to hold their drinks in their hands while immersing in the turquoise blue water (with music blasting from the speaker on wheels in the background). Caracas beach is easier to get to with facilities like public bathrooms hence it is more crowded especially on the weekends.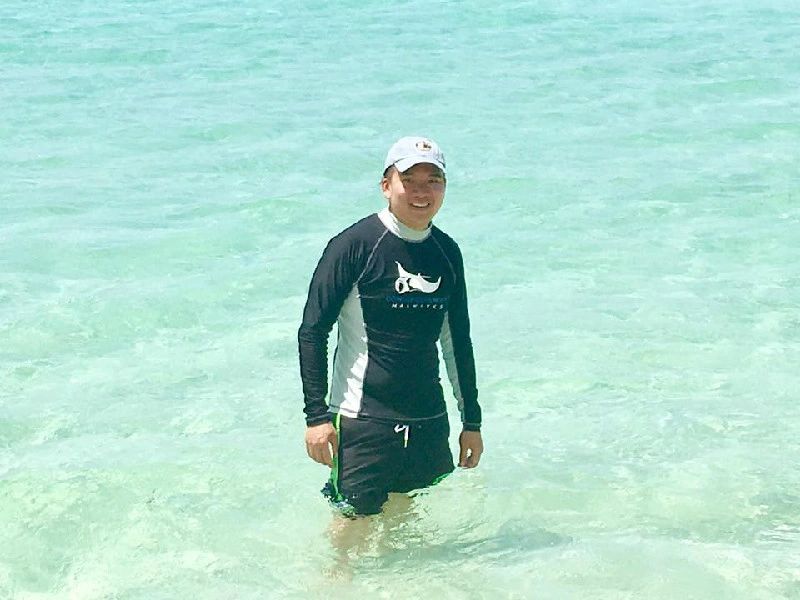 Amazing La Chiva beach

Bioluminescent bay is an activity not to be missed when visiting Vieques especially if you happen to visit on or near a new moon night. Since we want to look at water that lights up when touched (thanks to the glowing planktons), you need a darker sky and preferably a clear bottom kayak to enjoy your bio bay experience (kayaking is the only way to see it). Unfortunately we went on a half moon night and there was not a cloud in the sky so our experience was somewhat hindered by a bright sky. They are supposed to have one of the world's best bioluminescent phenomenon here. The bay where the planktons are is also called Mosquitoes bay so dressed appropriately if you don't want to donate blood to the wild.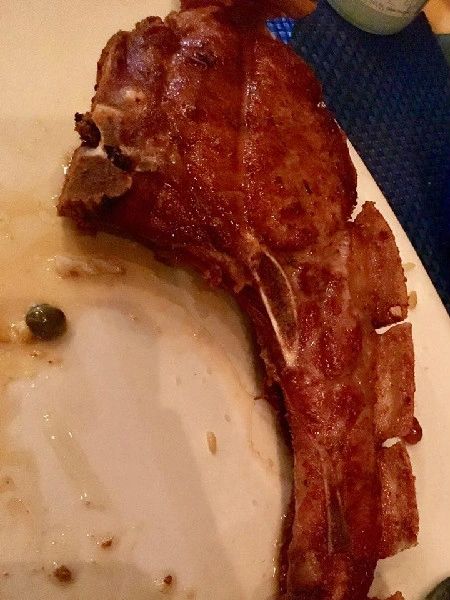 The mouthwatering fried pork chop dish served at Bili

For those who stay at the W and do not want to subject themselves to the torture of the substandard food served onsite, be glad to know that there are a few good restaurants on the island that are worth hauling a taxi for. Bili in Esperanza and Next Course close to the W are choices you won't regret. The fried pork chop with cracklings attached to its side is quite the feast at Bili. We were more impressed with the appetizers than the entrees at Next Course.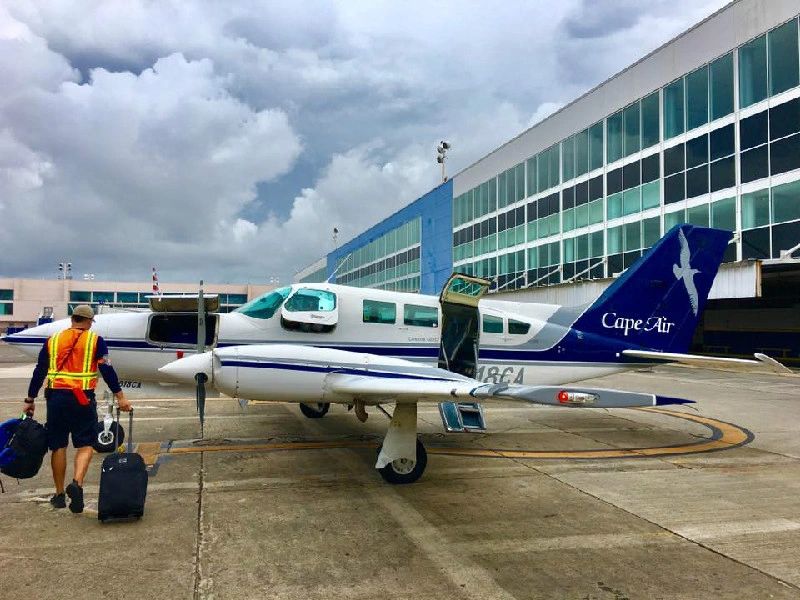 Rode shotgun to Vieques.

Would I come back to Vieques? Well, Las Chivas is really quite a beach to behold and relax in. But since this Caribbean island requires a connection to get to (the second part of the flight served by a puddle jumper which takes a hair raising turn before landing on a short landing strip), and a W resort that functions like a Sheraton, I will most likely explore other Caribbean islands that I have yet to visit before returning to this island.



Trip Report: Subtle Oman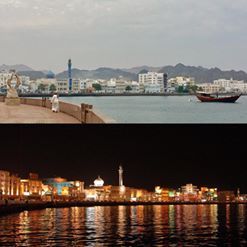 Hello Muscat! It is the capital of the Sultanate of Oman that evidently does not have the glitz and glamour of its neighboring city Dubai, or the affluence of the Qatari capital Doha. But what Muscat has is the traditional Arabic charm that you no longer find in the modern cities of peaceful Middle Eastern countries. Locals (you actually see them here) are friendly and polite. The practice of religions other than Islam is allowed and a tanned Asian visitor here can easily be mistaken as a Filipino or Indonesian as there are many here working in the service industry. The city has its fair amount of sights to behold but two days here are more than enough. One has to leave Muscat to further appreciate the country so I did a couple of day trips to the famous Wahiba Sands and Wadi Bani Khalid.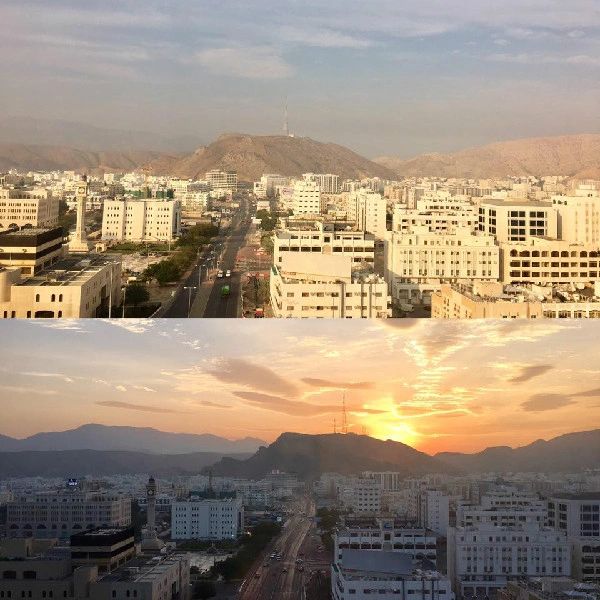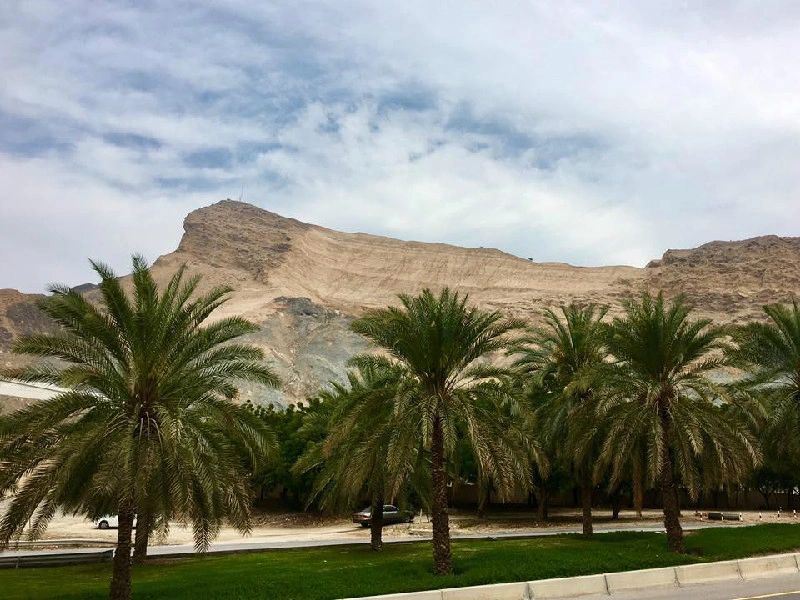 The undulating sand dunes of the famous Sharqiya Sands (formerly known as "Wahiba Sands") provided not only great photo ops but also an exhilarating roller coaster-like ride in a 4x4 with slightly deflated tires (for ease of travel on the sand). The climb up the dunes on my two feet was definitely not as fun as the car ride, but was necessary to help me appreciate the desert in a different way. Having coffee and dates in the home of a Bedouin family (local desert tribe) was the best way to seek relief from the desert heat, as the palm frond roof provided a cooling air like a mother nature's air conditioner. The hospitality of the Bedouin family extended to one of its camels, which got up close behind me as I posed for a quick picture before we left this amazing desert. It was no doubt a memorable visit to the desert.



"Wadi" means a valley or ravine that is dry except in rainy season in Arabic, and Oman has about two dozens of them throughout its arid landscape. Some surprisingly have water running through them all year round and one such wadi is the beautiful Wadi Bani Khalid. The jade green water invites you to jump in - providing you with some relief from the heat. One swimmer had tried to show off his back flip diving skill when he leaped into the wadi from the bridge but failed at the attempt of garnering a perfect score. Other swimmers just happily floated with the stream and were amazed by how a dry region like the Sharqiyah region could produce such an oasis.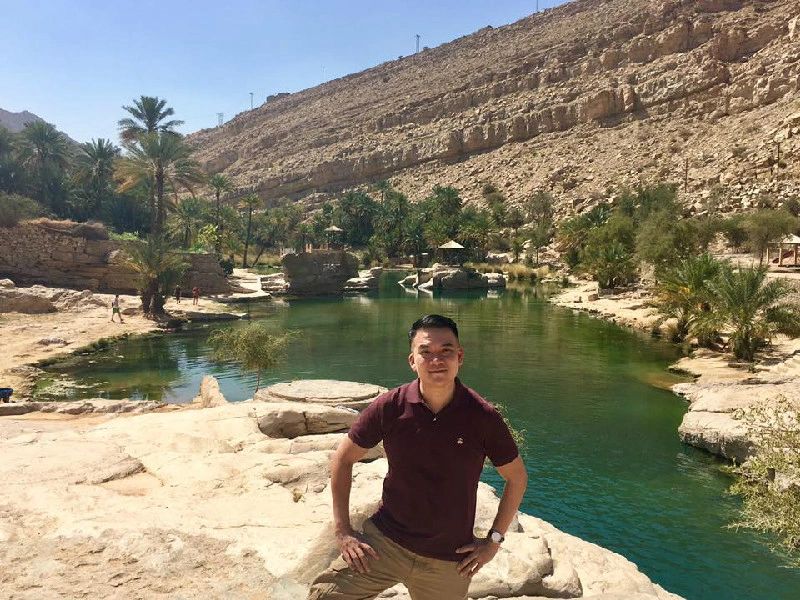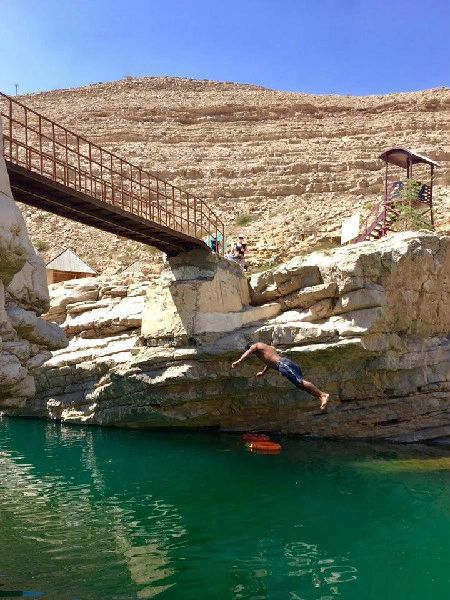 Oman is a country where its cuisine is worthy of mentioning. Thanks to the recommendation of my dear friend/graduate school classmate Felicia Campbell, the features editor of Times of Oman and one who is always in the know about where to eat/visit in Oman, I hit up three places that are memorable each in their own way. The Turkish House Restaurant in the Al Khuwair area dishes up the freshest grilled seafood I have had in a while. Prawns and red snapper grilled to perfection with no seasoning required - served only with wedges of lemon. If you were to go there and the delicious seafood you just had did not fill up your belly, you can walk a couple of blocks to Old Turkish Restaurant and Coffee Shop (next to Rowasco Supermarket) for some good old shawarma. Chicken or beef, it comes slathered with a thick layer of garlic mayo which will satisfy anyone that is into street food. I also went over to Zanzibar Island Restaurant & Coffee Shop in the Ghubra area (next to Bank of Beirut) and had a taste of Northern African specialties. I ordered the popular African sample plate consisting of tasty items like coconut beans, coconut spinach, green bananas and Zanzibari fried chicken. The unique setting of the dining room really makes you feel like you are eating in Zanzibar. These great tasting dishes not only kept me alive but also enhanced my travel experience here in Oman.






Perhaps what helped make my stay in Oman more memorable is the Sheraton Oman which just opened up after being closed for 10 years for remodeling (or some sort of family drama I heard). You know they render top notch service here when you slightly hint at the fact that they don't have enough Chinese choices at their breakfast buffet and they immediately whip up some steamed dumplings for you. The staff here (from local Omanis to foreign staff from India and the Philippines) provides service so exceptional that others in the service sector should embrace.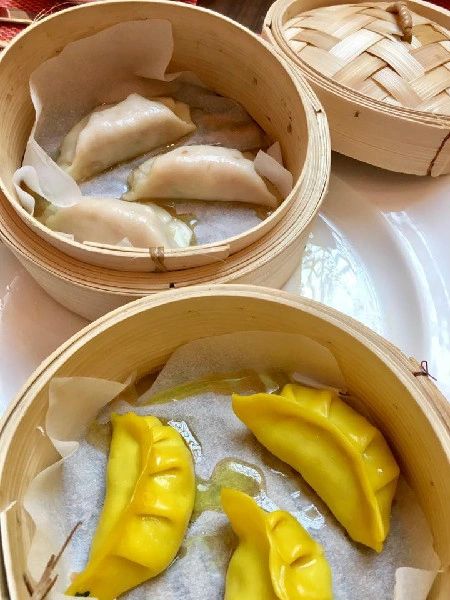 I am glad I visited Oman. The only thing I dislike about the country is that I have to bargain for every taxi ride as they are not metered, and my bargaining skill has deteriorated due to years of living in the States. Fortunately the government is planning to install meters in all the city taxis soon. This will bring a lot of convenience and relief to the visitors I bet. Consider coming to Oman. After all, the number of tourists is increasing by double-digit in recent years and the government is investing heavily in the tourism sector so this would be the right time to come. But do wait a little bit and come after they have installed meters in all the city taxis to spare yourself the headache of fare negotiation.



Trip Report: In Search of the Best Tonkotsu Ramen in Fukuoka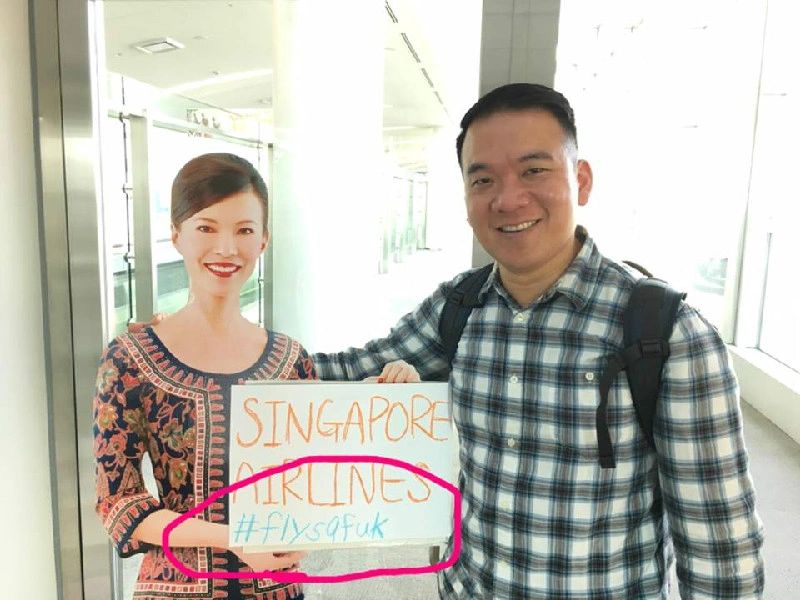 Fukuoka is not really on the world's tourist map. It makes sense as there is not much to see here. However in the past few years fans of tonkotsu (pork broth) ramen like me have started paying attention to this southern city in Japan as popular ramen chains like Ichiran and Ippudo (which were both founded in Fukuoka) have helped put it on our radars. Since my dear friend Nobu who used to live in Fukuoka was kind enough to take me around and show me this city, I took up on his offer and came here in December 2016. My goal was to search for the best tonkontsu ramen and to do that, I needed a local who speaks fluent Japanese.
A city where roughly 2 million Japanese call it home, Fukuoka sits on the northern shore of Japan's Kyushu Island and is perhaps best known for its Hakata style ramen which uses pork bones to simmer for hours producing the white milky broth that is so satisfying. After eating at many spots during my brief 3-day visit, I was happy to have found my three favorite ones. They are served at Yamachan Ramen (amazing broth but a tad oily to my liking), Zen Ramen (clean and tasty broth and most inexpensive of all) and Hakata Daruma Ramen (al dente noodles soaked in a perfect pork broth). Don't bother eating at Ichiran or Ippudo when you come here! However, do consider buying the packaged ramen of these popular chains as there is no need to schlepp to Brooklyn and pay twenty bucks for a bowl of Ichiran Ramen or wait for an hour at Ippudo for a table to open up when you are back home and it is freezing out. With these packaged goods, you can now make your favorite ramen at home for one-ninth of the restaurant price or the wait time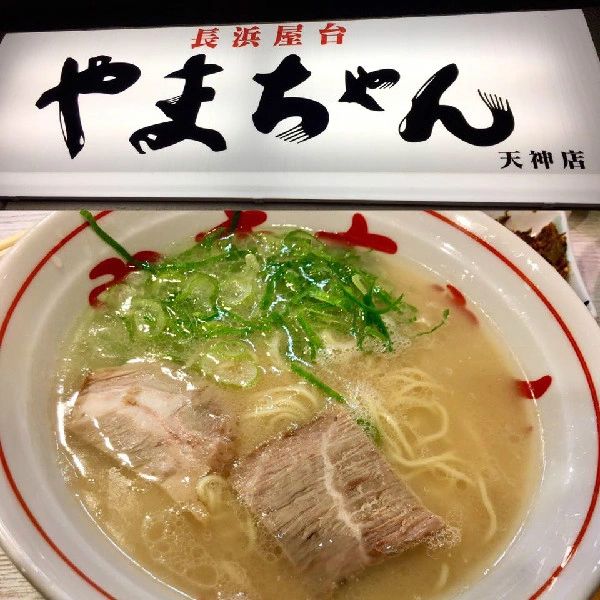 Fukuoka has many tasty dishes to offer outside of tonkotsu ramen. Among them are amberjack sashimi in this special sauce (Goma Kampachi), a tasty dish of thinly sliced pork belly on top of crunchy beansprouts, grilled fish roe (Mentaiko) that is perfect with a bowl of rice, simple veggie dip made of miso and sesame paste, mildly sweetened tamago that is a must in every household, omelet dressed with Mentaiko (fish roe) mayonnaise, fish broth ramen (if you need to take a break from the pork ones) and last but not least, crunchy salad with my favorite YUZU vinaigrette.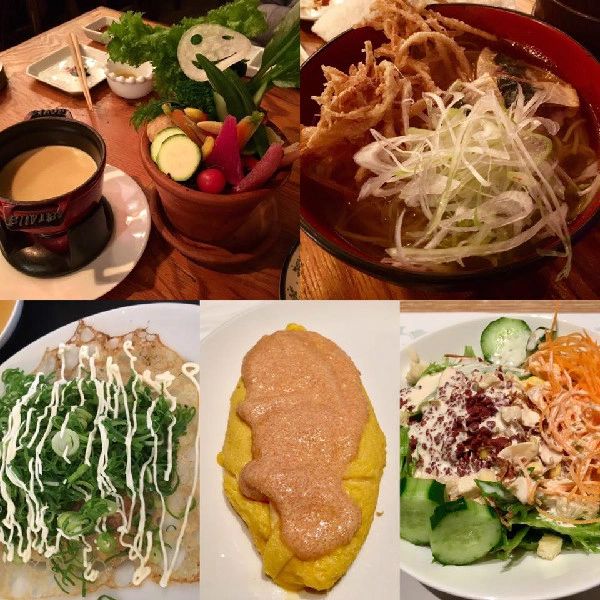 But the most unforgettable non-ramen dish I had has got to be the squid sashimi, a specialty in Fukuoka. The dish features a live squid with the tentacles still flopping while it is served! Its big eyes stared at me reminding me what a heartless prick i was for eating it even though I had uttered the classic Japanese word "itadakimasu" (formally meaning " I humbly receive your sacrifice ") before I partook in any. And this was before poor squid realized the remaining part of it was to be made tempura style. I posted a video of this on facebook and had to remove it shortly after as some of my friends did not take too kindly to it.



Food aside, the friendliness and hospitality of the Fukuoka locals had provided such a comfortable setting for me to enjoy the food. Perhaps I was to them the classic Hakata beauty, hence the super warm reception. All in all I had a fantastic trip to Fukuoka. My heart was constantly kept warm by the hospitality of Nobu and the Fukuoka locals, and my belly was constantly kept warm by the tasty tonkotsu ramen.