A Lovely Dinner Prepared by Chef Kimmy Tang, Al Fresco Style.
One of my dear friends/ favorite chefs Kimmy Tang of 9021PHO was in NYC in May to cook for the 2014 James Beard Award Gala. Naturally I had to seize the opportunity of Chef Kimmy's presence by asking her if she would be kind enough to cook for my friends and people in the food industry here who had yet to taste her always palate-pleasing and clean Vietnamese centric dishes. I had the idea of holding the event at my friends' beautiful rooftop terrace in Long Island City which has a spectacular view of the east side of Manhattan. The idea was made possible by the owners, David and Wendy Chan. Not only was Wendy generous enough to let me use her rooftop location. She even helped by inviting a lot of the industry folks to the event as she is in Food PR herself.
A day before the event, a big storm system had moved through NYC and the city endured gusty wind and heavy rain. Some of my friends who were invited to the event had asked me if I would consider changing the venue to my backup location (I had reserved one just in case there was bad weather). However, I stuck to my guns with the original venue since I believed the weather would clear up on the day of the event. Truth be told I was on weather.com every hour tracking the weather system religiously, and was pretty certain we would be out of that miserable weather pattern by then.
On the day of the event, I woke up to a foggy and drizzly morning. Fortunately by 11am, the cloud had cleared and the sun came out, shining on every corner of the city. It even got a little hot temperature wise. I guess my numerous text messages to mother nature the day before during the torrential downpour had really worked!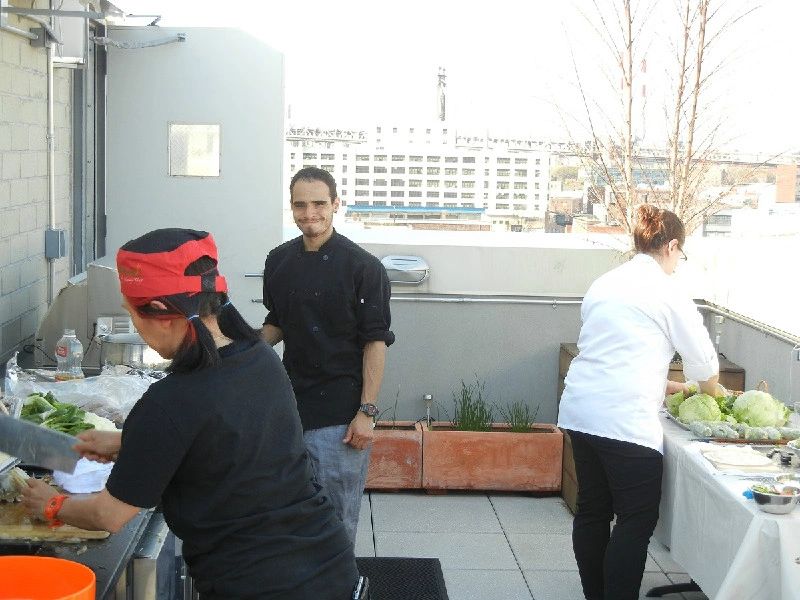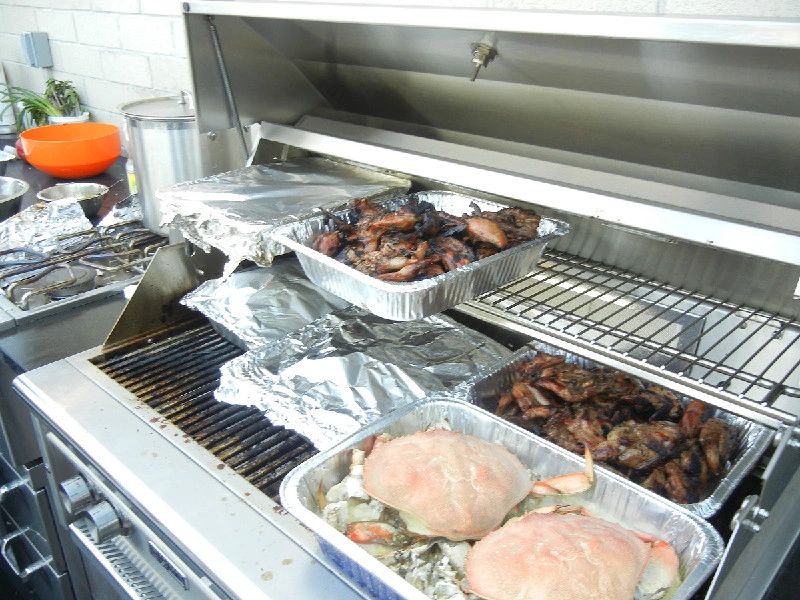 I hired two assistants (Simone and Michael) to help Kimmy prep for the food for the evening. Both of them enjoyed working with Kimmy very much and, according to Simone, working outdoor on a gorgeous day like this was the icing on the cake for her and Michael. With their help, Kimmy made mouthwatering dishes like "Crabs Baked with Beer", "Garlic Noodles", "Chicken Meatballs with Pineapple Sauce", "Roasted Quail with Rose Wine", "Grilled Eggplant", "Green Mussels with Curry" and the list went on and on. The funny thing is, we were so busy planning the savory dishes that we completely forgot about dessert. Fortunately Maison Kayser was here to help, supplying us with several of their tasty tortes and cakes.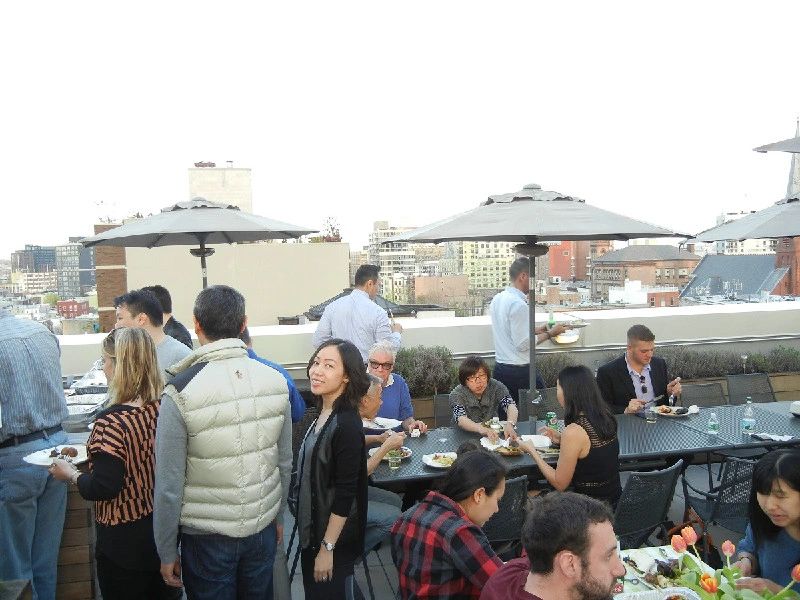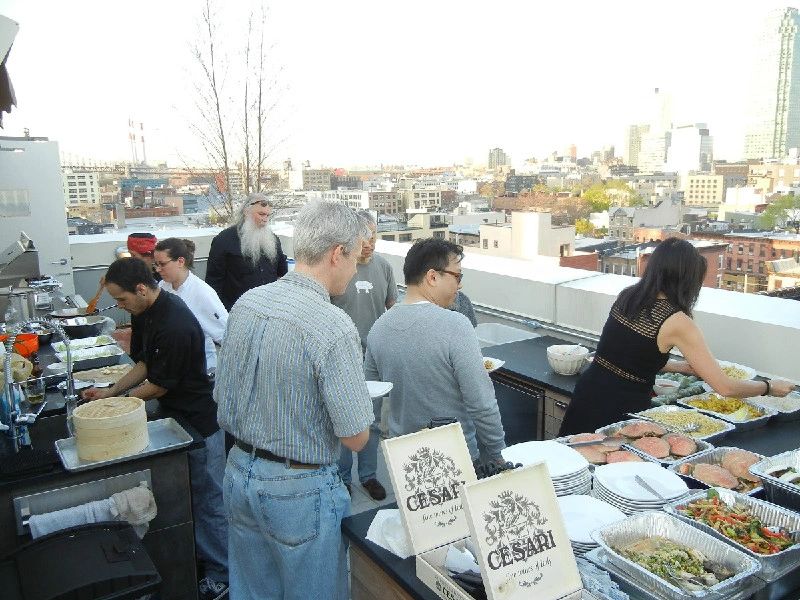 All guests that arrived at the dinner event that evening all had the same reaction. First, they would go ooohhhing and aaahhing over the rooftop location, and how beautiful it was. Then, they would get pleasantly surprised with the vast array of food and alcoholic/non-alcoholic beverages that were laid out for them. The weather had gotten so perfect around the starting time of the event (70s and sunny) that it was almost surreal, especially considering the bad weather we had experienced less than 10 hours ago. It was a wonderful evening and all of the guests were loving Chef Kimmy's food. Frankly, I had much more confidence in my guests loving her food than the weather being nice during the event. So it was amazing that both things were happening simultaneously.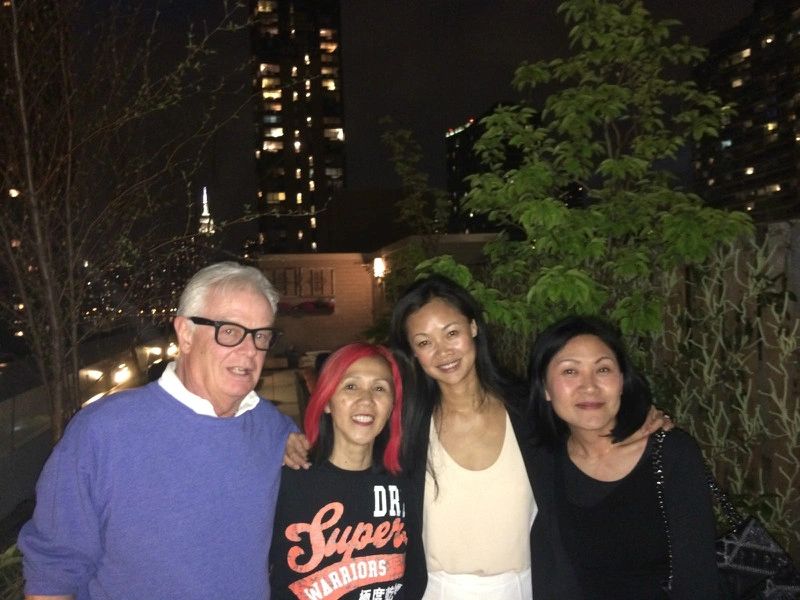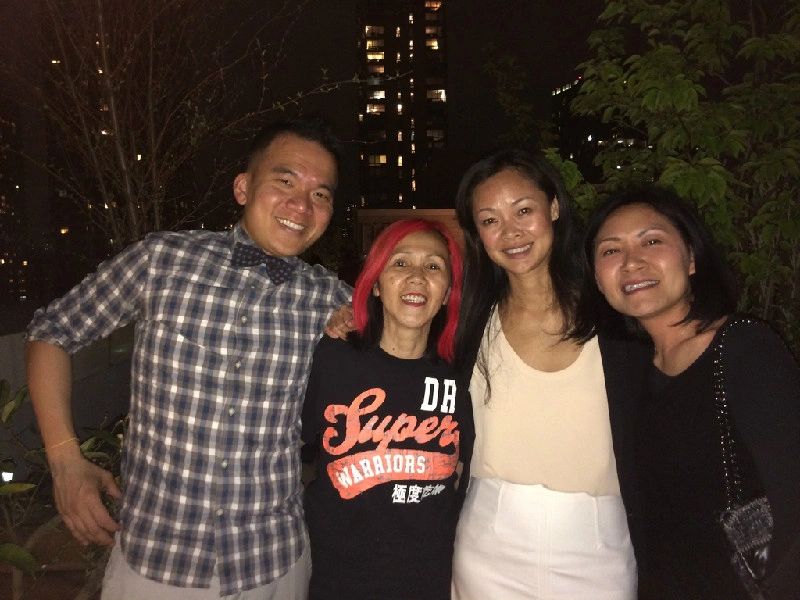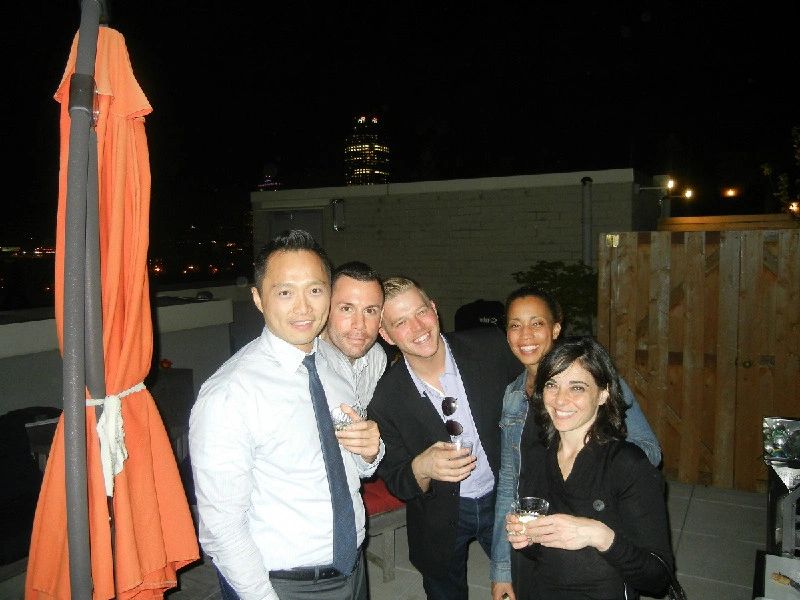 By 10pm, all guests had left. As I was helping Wendy and Dave clean up the place, spotty showers started to happen. Talk about a perfect timing to not rain out a rooftop party! The weather had really cooperated with us this time!
This was a successful event on all accounts and I could not be happier. My deepest gratitude to Chef Kimmy, David and Wendy for helping me make this happen and for all the guests who showed up and enjoyed themselves! We have to do another event soon. Next time I will go with an indoor location to spare the anxiety that I feel from the uncertainty of the weather, even though mother nature had treated me really well this time. I guess I need to thank Mother Nature for the success of this event too!
Yup, I Conducted My First Official Restaurant Concept Tour
It's not often that I get asked to bring a group of corporate folks consisting of corporate chefs and marketing heads to check out interesting restaurant concepts in NYC. So when my client at Caribou Coffee asked me if I could organize a tour for them as they were in town for the annual fancy food show, I jumped at the chance faster than they could say "co-ah-fee" (well Minnesotans don't talk like that anyway).
Since I was asked to take them to check out interesting coffee and bakery concepts, I designed an itinerary consisting of 15 concepts all located under 34th street. We braced the intermittent heavy rain and walked from one spot to another.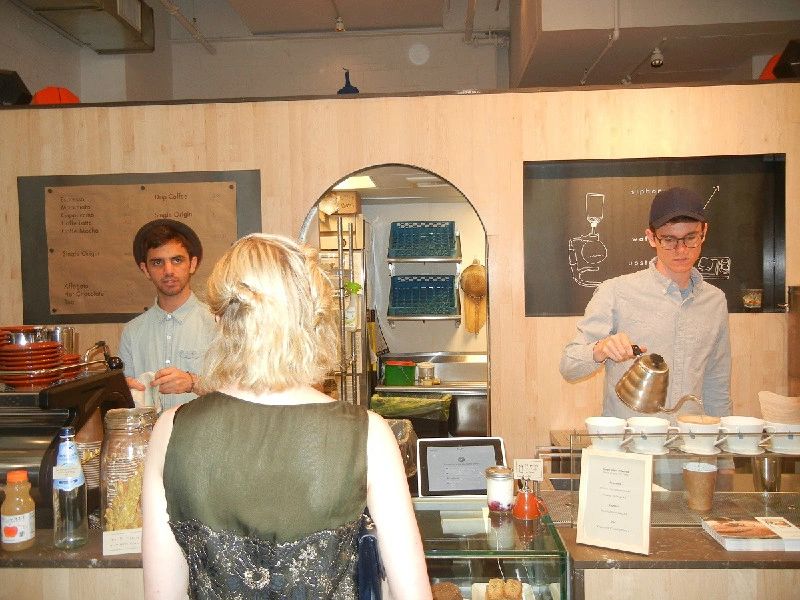 First stop:
Blue Bottle
at 450 W.15th St Started in Oakland CA by a musician who was sick of all the eggnog lattes and pumpkin spice macchiatos. He wanted some real coffee so he started a place naming it after the first coffee place in Central Europe. He wowed to serve only coffee less than 48 hours out of the roaster so that his customers can enjoy coffee at the peak of its flavor. The strategy seems to work since this concept is very popular among coffee fanatics. Currently has five locations in NYC and six locations in San Francisco
This was followed by a visit to
Sarabeth's Bakery
and
Amy's Bread
in Chelsea Market. Both are popular bread and pastry concepts originating from NYC.
Fourth stop:
Stone Street Coffee Company
at 132 9th Avenue
What appears to be a tiny little coffee joint is actually a facade for a speakeasy bar called Bathtub Gin. Brookyln based
Stone Street Coffee Company
is a well known coffee brand sold at popular supermarkets like
Fairway
, coffee retailers like
French Roasted Financier Coffee
and upscale restaurants like
Gotham Bar & Grill.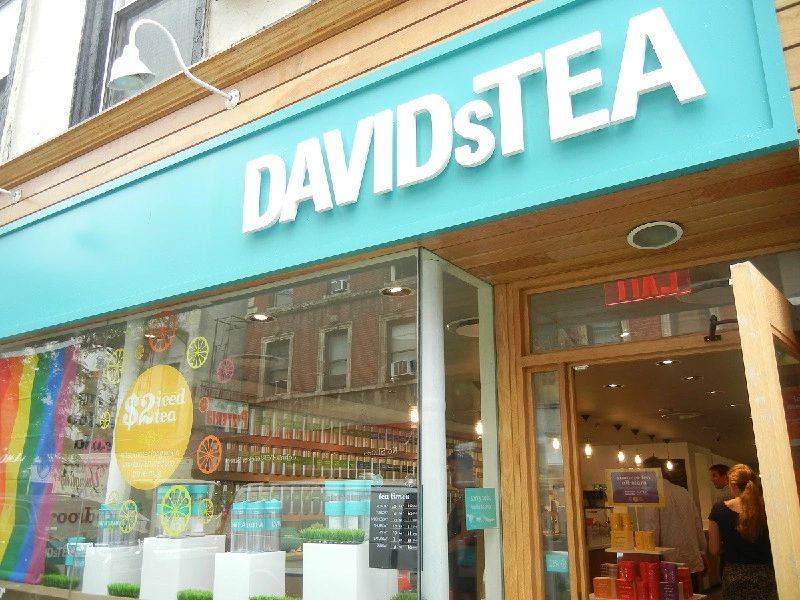 Fifth stop:
David's Tea
at 275 Bleecker St
A relatively new comer to NYC (2+ years),
David's Tea
is the East Coast's and Canada's answer to Teavana, the west coast tea purveyor which also sells a lot of fancy tea pots. There are at least 30 kinds of tea leaves you can find at
David's Tea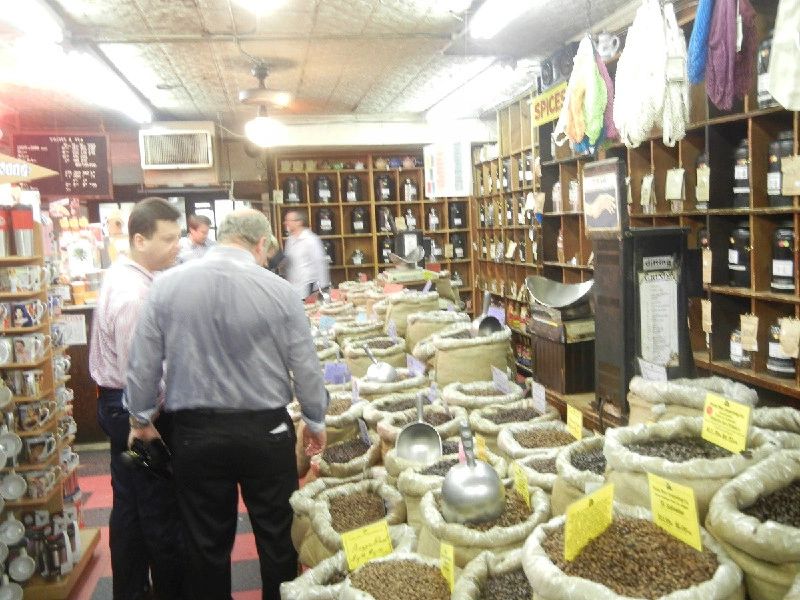 Sixth stop:
Porto Rico Trading Company
at 201 Bleecker St
Owned by the Longo family for over 3 generations, this little coffee place which sells a variety of coffee beans out of burlap sacks has over a hundred years of history in NYC. The aroma of the coffee beans can be a little overpowering as you enter the store. They also sell brewed coffee and specialty coffee in cups in the corner of the store.
The tour continued with a quick visit to
Kopi Kopi
(68 W.3rd St),
Think Coffee
(248 Mercer St) and
Eataly
(200 5th Ave). Kopi-Kopi (meaning coffee in Bahasa) sells high quality coffee beans harvested by local farmers in Indonesia. Think Coffee is popular especially among the socially conscious NYU students since it is committed to the fair treatment of the coffee bean farmers it procures from (the chain sure advertises the hell out of it). Eataly is the Torino Italy based mega food retailer offering Lavazza coffee among other Italian goodies.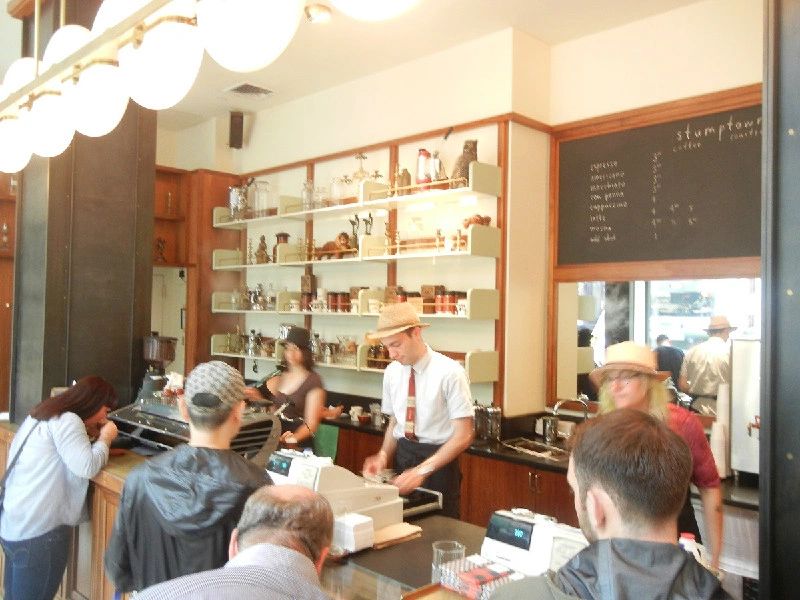 Tenth stop:
Stumptown Coffee Roasters
at 18 W.29th St
Quality coffee and pastries served by very dapper looking baristas. A chain that originated from Portland and surprisingly has no outpost in Seattle.
Eleventh stop:
Moya Chicken Beer & Coffee
at 793 6th Avenue A place where I can get latte, bluemoon and Korean fried chicken wings? Count me in! (However, the wings don't taste as good as those at Bon Chon or Kyochon)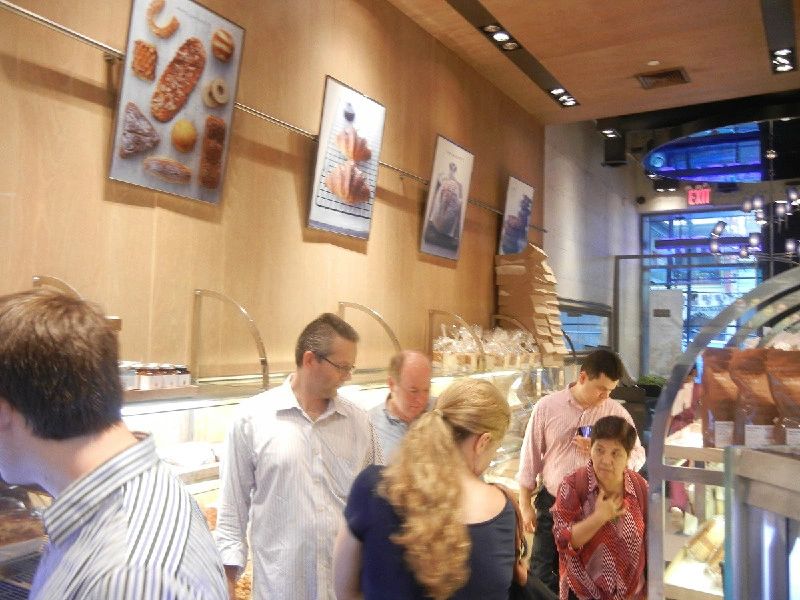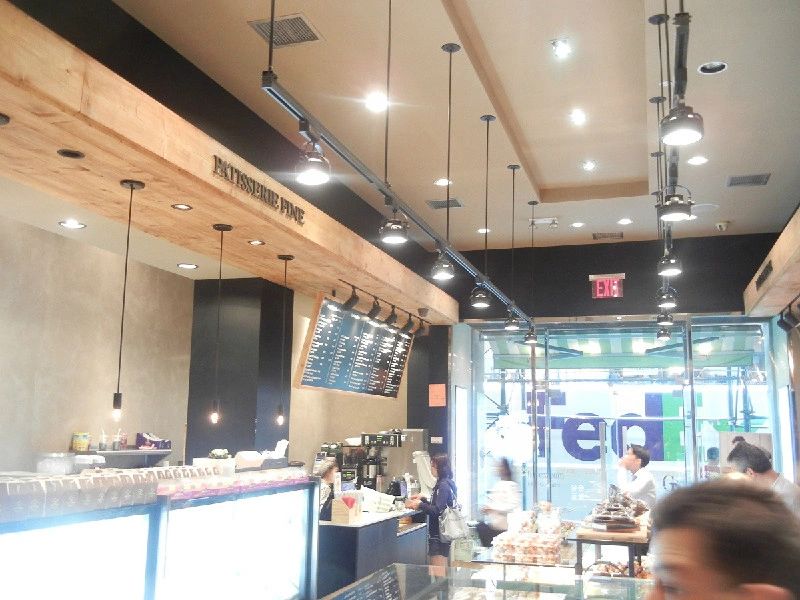 Twelfth and Thirteenth stop:
Tous Les Jours
(31 W. 32th St) and
Paris Baguette
(6 W.32nd St) Korean style French bakeries like Tous Les Jours and Paris Baguette are getting increasingly popular with US consumers. They just cannot resist buying the beautiful pastries and nicely packaged sandwiches that bask in the inviting store lighting. The great tastes of these items help too!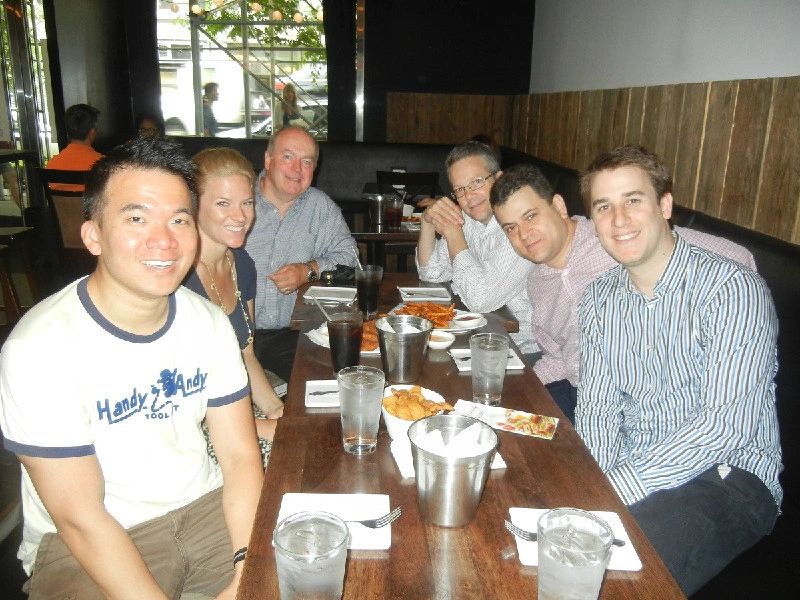 Final stop:
Bon Chon Chicken
(325 5th Ave)
There was no better way to end our tour than having Korean fried chicken wings. A little heavy for lunch but hey, we had walked 3 hours in the soaking rain so we deserved this 1000 calories meal!
I really enjoyed doing this concept tour. Perhaps this is what I will do professionally if I lose my day job. First thing I need to do is to come up with a company logo to be printed on the umbrellas that I will give out on the tour on rainy days like today.
I Tasted The Costliest Coffee In the World and It Was Collected From Animal Droppings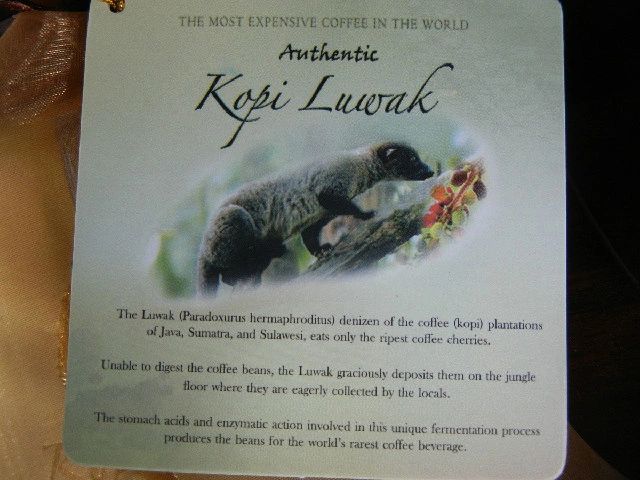 Yes you heard that right. Animal droppings. I drank caca coffee. When I was in Indonesia, I had the opportunity to try KOPI LUWAK (or Civet Coffee in English). Going at $150-$180 a pound, Kopi Luwak is notably the most expensive coffee in the world. It is also one of the coffee varieties in the world with lowest production levels. Kopi Luwak is mainly produced in Indonesia (and a small amount in the Philippines).
The high cost and low production yield of Kopi Luwak have a lot to do with where and how it is sourced. It is made from coffee beans that are eaten by the Asian Palm Civet (a nocturnal mammal).
The civets eat the coffee berries for their fleshy pulp. The beans, while going through their digestive tract, cannot be digested and are fermented in the process. The beans are then defecated with the shape intact. Field laborers then collect these droppings. The beans are separated from the droppings and then washed, sun-dried, roasted and brewed.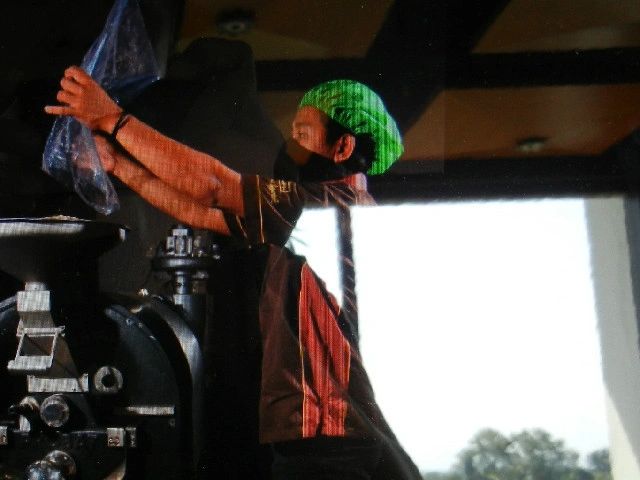 Do the coffee beans stink that badly? About to make my cup of Civet coffee.
You may ask - who was the first person brave enough to try Kopi Luwak and realized that the beans from the civet droppings could actually make a heavenly cup of coffee?
Apparently the discovery of Kopi Luwak is credited to the poor native farmers in Indonesia. During the Dutch colonization of Indonesia in the 18th century, the oppressive Dutch who controlled the coffee production in Indonesia prohibited the native farmers and plantation workers from picking coffee fruits for their own use.
Wanting to taste the farmed coffee beverage, the natives came to learn that certain species of Asian Palm Civet (known as "Luwak" in Bahasa) consumed these coffee fruits but their bodies could not digest the beans. So they picked the droppings of these animals and separated the coffee beans from the feces so that they could taste the farmed coffee beverage.
Soon words got out to the Dutch about how aromatic this "peasant coffee" was and they wanted a taste of it too. If you ask me, it was appropriate for the farmers to send the Dutch coffee beans picked out from animal feces after how the Dutch had treated them.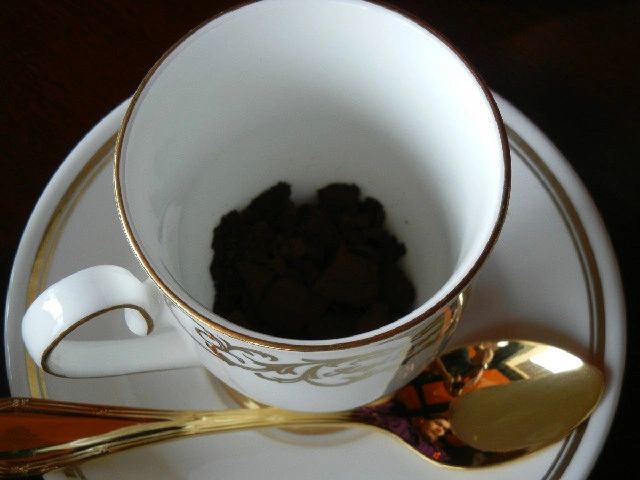 It looks like any other coffee powder and does not smell like poop.
Kopi Luwak comes in many blends and can be a combination of Arabica and Robusta beans (among other bean varieties). It really depends on what the civets ate earlier that day. Despite the blends and roasting levels, Kopi Luwak is aromatic and lacks the bitterness that other coffee beans have.
It also looks like an ordinary cup of coffee
Oprah tried it once on her show first and loved it. I can certainly understand why now. I drank mine without cream and sugar (it is usually recommended that way) and enjoyed every drop of it. It was aromatic and did not leave a bitter aftertaste in my mouth.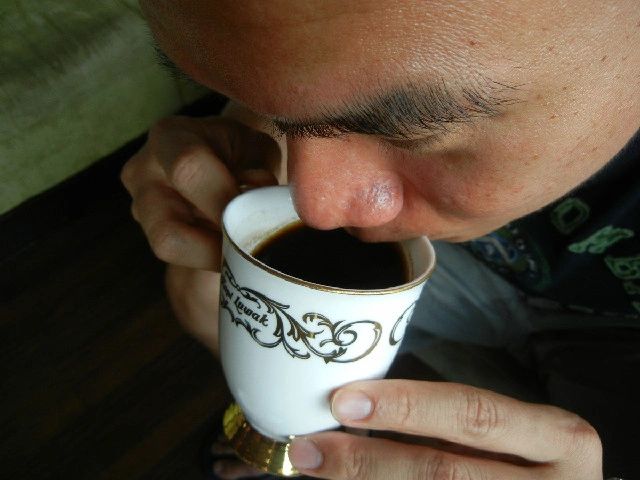 The moment of truth: It tasted heavenly - aromatic and no bitter taste at all!
The daily Espresso drinkers may find Kopi Luwak lacking the kick, but for someone who drinks coffee with hazelnut syrup from Starbucks every morning, this is definitely an upgrade and a wonderful experience. Thanks for pooping out the best coffee beans, my civet friends, and hats off to those who have to go collect them every day!
Tasty Malaysian Food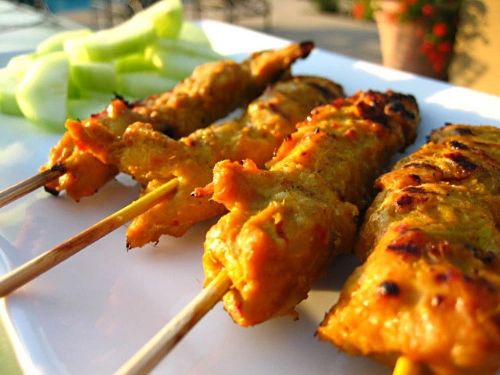 As if I had not eaten enough in Hong Kong, I continued my food escapade in Malaysia. Here are some of the Malaysian dishes I had that I loved. In general Malaysian cuisine can largely be separated into Chinese, Malay or Indian cooking. It can be a mixture of all three ethnic groups' cooking as well. You can find a majority of these dishes at the Malaysian restaurants in New York City.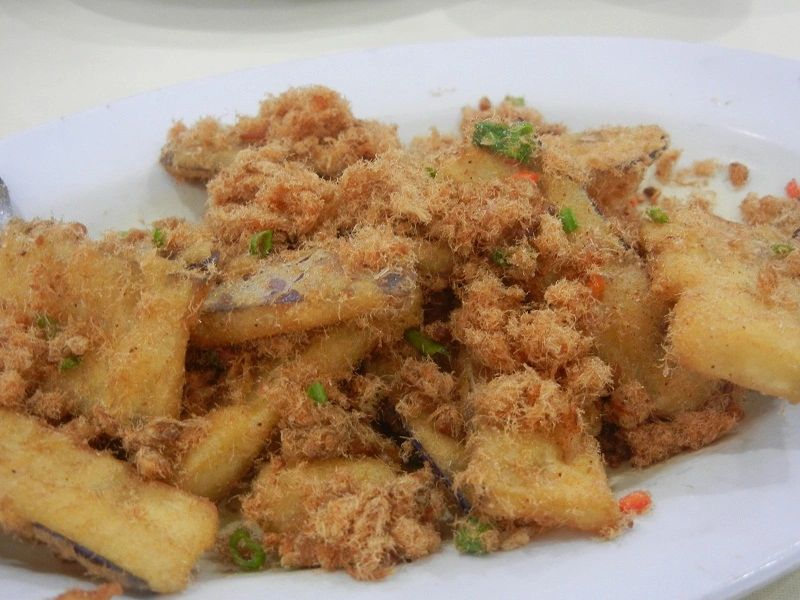 Fried Egg Plant with Meat Floss. Originating from the Fujian province in China, meat floss is a dried meat product that has a light and fluffy texture similar to coarse cotton. This is not a traditional Chinese Malaysian dish. It was created by 'Robson Heights Seafood Restaurant' in Taman Seputeh, Kuala Lumpur.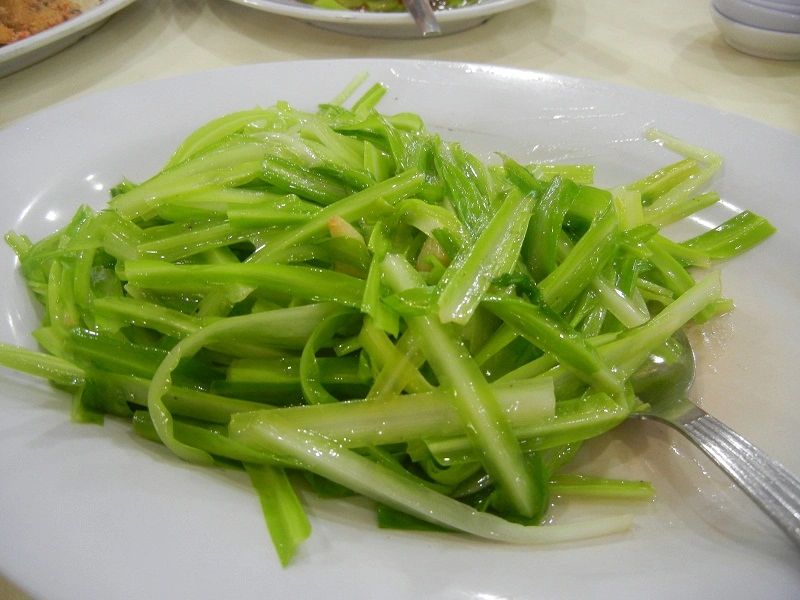 Garlic Stir-Fried Tarragon (青龍菜 or龙蒿). It's not a common green seen on the stir-fry menu but it's tasty and crunchy. Triple heart it!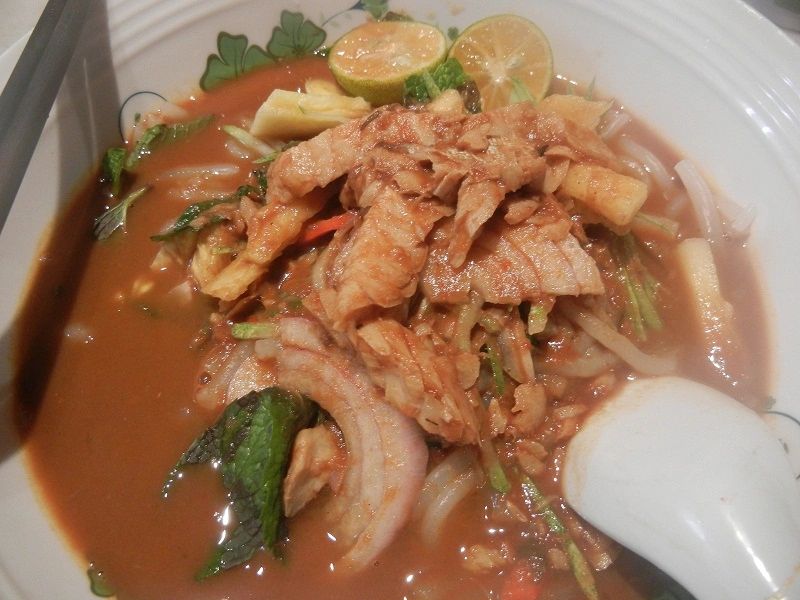 Assam Laksa (my mom made this). A fish-based soup with a sour taste, assam laksa was listed at number 7 on World's 50 most delicious foods complied by CNN Go in 2011. "Assam" is a Malay word for tamarind. Think Tom Yum but more fishy and tangy in a delicious way.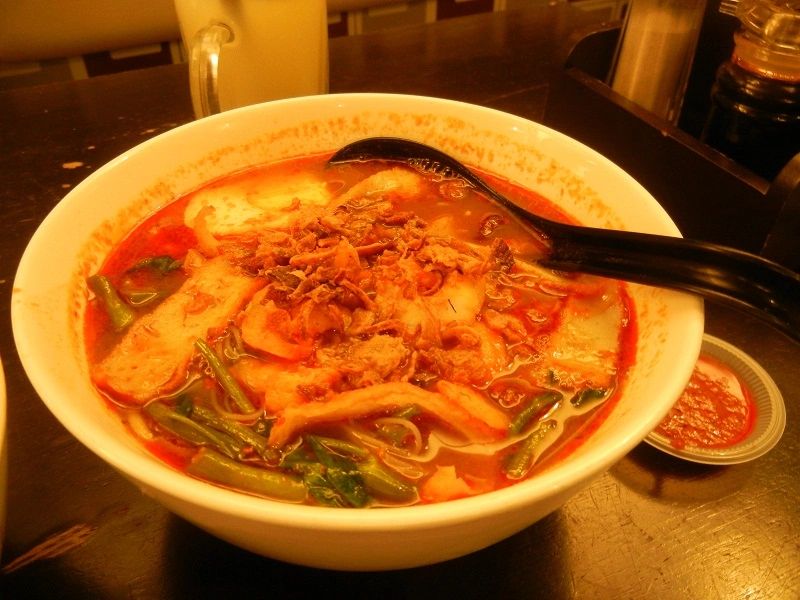 Prawn Mee (Prawn Noodles). A dish of egg noodles and rice noodles served in a fragrant stock made from both fresh shrimp and dried prawns as well as pork and chicken.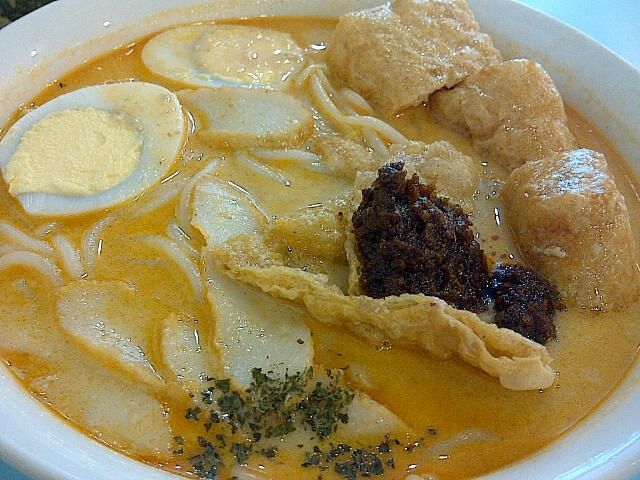 Curry Laksa. Unlike Assam Laksa, Curry Laksa is a coconut based curry soup. Main ingredients include tofu puff, tofu skin, fish sticks, boiled eggs and a spoonful of sambal chili paste.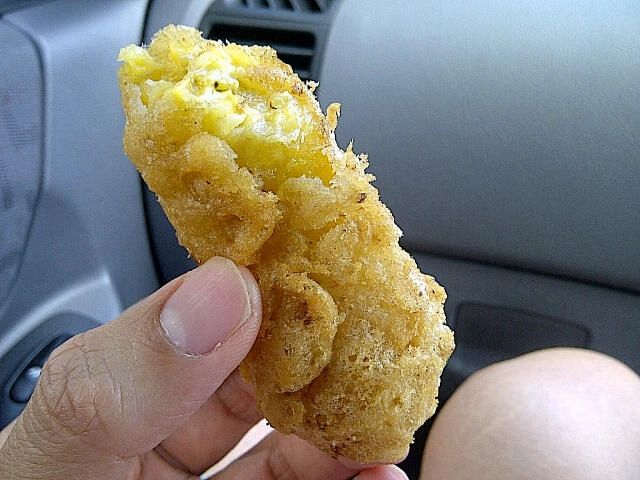 Fried Sweet Plantain Malaysian Style. The batter is like a tempura batter and the plantain is super sweet.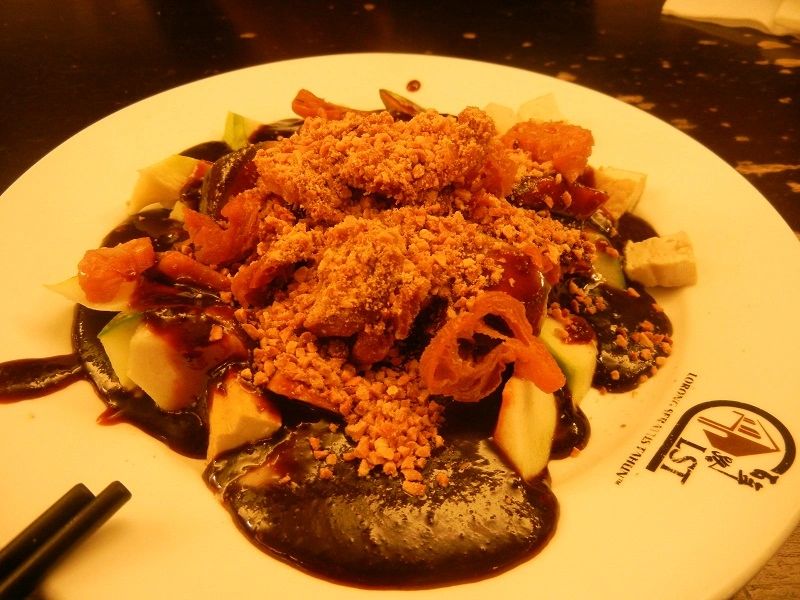 A popular Nyonya dish called 'Rojak'. Nyonya culture was a result of Chinese and Malay marriages dating back to the trading days. Known by some as the 'Exotic Malaysian Salad', it is a fruit and vegetable salad tossed in a dressing made of prawn paste, tamarind paste and palm sugar. The common fruits and vegetables used in 'Rojak' include pineapple, apple, guava, green mango, jicama and cucumber.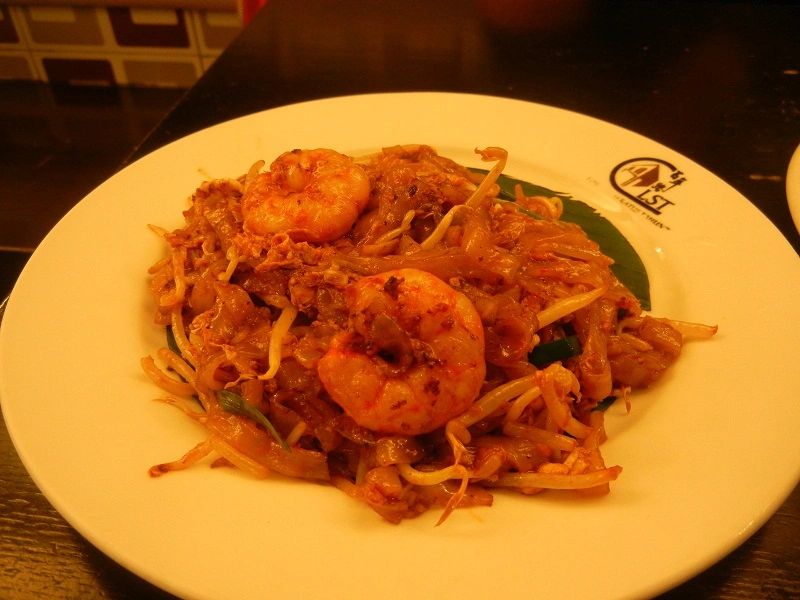 Char Kway Teow. Pad Thai Malaysian Style – less sweet, more flavors and no peanuts.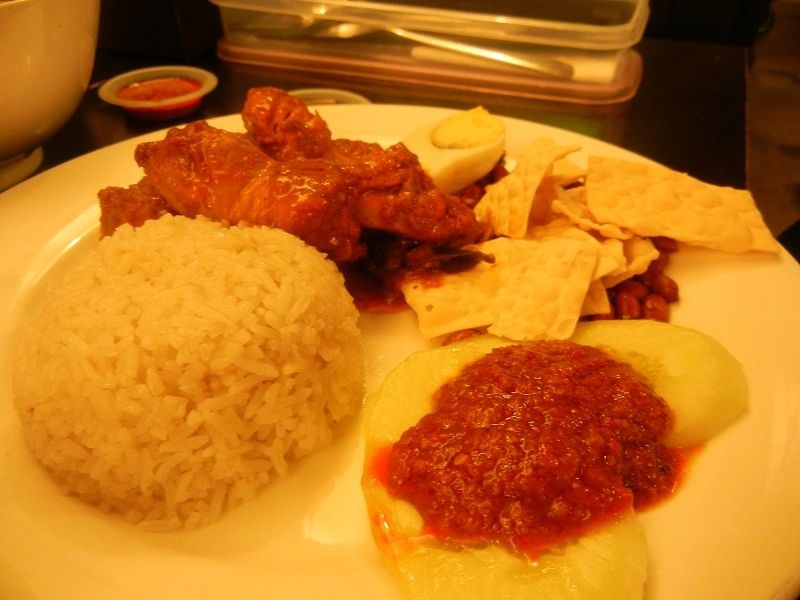 Nasi Lemak. A common curry rice eaten at breakfast in Malaysia. The dish features chicken curry perfected by the Indians, served on top of coconut rice inspired by the Nyonyas, and topped with peanuts, anchovies and a dried chili paste known as "sambal" commonly consumed by the Malays. The cucumber slices were added by the Chinese to help cool off the tongue after consuming the spicy curry and chili. Half of a boiled egg, a common breakfast food in the western world, was added in to make it an official breakfast dish.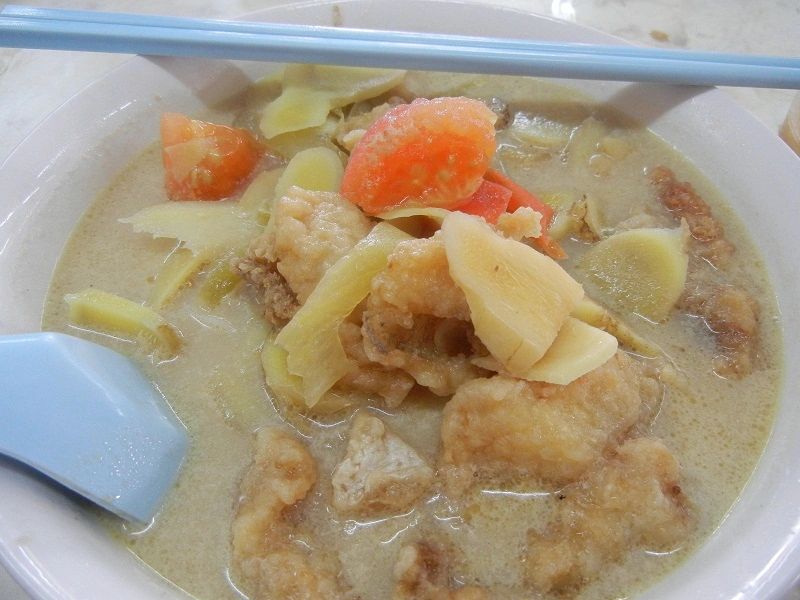 Fish soup noodles. The ginger slices put in this soup give it an extra kick but a kick that harmonizes with the fish taste making it a bowl of delicious broth. Together with fried fish fillets and vermicelli noodles, this makes a perfect lunch despite the hot and steamy Malaysian weather.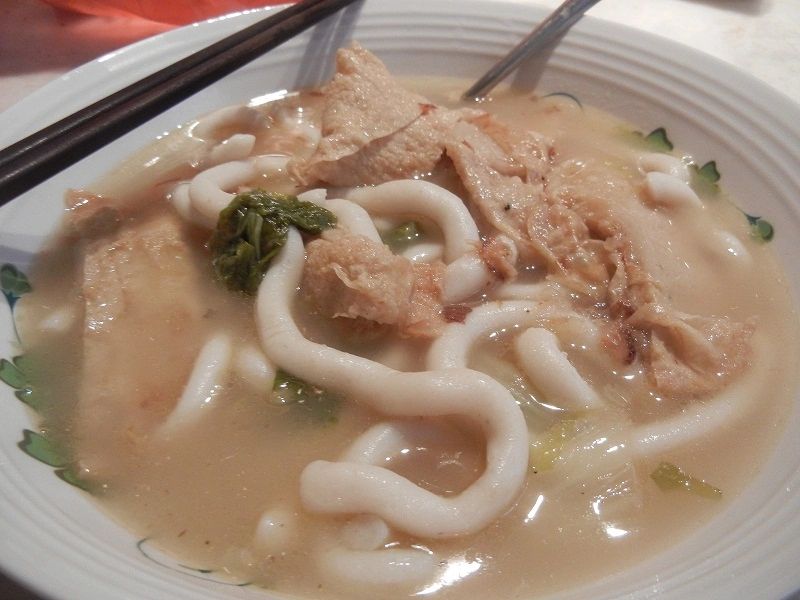 Fish Noodle Soup (not to be confused with Fish Soup Noodle). The noodles here are all made from miced fish meat (think fish ball in the shape of noodles). This is home-made and is undoubtedly a low carb dieter's dream come true.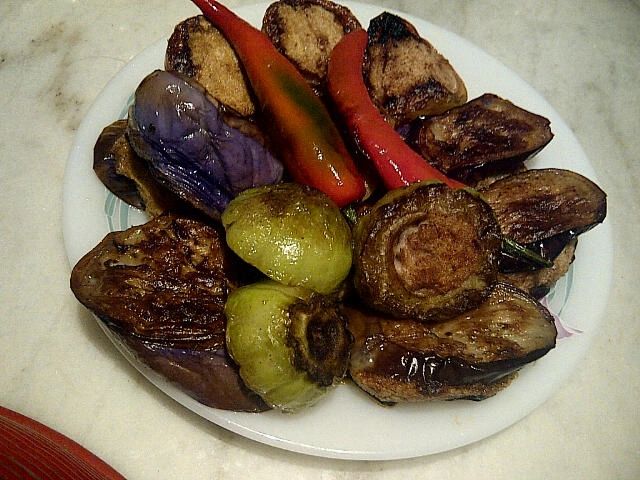 My all-time favorite Yong Tau Foo (made by my mom). Tofu skins, tofus and other vegetables stuffed with minced fish meats. The salty fish that is used sparingly in the minced fish enhances the flavor of the filling.
If you ask me, Malaysian food is really the father of all fusion cuisine. But you should consider me as a biased source.
Malaysian Cuisine Stays True To Its Fusion Form In New York City.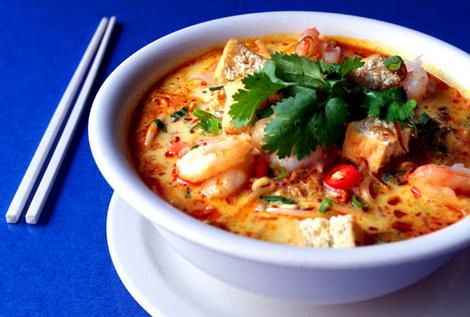 My friend Peter and I sat in the far corner of this busy Malaysian restaurant located in Manhattan's Chinatown. The dishes we ordered could not come soon enough for us. The aroma wafting from the dishes enjoyed by the table next to us only made us hungrier. This restaurant was small, but customers kept coming in by the minute. In my opinion, this was the most authentic Malaysian restaurant in the city, and the crowd waiting for a table was a testament of that. A novice of Malaysian food like Peter was there to experience the real fusion cuisine. A veteran of Malaysian food like me was there to savor the food that reminds me of home 9,000 miles away.
There is a plethora of fusion cuisine out there but in my humble, or perhaps slightly biased, opinion, Malaysian food is the father of fusion cuisine. While fusion cuisine only came into the limelight of American cuisine in the last decade or two, it has a deep rooted history in Malaysian cuisine. We are not talking about putting Chinese dumplings into split pea soup or adding hummus to a sushi roll, we are talking about centuries- old fusion cuisine created as a result of colonization, immigration, inter-racial marriage and social harmonization among the inhabitants of Malaysia, namely the Malays, Chinese, Indians, Indigenous Tribes and the European settlers.
Understanding the history of Malaysia is essential in understanding the origin of fusionism in Malaysian cuisine. Human habitation started in Malaysia some 40,000 years ago. Early settlers include ancient Indians from the Java Islands as well as traders and laborers from India and China. European colonization began in 1511. First by the Portuguese then by the British Empire, who later shared Malaysia with the Dutch under 'The Anglo-Dutch treaty of 1824'. After undergoing four centuries of European colonization (and a brief occupation by the Japanese during World War II), Malaysia finally gained her independence from the British government in 1957. It is this rich history that has made Malaysian cuisine what it is today.
While my explanation of the origin of Malaysian cuisine would be fascinating to a food historian or an anthropologist, it nearly put Peter to sleep. Fortunately the food we ordered arrived in time before he dozed off. This was perhaps the best way for Peter to experience the fusionism of Malaysian cuisine first hand. We ordered six dishes. There were all popular street/vendor foods in Malaysia. The first dish to arrive was often considered an appetizer by many. Chicken Satay, a dish of marinated, skewered and grilled chicken meat served with spicy sweet peanut sauce. The meat was marinated with turmeric – a popular ingredient used by the Malays in their cooking and was later adopted by the Chinese and the Indians. The tender chicken meat was grilled to perfection. We dipped the skewers in a spicy peanut sauce and ate the silvers of cucumber, onions and ketupat (a Malay rice cake) that accompanied the skewers.
The second dish to arrive was Roti Canai, a flat and flaky bread originated in India. There are many variations of Roti Canai, but the one we ordered was in the most original form. The immigrant labors from the Madras region in India had brought Roti Canai over and the Indian Muslims (known as Mamaks) in Malaysia later adopted it and made it their own food. Like Satay, it came with a dipping chicken curry sauce. It was delicious.
Next we had a popular Nyonya dish called Rojak. Nyonya culture was a result of Chinese and Malay marriage dating back to the trading days. Known by some as the 'Exotic Malaysian Salad', it is a fruit and vegetable salad tossed in a special dressing made of prawn paste, tamarind paste and palm sugar. The common fruits and vegetables used in Rojak include pineapple, apple, guava, green mango, jicama and cucumber. I added some chili to give it a fiery kick. The sweet and sour dressing (with a hint of tartness) coupled with the crunchy fruit and vegetables made it a very appetizing dish to eat.
We were still halfway through our appetizers when the server brought us one of the main dishes we ordered, Nasi Lemak, a common curry rice dish eaten at breakfast in Malaysia. For an American with a delicate stomach, Peter was shocked at the idea that Malaysians actually have curry with rice as breakfast. I told him it wasn't just any curry with rice. It was chicken curry perfected by the Indians, served on top of coconut rice inspired by the Nyonyas, and topped with peanuts, anchovies and a dried chili paste known as "sambal" commonly consumed by the Malays. The cucumber slices were added by the Chinese to help cool off the tongue after consuming the spicy curry and chili. Half of a poached egg, a common breakfast food in the western world, was added in to make it an official breakfast dish. Who can resist this plate of fusion heaven even if the body is not ready for spicy food first thing in the morning!?
Next dish to follow was a famous Nyonya noodle soup called Assam Laksa. Tamarind is used as a stock for the sweet and sour soup. Fish, often Mackerel, and finely sliced vegetables like cucumber, onions and pineapple are served with the thick Chinese vermicelli noodles from Guilin, China. It is then topped with fragrant mint leaves and some shrimp paste. Every appetizing slurp will make you want more. Peter and I were literally fighting for the soup to its last drop. The server offered to add more soup to our bowl which we gladly accepted.
The last dish to arrive was a vegetable dish called Kangkung Balacan (we needed some greens after all). It was Water Convolvulus, or more commonly known as Water Spinach, a popular vegetable choice for the Chinese, stir-fried with a blend of Indian influenced chilies, dried shrimp and the famous belacan, a shrimp paste that is made from fermented ground shrimp. The smell of belacan can be overbearing for some but when added in dishes like this, it is pure perfection.
After eating all six dishes, Peter agreed with me that Malaysian food should be the ultimate fusion cuisine. If I had almost put him to sleep with the history of Malaysian cuisine before our food arrived, I definitely succeeded in finishing what I had started after the meal. Peter was now a fan of Malaysian food and was excited when I told him that there were over twenty Malaysian restaurants in the city he could patronize. I even told him that he could visit Malaysia one day and eat Malaysian food in my motherland. He did not think that was a good idea since he would not be able to put up with the crappy airline food after this scrumptious meal. I certainly understood where he was coming from.
Addicted to "Wife Cakes"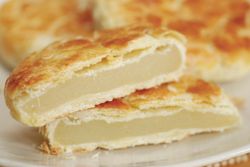 I am simply addicted to Wife Cakes. Known commonly as "Lo Paw Bang" (meaning "Wife Cake" in Cantonese), this traditional Chinese pastry is made of winter melon, almond paste, sesame and pork lard (yes, that's what makes it so tasty!). Legend has it there was a couple living in imperial China who loved each other very much. One day the husband's father became very sick and the couple spent all their money to treat him. But the father was still very sick so the wife sold herself as a slave in order to continue supporting her father-in-law's medical bills. Now tell me where you can find a daughter-in-law like her today! Anyway, as soon as her husband found out about what she did, he made a cake filled with sweetened wintermelon and almond. The cake was his way of remembering his wife but it became so popular that he started selling it and was able to earn enough money to buy her back. I bet he had a few customers like me to help make that happen. I have tried Wife Cake in all of the Chinatowns in North America, London and even at a few pastry shops in Hong Kong. My favorite ones so far are the ones sold at Double Crispy Bakery (230 Grand St.) and Golden Fung Wong Bakery (41 Mott St.) located in the Chinatown of Manhattan. When you bite into one, the outside is flaky with sesame bits and the inside is chewy but never too sweet. I just love it! Listen, if wives came in the form of a pastry, I would be married long time ago. Now just don't tell my mom about that!