It was April in New York with weather still cold in the 30s in the morning and windy throughout the day. Meanwhile the much feared seasonal allergy season was upon New Yorkers and I was not ready to be having running nose, itchy eyes and suffering from hay fever symptoms which usually happens at the end of April. So when Thomas headed to Taipei for work I jumped at the chance to get out of town and join him even if it was just for a few days. Taipei was a great city to eat after all, and the Michelin folks had released its first Michelin star restaurant lists a month before which provided extra motivation to visit for people like me who would go to the distance for good food.
reasonable fee for a 10-course vegetarian meal that uses different kinds of homemade miso as the base. Every dish was phenomenal.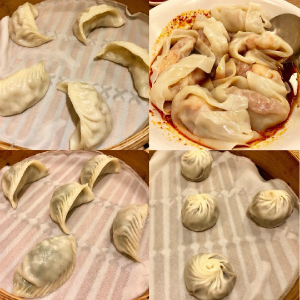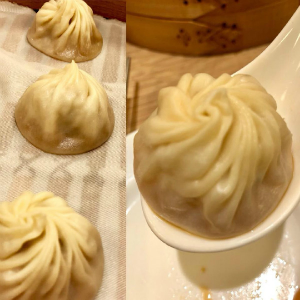 One must make the pilgrimage to the original Din Tai Fung store no matter how many times he/she has visited here. The soup dumplings are a must but the other kinds of dumplings like vegetable pork dumplings and spicy shrimp wontons do not pale in comparison. The service is what people don't talk about enough. Efficient and attentive, all servers wear flag pins to signify the language they speak ensuring as many customers are well communicated to as possible.


5. Ice Monster @ No. 297號1樓, Section 4, Zhongxiao East Road, Da'an District, Taipei City, Taiwan 106

Shaved ice texture as soft and fluffy as cotton candy, and my favorite is its bubble tea shaved ice. The mango ice is really popular as well.
Taipei continues to be a city that offers a variety of Chinese cuisine that satisfy your belly without breaking your bank (cost remains very reasonable). No wonder it is becoming a destination popular with foodies especially from the Asia region . Furthermore, the government decided to focus on agricultural development in the 70s hence Taiwan today produces such an amazing array of fresh fruits that are sweet and delicious, especially its pineapple and papayas. Its popular night markets also offer a lot of snacks for travelers to much on. This is an amazing place to visit for those who love to eat.

And it's more amazing if you have these great people to eat with.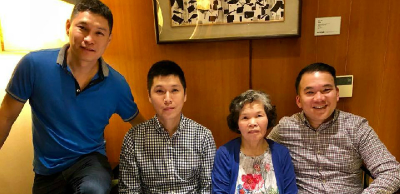 Eating Well (Very Well) in Mexico City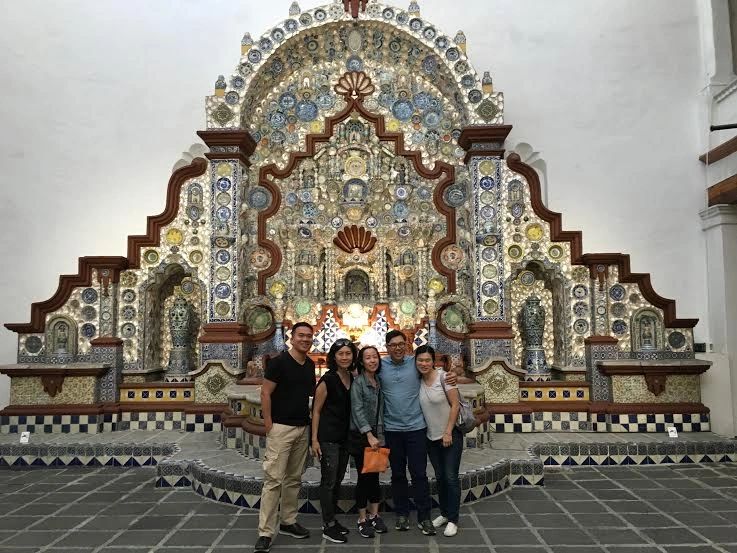 October is a great time to visit Mexico City. The rainy season is coming to an end and the weather is already in the range of high 50s (in the morning and evening) to low 80s (during the day when the sun is out), making it a great time to walk around the city and explore its 100+ museums and sights. It is also a great time to visit Mexico City and visit three of its fine dining restaurants which made the list of 2015 World's Best 50 Restaurants (http://www.theworlds50best.com/). They are Pujol (ranked 16th), Quintonil (ranked 35th) and Biko (ranked 37th). Pujol's tasting menu is priced at USD95 or so, while Quintonil's and Biko's came in between USD65-US70 - all are much more reasonable than those found in fine dining places in New York City (ie Eleven Madison or Per Se). So naturally I made this our top priority of things to do during our visit to Mexico City. My travel buddies (Peter, Joyce, Tabita, Michelle and Susan) could not agree with me more on my decision to eat well. Very well in fact!
To manage our expectations we started our first dinner at Biko (ranked the lowest of the three) and worked our way up. Of the three meals, we were most impressed with Quintonil and least with Biko (http://www.biko.com.mx/) . To be fair, we were very tired when we went to Biko and physical state does have an impact on the enjoyment of food. We did find Biko's service to be top notch, on par with Pujol's service and much better than that of Quintonil.
The tasting menu at Biko consisted of several dishes that were very generous on the portion size. But we thought that too much puree was served in some of the dishes and the fish (wrapped in squid) dish was a tad salty. But there were dishes like the ceviche that were super tasty. The service could not be faulted and the ambiance was very inviting. The menu was all in Spanish but the wait staff went through great length despite their limited command of English to explain to us the items that made up the tasting menu at Biko.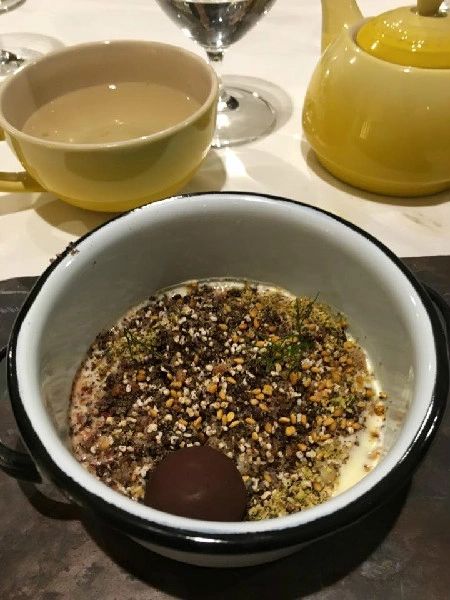 Next stop, Quintonil (http://www.quintonil.com/). The ambiance that greeted us when we first entered was a small dining room with low ceiling. To make matters worse we were seated in two tables that were joined together with uneven height. I did ask them to move us to the back room which was more spacious and had a proper round table and they promptly did that. The service started off on an unfriendly and uncoordinated tone but improved as the night went on. Food wise, we could not have eaten anything tastier and innovative. From smoked crab tostada to duck in "recardo negro" sauce, every dish was like an edible art that was not only pleasing on the eyes but also tasted really good.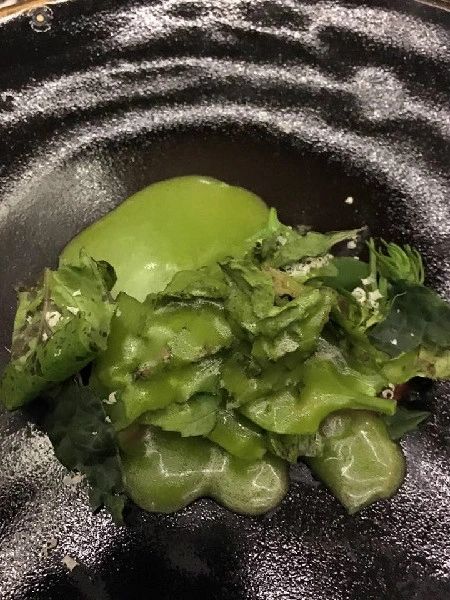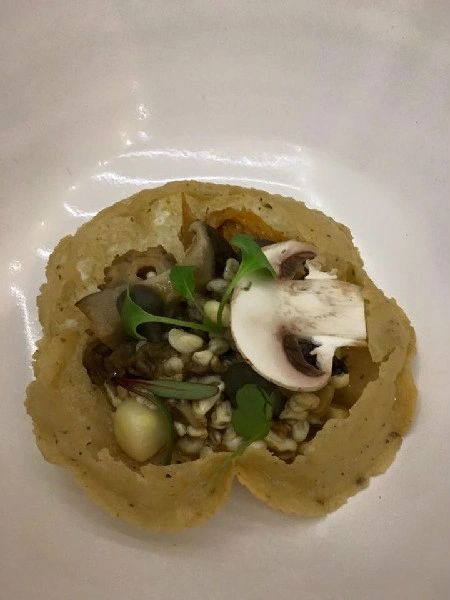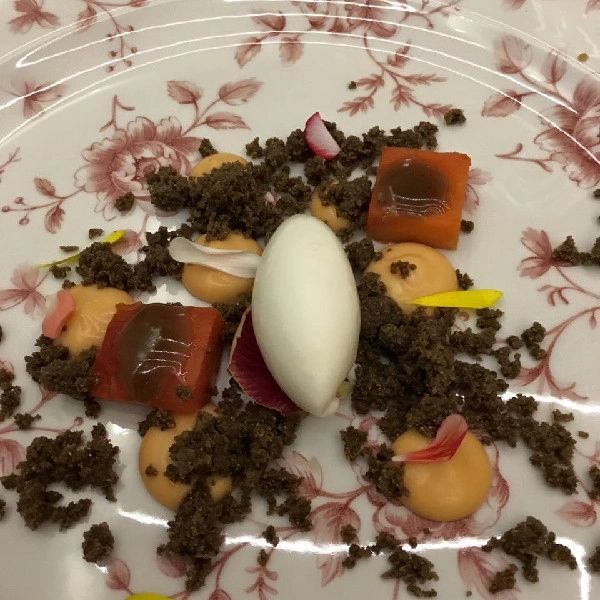 We wanted to save the best (at least in ranking) for last and on our third night, we went to Pujol (http://www.pujol.com.mx/). The service at Pujol was definitely top notch and friendly. The ambiance was also great (though a little dark for my liking). Food wise, Pujol's food definitely skews a little more traditional Mexican and not as innovative as the food we had the night before at Quintonil. The meal started off great with smoked baby corns but my fish entree was a total let down. The desserts consisting of churros, ice-cream and local fruits, all done in an innovative way, did help reclaim Pujol's 16th ranking spot a bit.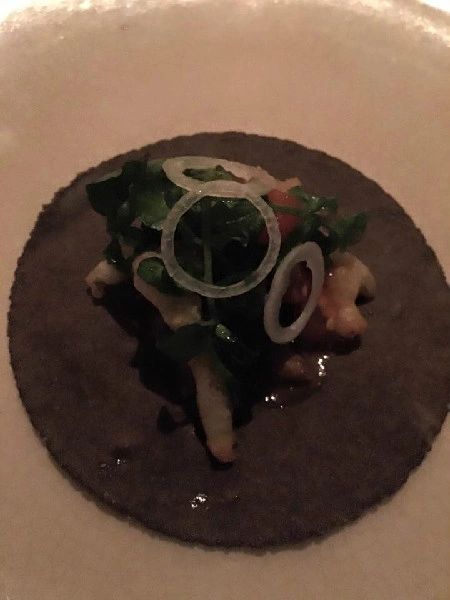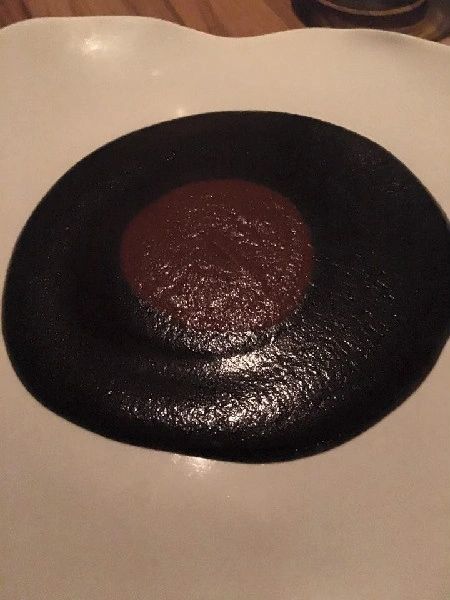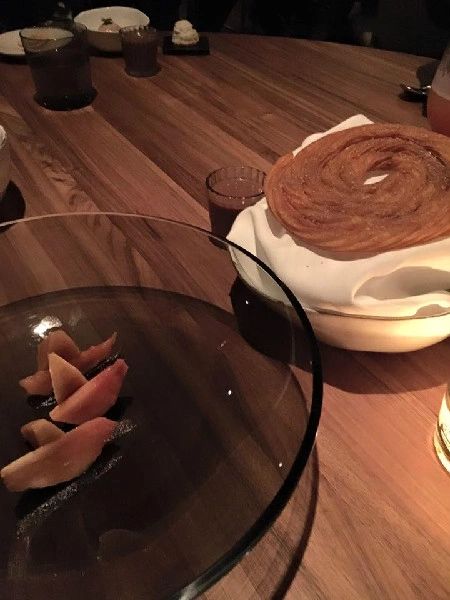 Our Quest to eat at all three of the "2015 World's Best 50 Restaurants" located in Mexico City during our visit there was definitely a satisfying experience. The three tasting menus we had all had their hits or misses but we did conclude, based on the majority vote, that Quintonil had the tastiest and most innovative menu while Pujol and Biko excelled in service and provided a more inviting ambiance. Considering the price of one tasting menu at a lower ranking restaurant in New York City is about USD200-300 and we have spent less than USD300 for the same type of menu at all THREE of the world's top 50 restaurants in Mexico City (including wine and gratuities), this is undeniably a great value hence making Mexico City well worth the visit.
Eating Like A Korean Monk... Just For A Meal

I took my mom to Seoul and Busan in late May. For our very first meal in Seoul, before we started indulging in popular meaty dishes like bibimbap and Korean fried chicken, we decided to pay the popular Sanchon (www.sanchon.com) to have some traditional Korean temple cooking that was all vegetarian.
Located in the Insadong area, this restaurant boosts the décor of traditional temple with two seating options – traditional Korean seating for the yoga savvy and regular seating for those foreigners who are not used to crossing their legs and sitting on the floor while eating. We opted for the former and I constantly had to stretch out my legs between course. Sanchon claims to use vegetables (even rare ones) from all over South Korea. They forage from mountain to sea to bring you dishes that a monk would agree. Please don't expect any garlic in your food as garlic is said to invoke sexual desires and is definitely a big no no for monks.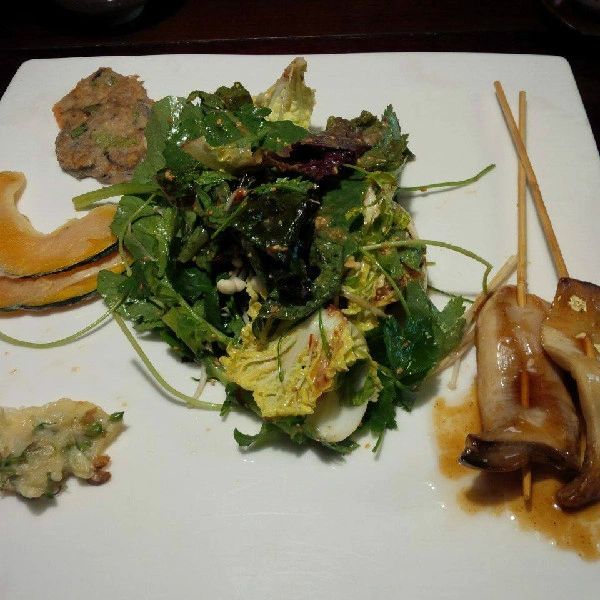 Green, green and more green!



While the restaurant offers a rather extensive list of menu items, patrons have to order all of them in the form of a lunch or dinner tasting menu. Lunch tasting menu will set you back KRW33,000 (about USD32) while dinner will set you back by KRW45000 (about USD42). Food came out in 4 waves. First wave consisted of mostly appetizer dishes. Second wave consisted of various veggies. Third wave consisted of carbs made with veggies and last wave consisted of a light dessert. We had 16+ items in total and they were:
Porridge made with pumpkin
Watery plain kimchi (again, monks are not supposed to eat flavorful food lest they start lusting for something else)
Fried kale
Jellied food
Dhania leaves
Pancakes made with an assortment of vegetables
Salad with soybean paste dressing, paired with rice wine (can monks drink?)
Wild herbs and vegetables
Kimchi
Small potatoes glazed with soy sauce and starchy syrup.
Seasoned wild deodeok roots
At least 10 side dishes of different vegetables
Special chop suey made with musroom and veggies
Rice with beans
Stew with bean paste, tofu, mushroom, radish and red pepper
Tea
Seasonal rice pastry

Simple dessert
My verdict? It was definitely an experience. But half way through the meal, we were veggied out and my body was starting to reject the massive amount of healthiness I was forcing it to consume. To make up to my body for the herbivorous type of torture, I had Korean fried chicken for dinner that evening.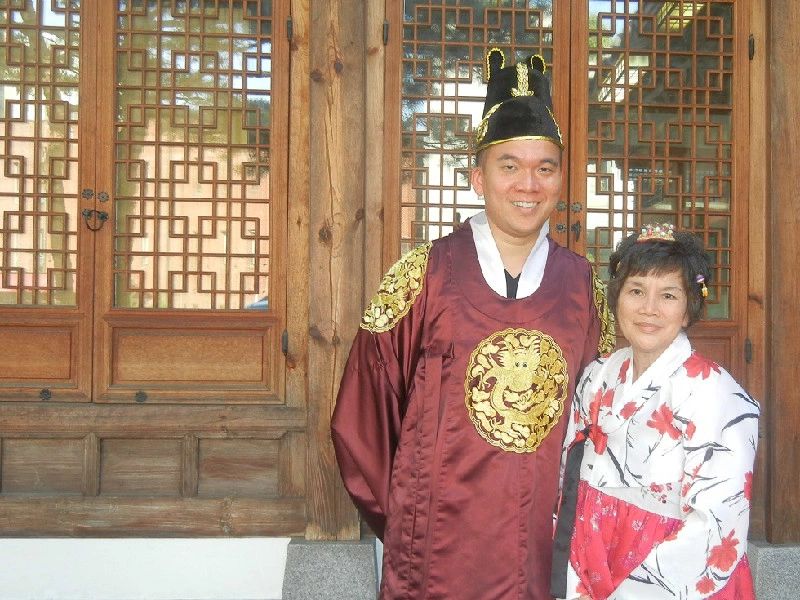 All those vegetables for lunch had driven my mom and I to do this post lunch!



Eating Well at 30,000 Feet Above Sea Level


It is not an easy job to serve tasty food on a flying aircraft as our tastebuds change at a high altitude, so kudos to the airlines who manage to still dish up tasty dishes. Here are some dishes I had that were fantastic while others, not so much. Eating, sleeping along with on demand inflight entertainment sure help the flight time pass.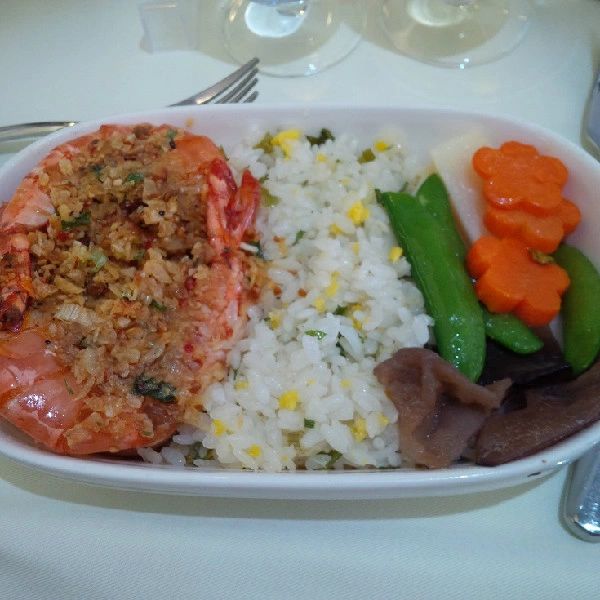 EVA AIR: delicious shrimp topped with fried shallot bits with a side of light and fluffy fried rice and vegetables, finished with a not-to-sweet passion fruit cake.



SINGAPORE AIRLINES vs MALAYSIA AIRLINES: The war on satay. Malaysia Airlines won this round.



SINGAPORE AIRLINES vs MALAYSIA AIRLINES: The war on Nasi Lemak (Coconut Rice with Curry). Singapore Airlines won this round.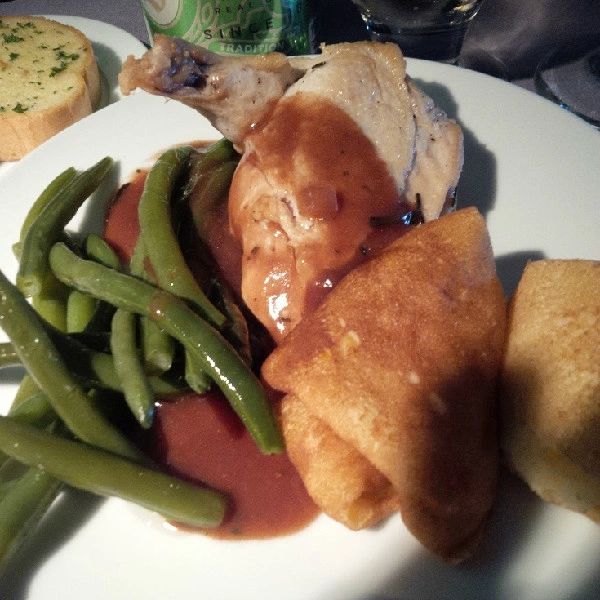 A good meal is not easy to come by on US airlines but this roast chicken served on United Airlines' premium service was delicious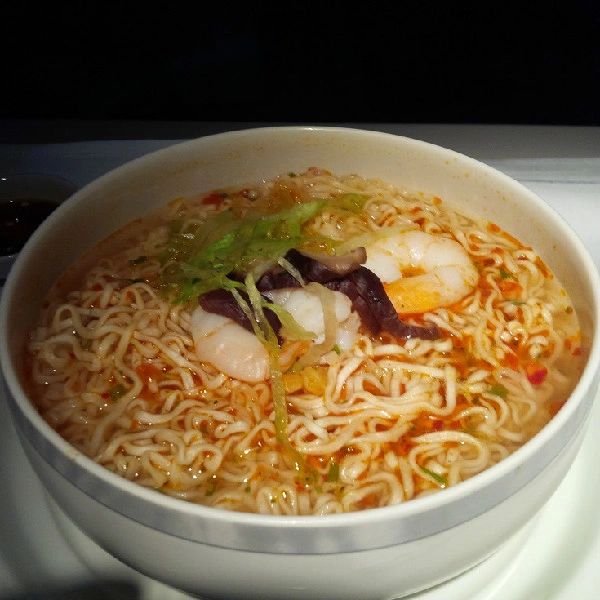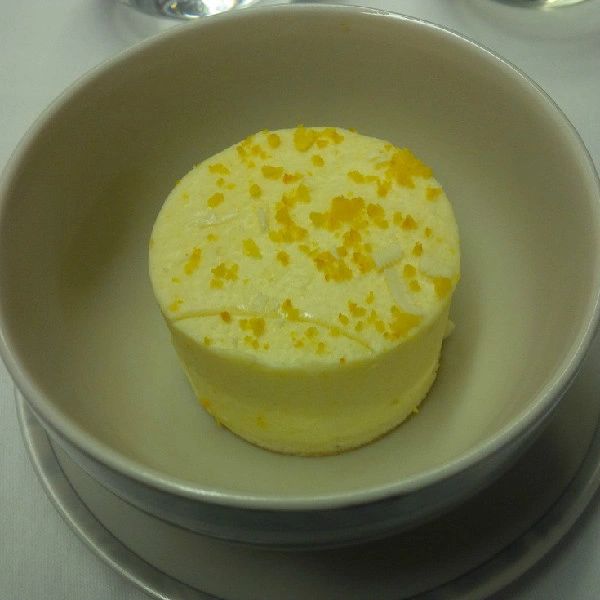 The Good on Singapore Airlines: Tom Yum Ramen and Fish Ball/Minced Pork Soup, and these were just midflight snacks! The lime cake was also very refreshing.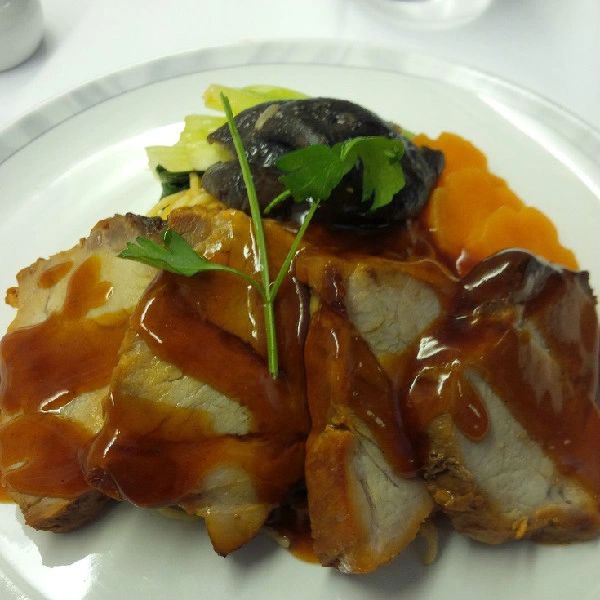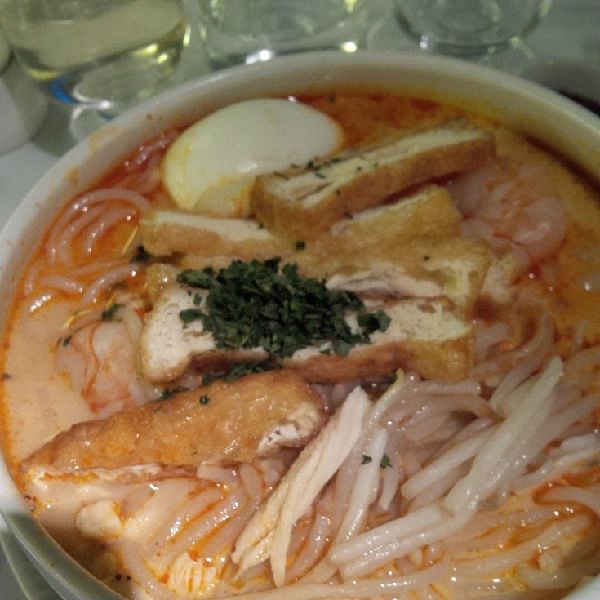 The mediocre and slightly strange on Singapore Airlines (Left to Right): Scallop pasta - the scallop came with the entire flesh surrounding the scallop. Roast pork noodles - pork was fresh tasting, but this didn't taste Chinese. Shrimp curry noodles - the curry was too watery for my liking.

And of course, this is the best seat to enjoy all these dishes on Singapore Airlines.


Finally Tracked Chef Jimmy Tu of TIGERLAND down 7 Years Later at BUNKER VIETNAMESE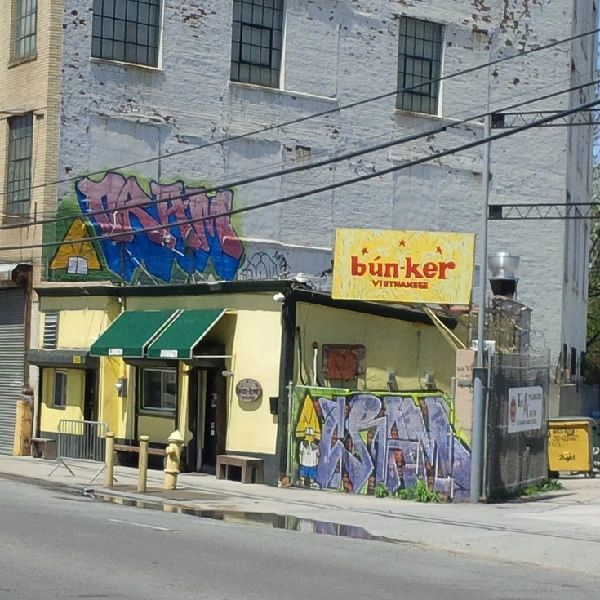 Bunker Vietnamese on 46-63 Metropolitan Avenue, Ridgewood NY 11385.
Website: www.bunkervietnamese.com, walk-in only.
I was a big fan of Tigerland and its Chef Jimmy Tu during its heyday in the East Village in 2005-07, but after it shuttered its door for good in late 2007, I had not been able to find a place as good as Tigerland when it comes to quality Vietnamese dishes in New York City. Chef Tu used the freshest ingredients to prepare the food in the simplest way possible. His dishes were always tasty and fresh, much akin to what Chef Kimmy Tang prepares at 9021PHO, a chain based in Southern California.

I had been tracking Chef Tu's whereabout ever since the closing of Tigerland. Three years ago, I ran into his then girlfriend Miranda walking home from work and she advised me that Jimmy was then working for a friend on the Upper West Side, and was looking to open his own place again. Excited, I told her to keep me posted. She didn't. Fortunately, I managed to track him down last week. Out of the blue I decided to google him and discovered that he was now running a Vietnamese restaurant called "Bunker Vietnamese" way out in Ridgewood, a Queens neighborhood that borders Brooklyn.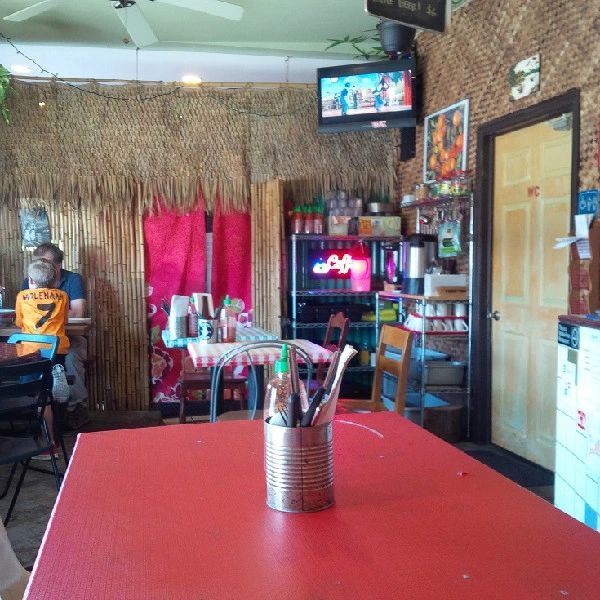 The Tiki Bar Interior with a few tables
To get there via public transportation is rather easy. Just take the L train to the Jefferson Street stop and then walk 10 minutes. The walk is not advisable in the evening as this is a rather desolate neighborhood with nothing but warehouses and a "Western Beef" Supermarket (located half a block away from the restaurant). There is also the view of the east side of Manhattan from afar. I had to visit as soon as I could, which was the next day. Bunker Vietnamese is much smaller compared to Tigerland. The comfy Tiki bar setting makes you feel like you are dining in Hawaii or having Polynesian food, sipping something out of a coconut or having drinks with umbrella in it. The warm and sunny weather that day sure put us in that mood, especially after that 10-minute walk from the Subway station. The menu is rather simple. We started off with a home made limeade which is this refreshing drink made with shiso and basil seeds. We then had some delicious crab spring rolls and a traditional Banh Xeo, which Chef Tu served at his former restaurant, followed by dishes like Suon Nuong Xa (grilled lemongrass pork loin with organic fried egg and rice), Cha Ca La Vong (crispy ginger tumeric flounder, dill, peanuts sitting on a bed of cold vermicelli noodles), Tom Thit Ram (caramelized Mexican wild shrimp, bacon, basil, scallops and garlic tomato fried rice), coconut braised durac ribs and oh, a side of sauteed water spinach just to get our vegetables in. All dishes sure did not disappoint, save the grilled lemongrass pork loin that was a little tough texture wise, but taste wise it had exceeded our expectation.

L-R: Home made limeade made with shiso and basil seeds, crab spring rolls and traditional Banh Xeo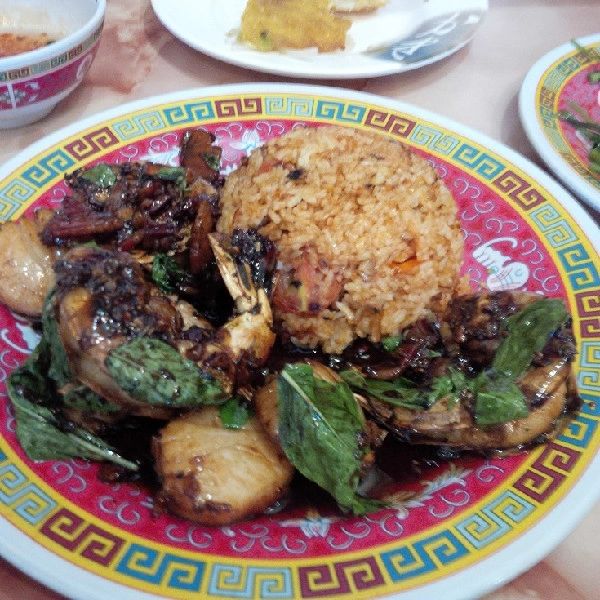 L-R: Cha Ca La Vong (crispy ginger tumeric flounder, dill, peanuts sitting on a bed of cold vermicelli noodles), Tom Thit Ram (caramelized Mexican wild shrimp, bacon, basil, scallops and garlic tomato fried rice) and coconut braised durac ribs


Eating at Bunker Vietnamese brought back all the sweet memories of dining at Tigerland. Chef Tu has clearly not lost his magic. In fact, he has improved his culinary skills as he spent a year working in Vietnam learning from the best. The service was good and pretty casual. We had to go fill up our own drinking water. I didn't see Chef Tu or Miranda, who is now his wife. In fact, they both have a one year old daughter now. It'd be nice to see Miranda and give her a hard time for not telling me her husband's latest restaurant which has been in business for over a year now. Most of the time the wait at Bunker Vietnamese at lunch or dinner can go up to an hour and a half, as the restaurant only sits 20-22 people. Large group party is definitely not recommended. We lucked out however as we went on a Mother's day afternoon and there was no one there. I guess people were too busy taking their moms to western brunches or dim sums. We will be back here for sure! Took me seven years to track Chef Jimmy Tu down but better late than never!






Addiction Aquatic Development (上引水產) - The "Eataly" Of Seafood Japanese Style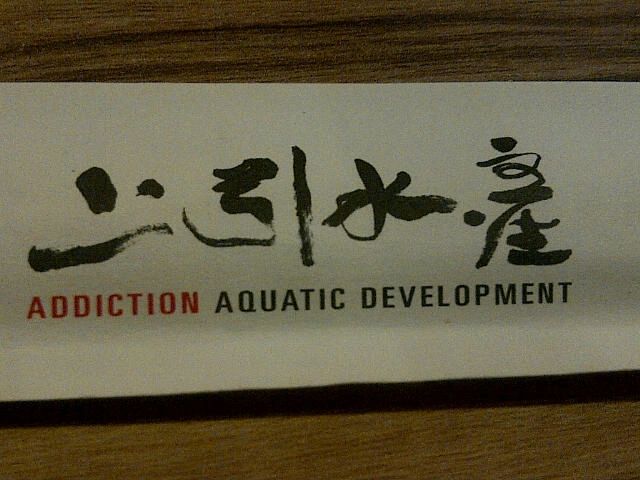 Thomas and I had the opportunity to check out a really cool seafood market/restaurant called "Addiction Aquatic Development (上引水產)" during my last visit to Taipei, thanks to my friend Dave. He used his connection to get us a table for a Saturday dinner at its famous shabu shabu restaurant at the very last minute. The seafood was definitely one of the freshest I had ever tasted.

This place reminds me of Eataly very much since it has a restaurant specializing in shabu-shabu, different food bars in the main section serving cold food like sashimi and oyster, a grilled section with outdoor seating serving seafood, a refrigerated section selling prepackaged seafood and meat, and a large number of tanks in the back with all kinds of sea life. Apparently this concept traces its roots back to Japan.



Hairy crab from Japan used for shabu shabu. The meat was very tender and sweet.



A platter of some of the freshest seafood I ever tasted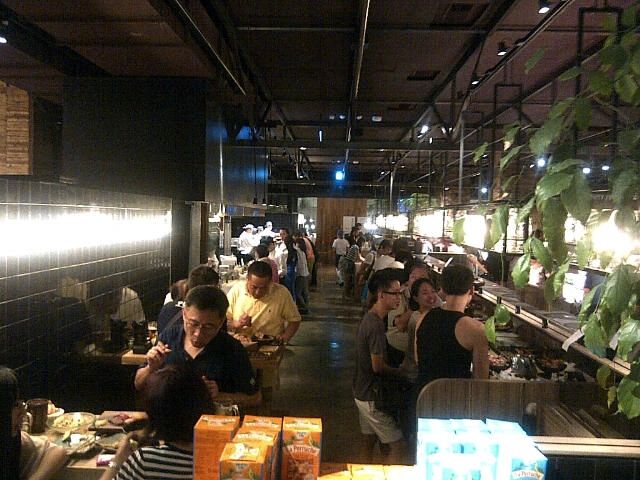 Two areas offering patrons cold food like sashimi. Standing room only.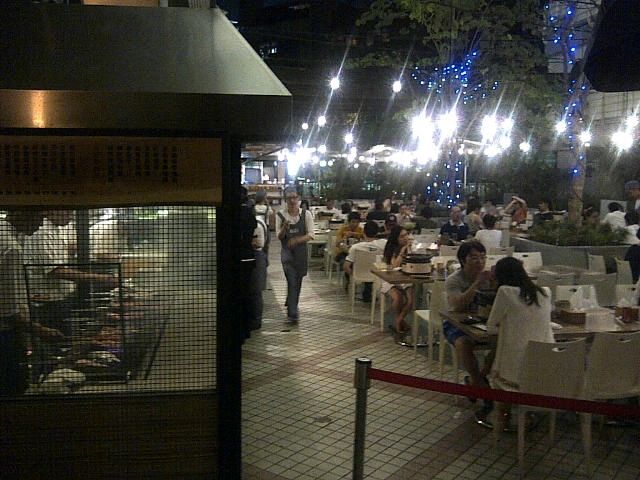 The grilled section with outdoor seating for those who don't like to cook their own food (aka hot pot/shabu-shabu style of eating)



There is even an area for take out bento box style



Where all the seafood come from... in the back of the store.

Address: No.18, Aly. 2, Ln. 410, Minzu E. Rd., Zhongshan Dist., Taipei (台北市民族東路410巷2弄18號)
Website: http://www.addiction.com.tw/
Reservation is highly recommended for its shabu-shabu restaurant!



Eating Off The Menu at 9021PHO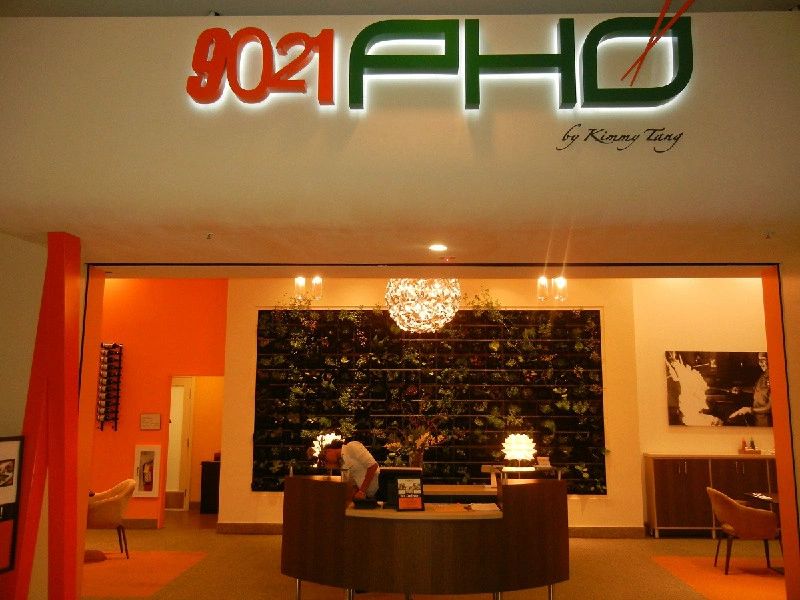 It's not often that you get a well known chef cook special dishes for you off the restaurant menu. Thomas was the lucky birthday boy this past weekend as Chef Kimmy Tang from 9021PHO dished up 7 dishes which you will not find on the menu of 9021PHO, the popular casual dining restaurant inspired by Chef Kimmy Tang that offers a Vietnamese centric menu with a French and California twist in the LA area. The dishes were created to celebrate Thomas' birthday, and it was not even a milestone birthday! I had to admit that I was a tad jealous. We ate at the latest location of 9021PHO in the Glendale Galleria mall. The bright decor at the latest location is casual yet elegant at this restaurant. It has a very inviting feel to it which matches the personality of Chef Kimmy Tang.



Our special menu for the night


First appetizer course was fried lychee stuffed with pine nuts and shrimp. Biting into the juicy lychee nut with a crispy skin covered with Kimmy's signature sauces was no doubt a great way to start our meal.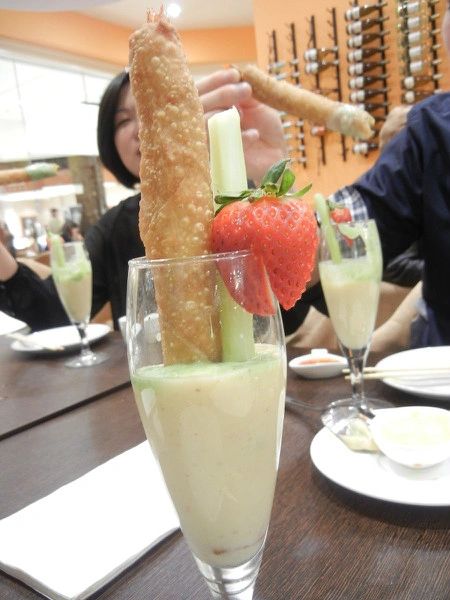 This was followed by a crunchy flute stuffed with shrimp and taro that was dunked in a pineapple and mint sauce. The tastiness of the flute was enhanced by the refreshing sauce. Think churros savory and Asian style!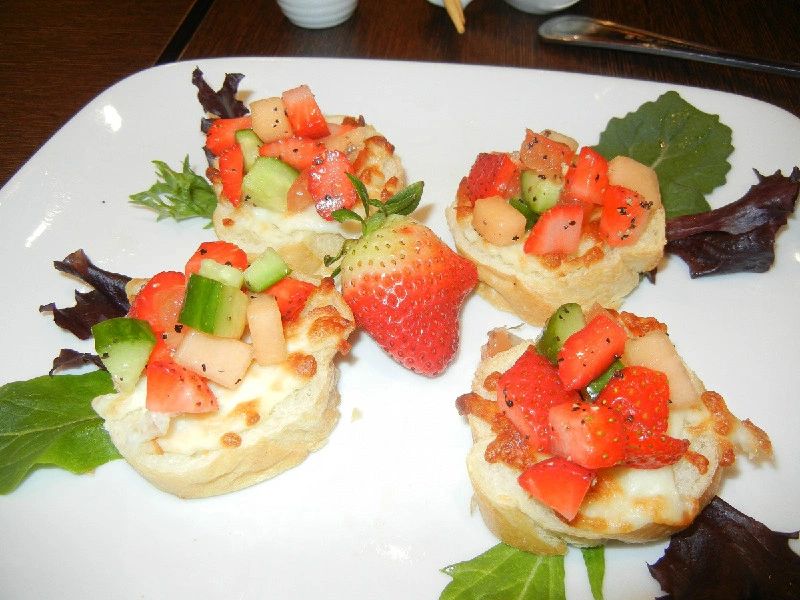 Fresh strawberries and cucumbers with melted mozzarella on a toasted baguette - a little palate cleanser for us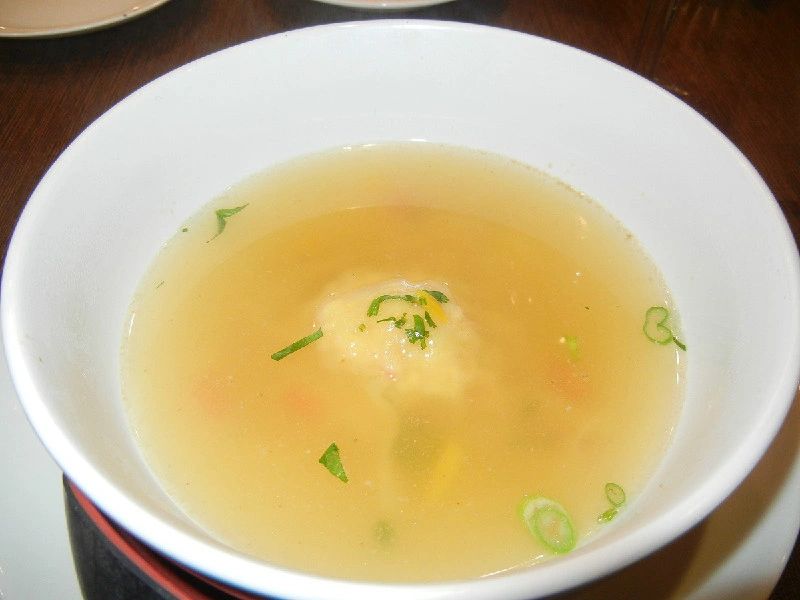 Crab ravioli swimming in a delicious and light seafood consommé. Every bite of the ravioli gave us tender crab meat. I am salivating now just thinking about it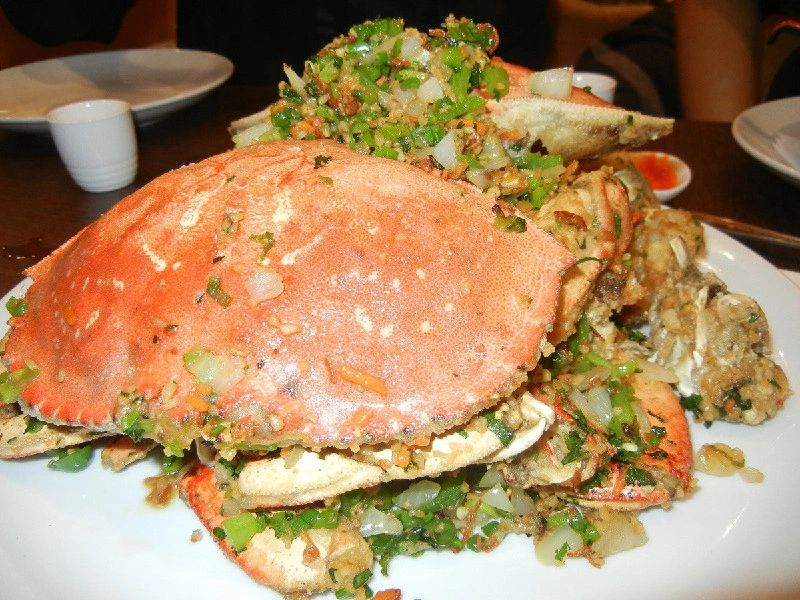 Crab sitting on a bed of scallions and jalapenos, cooked Hong Kong Typhoon Shelter style!
Stuffed fish with glass noodles and black mushroom. Stuffing it and making it look still like a whole fish is not an easy task!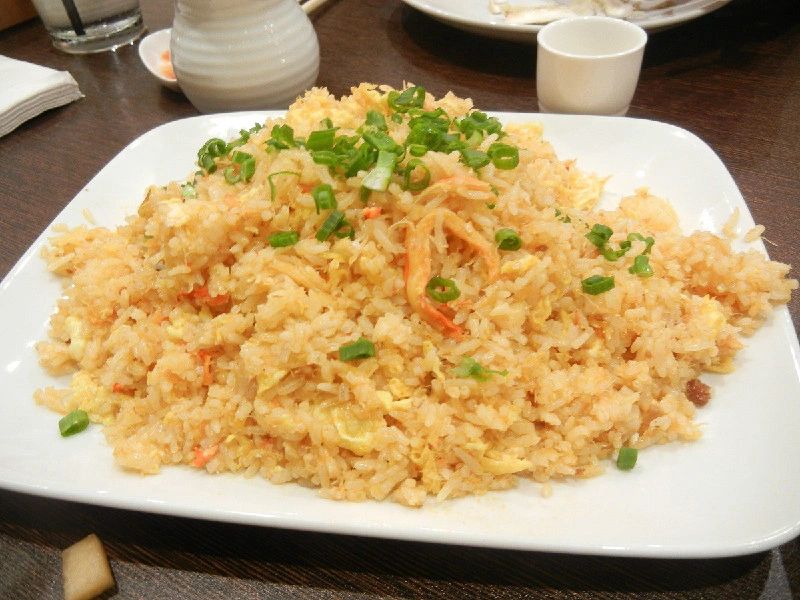 We wrapped up the savory part of our meal with a fried rice dish cooked with crab meat. This was Jacky Chan's favorite dish at Chef Kimmy's former restaurant "Michelia"
Yuca cake in different flavors. It's flavorful and light at the same time. Not like we cared but it was gluten free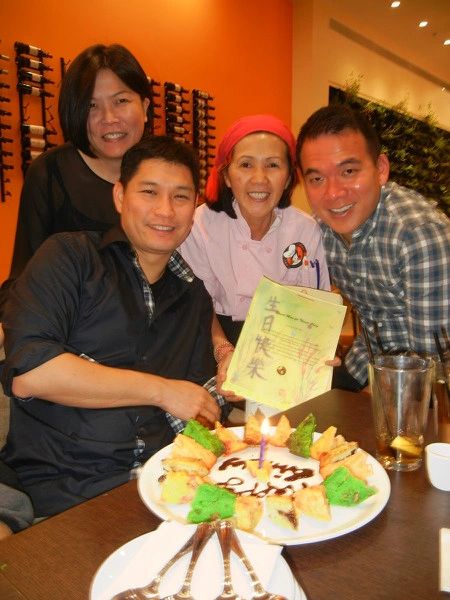 A happy, full and very appreciative birthday boy (or man, old man) and his friends with the incredible woman who made this wonderful night happen. None of the dishes we had was on the 9021PHO menu.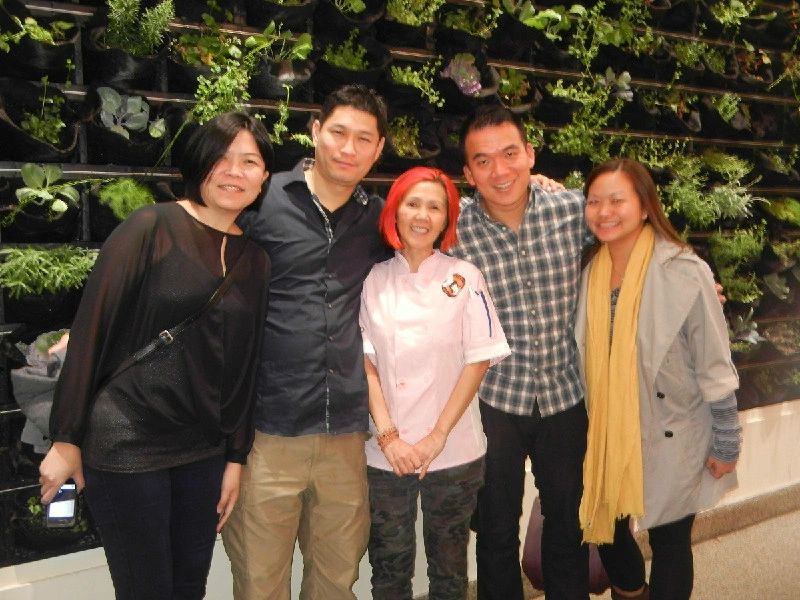 Thank you so much for your ingenious cooking tonight, Chef Kimmy Tang!
Eating Well The Italian Way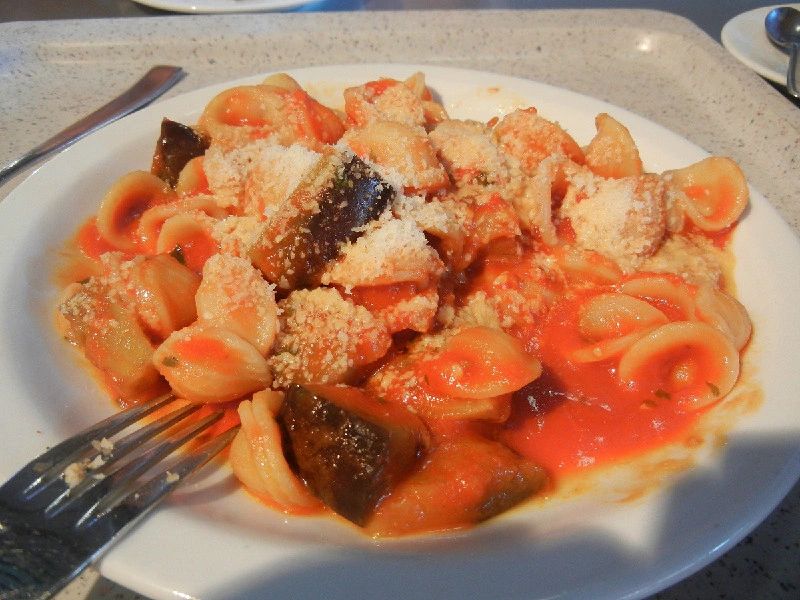 Except for the hardcore Spanish and German soccer fans, who doesn't like Italy? It's a country with delicious food, great wine and of course, beautiful and historical sights. It's also a country where, if you come in September, you will be greeted with a good supply of truffles at almost every restaurant you patronize. This is not a hard sell for a truffle fan like me.
People are familiar with the key sights of Italy in cities like Rome, Florence and Venice so I am not going to spend anytime blogging about them. Instead, I will blog about all the tasty food my friends and I ate when we were here. We visited Rome, Florence, Siena and Venice with a day trip to Montevarchi to visit the Prada outlet (we are Asians so we can't help it!)
In Rome, even a simple dish of eggplant pasta sold at the food court in the main train station tasted heavenly. The restaurants we ate ranged from a four-generation run restaurant dishing up comfy home cooked Roman specialties ("Trattoria de Lucia" at Vicolo del Mattonato 2 in the Trasvetere area) to a restaurant located in an old church dishing up southern spicy Calabrian dishes ("Ristorante Pizzeria Sacro e Profano" on Via del Maroniti 29 close to the Trevi Fountain). Every meal we had was a hit. There were no misses.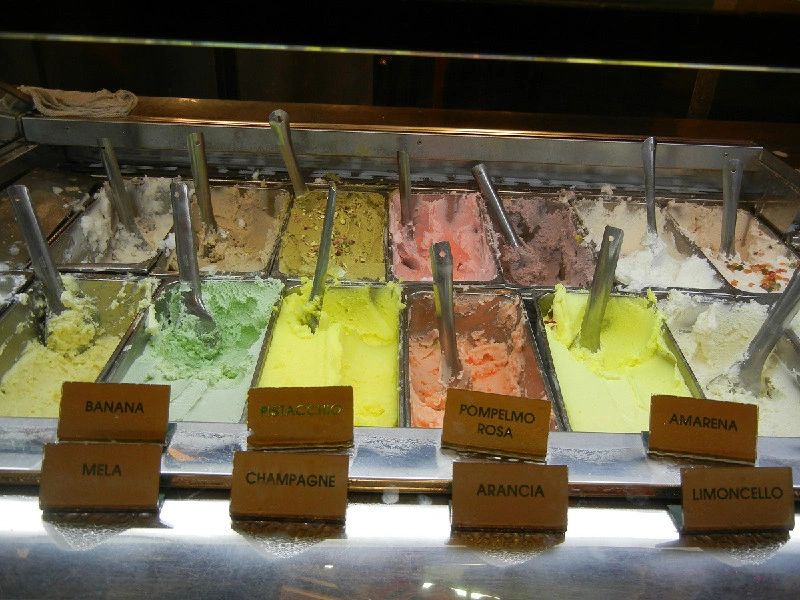 Different varieties of gelato at Giolitti – supposedly the best gelato place in Rome.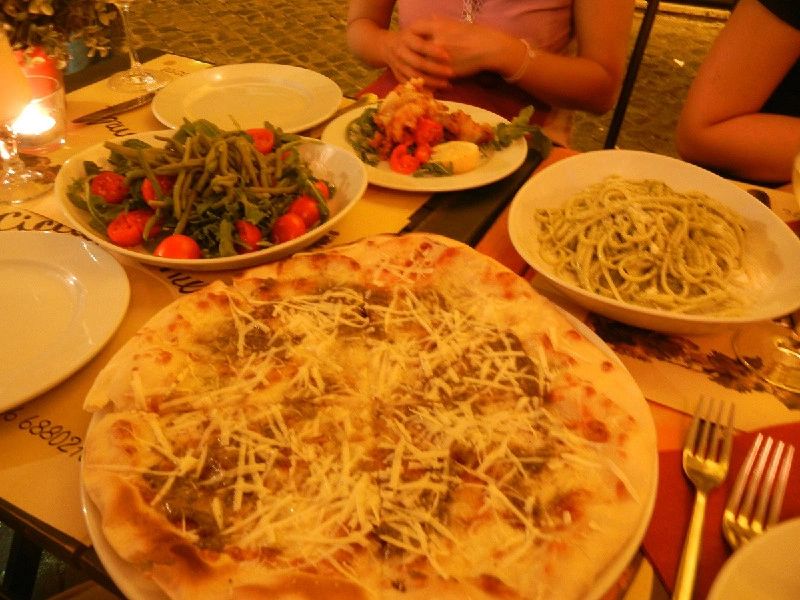 Our first dinner in Rome was spent at "Ciccia Bomba" on Via del Governo Vecchio 76. It's a traditional trattoria dishing up homemade pasta, wood-fired pizza and Roman specialties. We ordered a white pizza with truffle (can't get enough of 'em!), string beans with arugula salad (the arugula had a very spicy and strong taste profile unlike the one in the US), fried cod and a simple spaghetti dish with pesto sauce. The spaghetti was cooked to full al-dente perfection.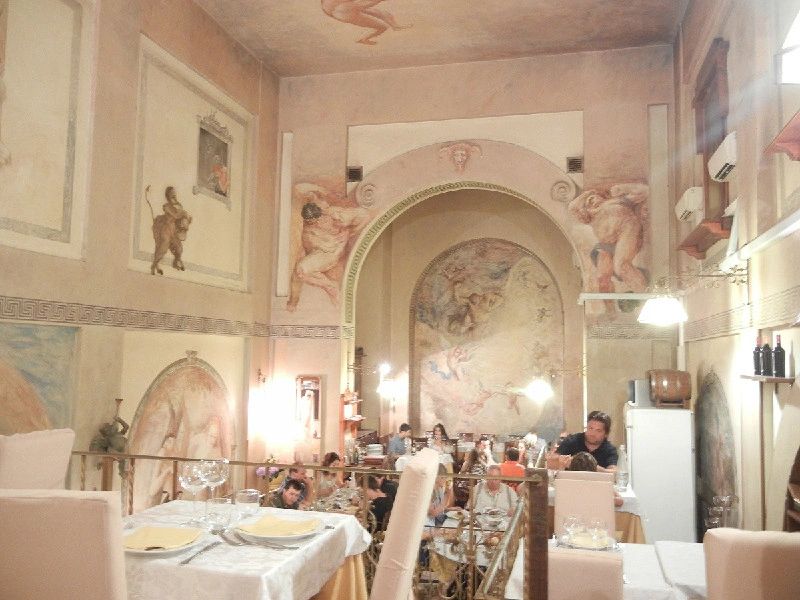 More eating at "Ristorante Pizzeria Sacro e Profano" on Via del Maroniti 29 close to the Trevi Fountain. It is located in an old church that used to be a dance club and it dishes up some great tasting Calabrian (spicy southern Italian) dishes. While every meal was tasty, this was the best meal we had in Rome.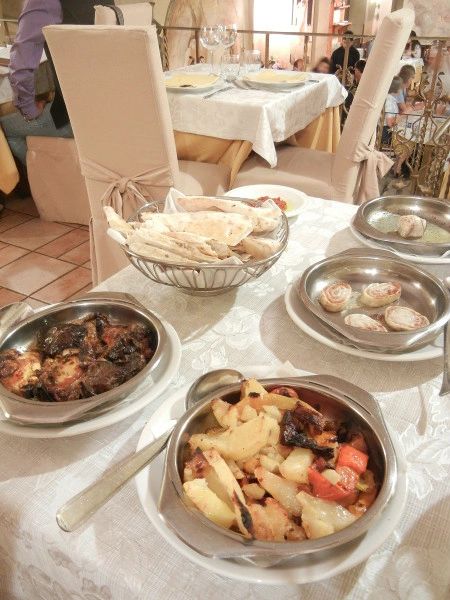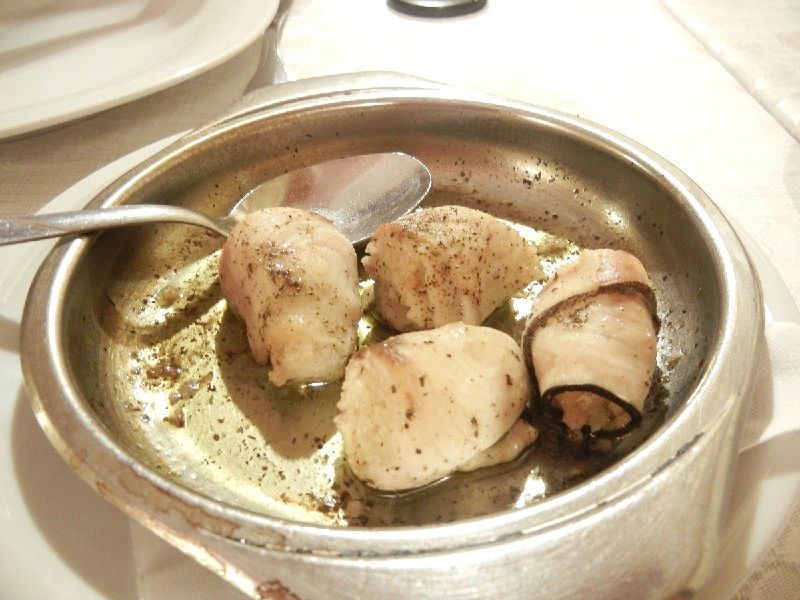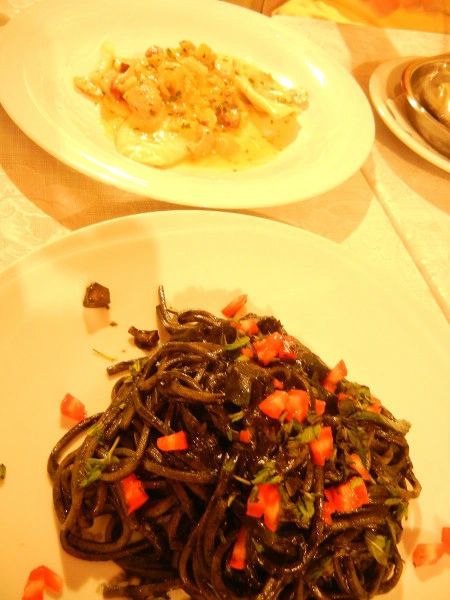 We started off with some antipasti dishes. Among them, the swordfish wapped with zucchini dish took the cake. We ordered two pasta dishes that were delicious - pumpkin ravioli and squid ink pasta with a pleasant basil taste (never had it like this before). We finished off our meal with a pizza topped with spicy southern sausage.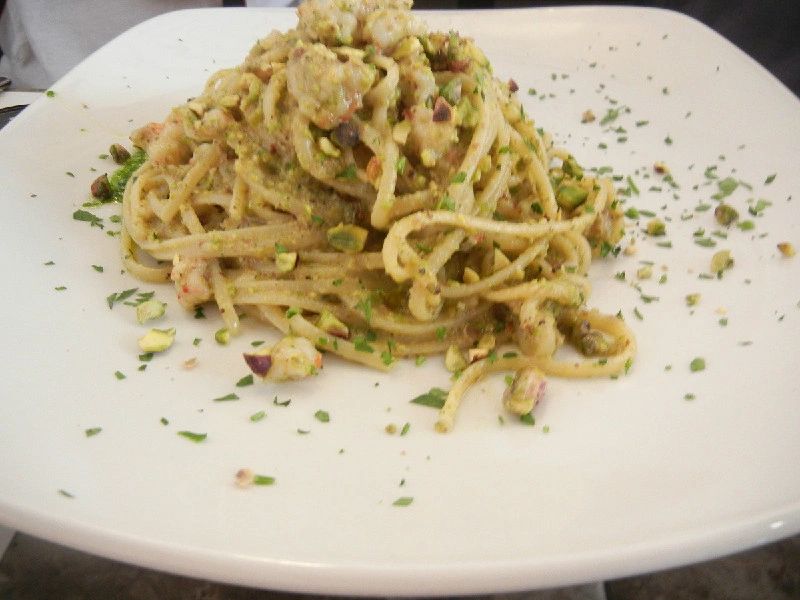 Spaghetti with pistachio sauce and shrimp at "Restaurant Focacerria de Francesco" located near the Spanish steps. Never had pasta served with pistachio sauce in the States before. It was delicious beyond words could describe!
Tiramisu at Pompi (http://www.pasticceriaroma.it/). They have a few kinds here. The most popular spot in Rome serving Tiramisu. It's open daily until 1:30am.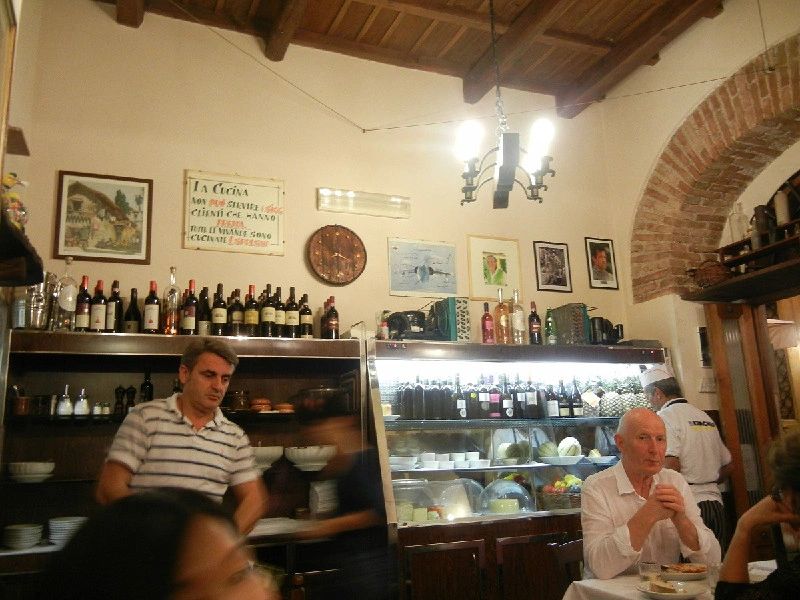 Dinner at "Trattoria de Lucia" at Vicolo del Mattonato 2 in the Trasvetere area. This family run restaurant has been around since world war II. It's like eating in someone's living room when you dine here.
The Spaghetti alla Gricia with pancetta bacon is a must. It's not as heavy as the ones we have in the States. The rigatoni pasta with marinara sauce was simple yet tasty Squid with peas was delicious. The chicory (a bitter taste vegetable that looks like spinach) was something I ate for the very first time. I liked it.

Food in the Tuscany area was different than the Roman dishes. We really liked this pasta we had in Tuscany called "Pici" made with water and flour (no eggs) and had more than our fair share of truffles here. After all, September was the beginning of truffle season in Italy so we had to take full advantage of it.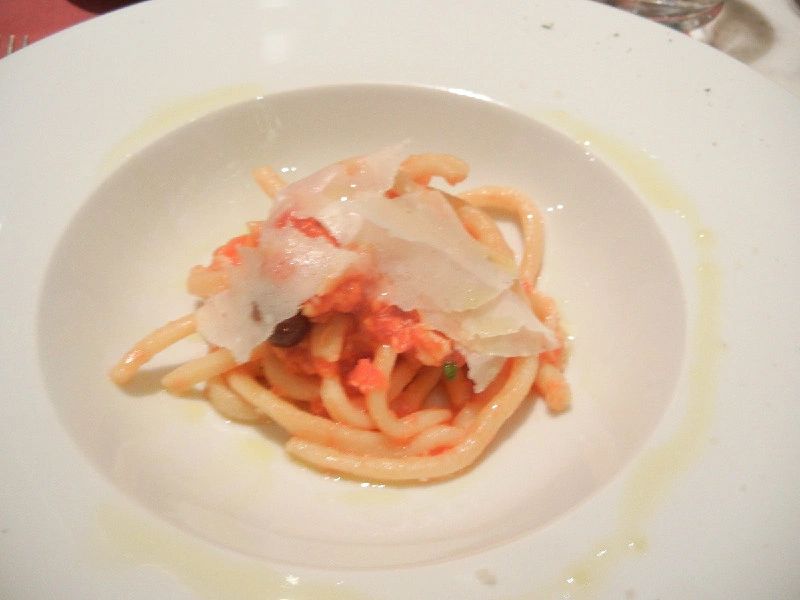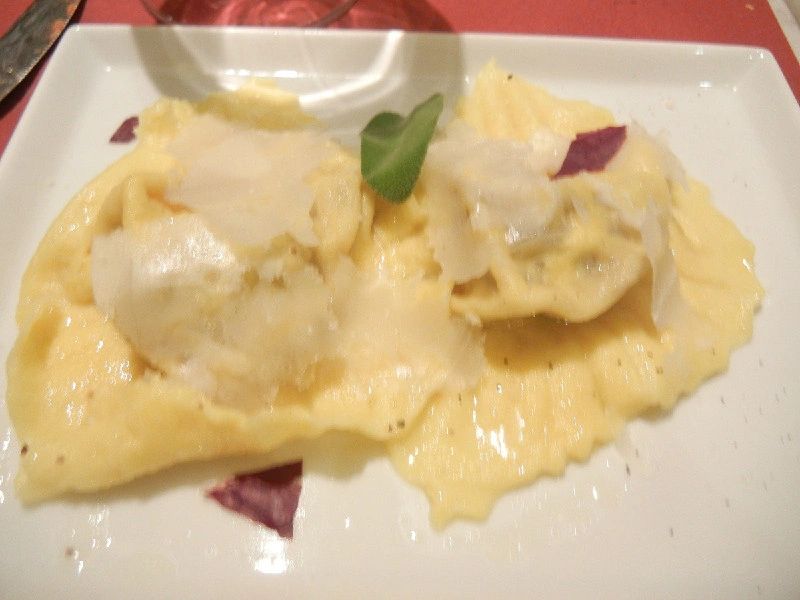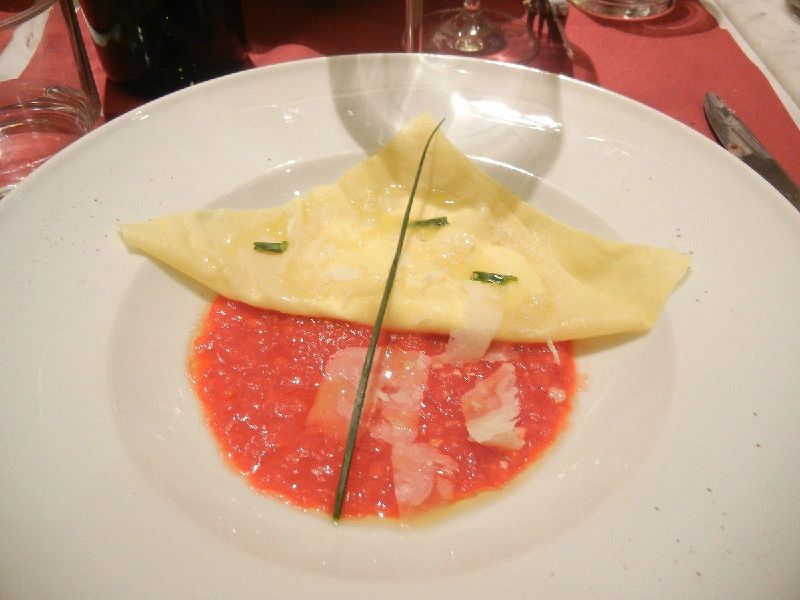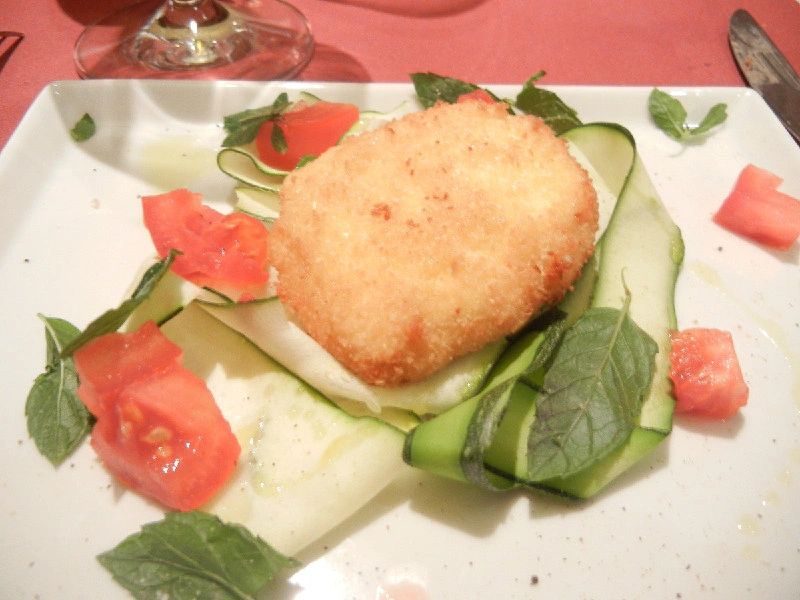 A good value wine pairing dinner at "Enoteca Pitti Gola e Cantina" on Piazza de'Pitti 16 in Florence. The dishes were phenomenal! First off, some chicken pate with toasted bread, followed by locally produced prosciutto. We then had the fried goat cheese with cucumber and mint leaves. Goat cheese may be hard to stomach for some (like me). But the mint leaves help eliminate the gamey taste of the cheese. What an ingenious combination! This was followed by a pasta dish that I had never tasted before. It's filled with Burrata cheese with cold marinara sauce that tasted more like a chill soup. Delicious! We also had ravioli filled with ricotta cheese and a hint of blue cheese before we completed the savory portion of our meal with a handmade wormlike looking pasta topped with delicious sauce made with cod.
This street vendor on Via St Antonio near Central Market sells the best beef tripes. It's world famous apparently.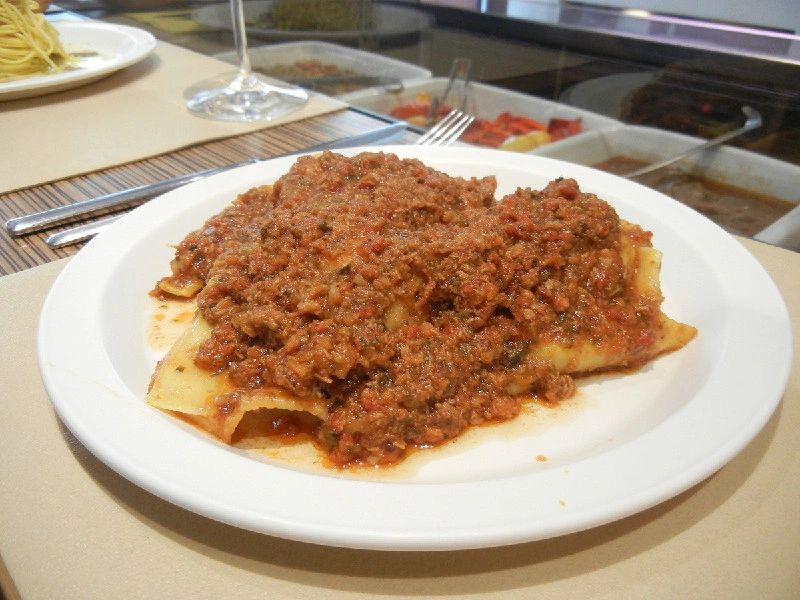 The best pasta dish I had in Florence was at "Zeb Gastronomia" (http://www.zebgastronomia.com/) . Spaghetti tossed in olive (and a hint of truffle) oil topped with truffles. The dish was so clean and tasty! The ravioli with meat sauce dish was also good.
When we were in Siena, we had dinner at "La Taverna di San Giuseppe" on Via Giovanni Dupre 132. I would highly recommend it for anyone who wants an excellent and high value meal in Siena.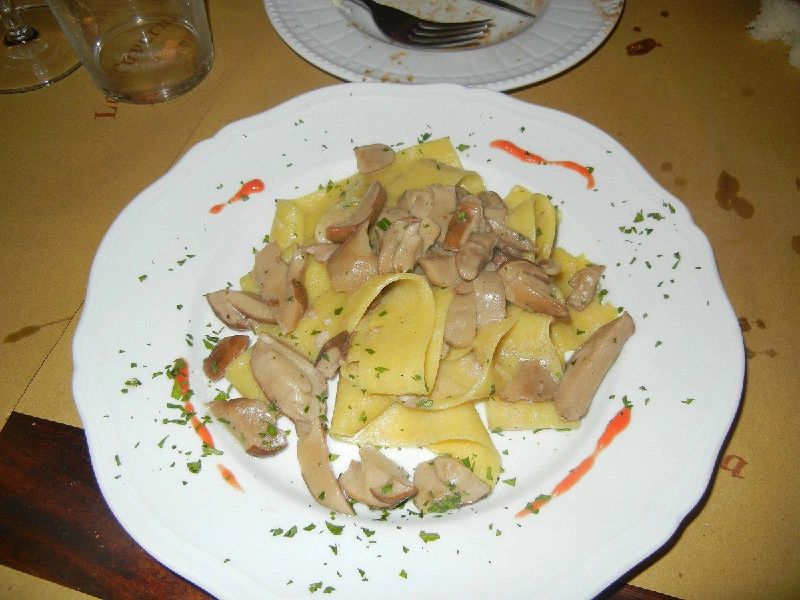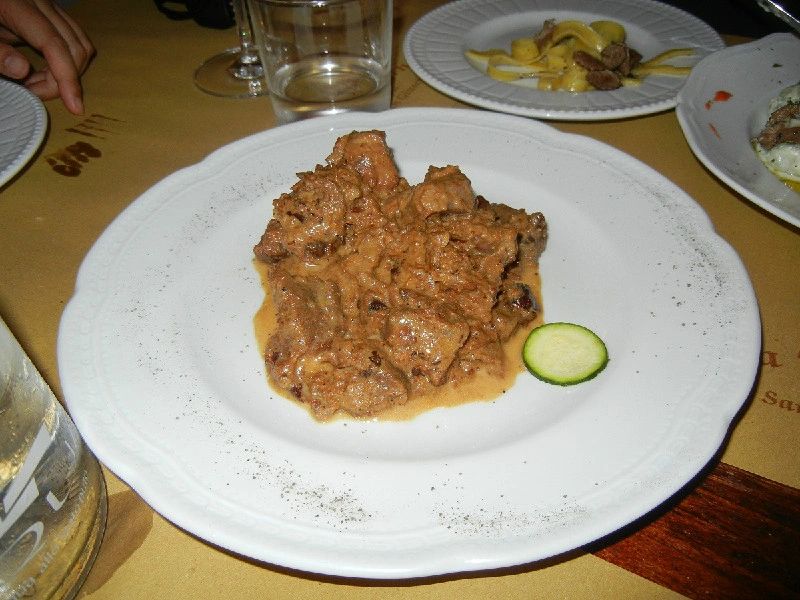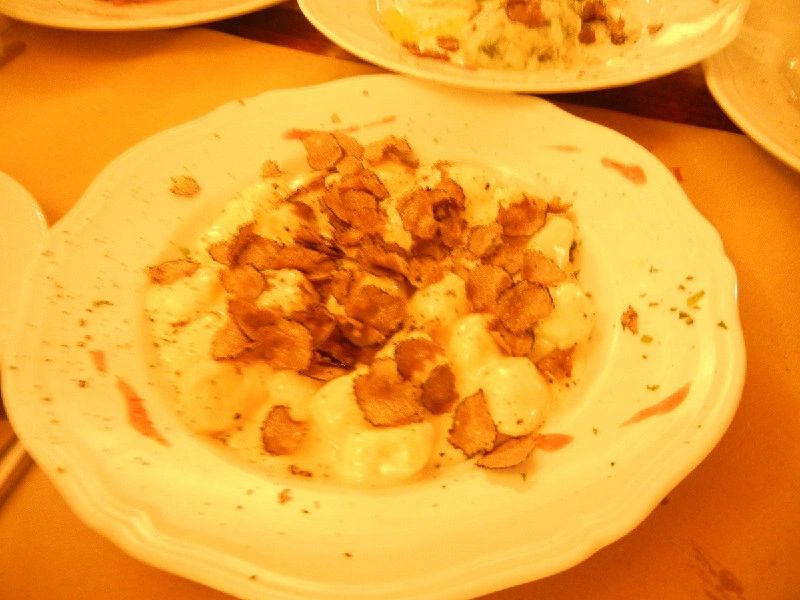 We had porcini with egg plant, bruschetta topped with lardo (cured pork fat), gnocchi topped with truffles… tons of truffles, stewed wild boar (delicious and wild boar is the specialty of this area), and porcini tagliatelle exuding flavorful mushroom tastes!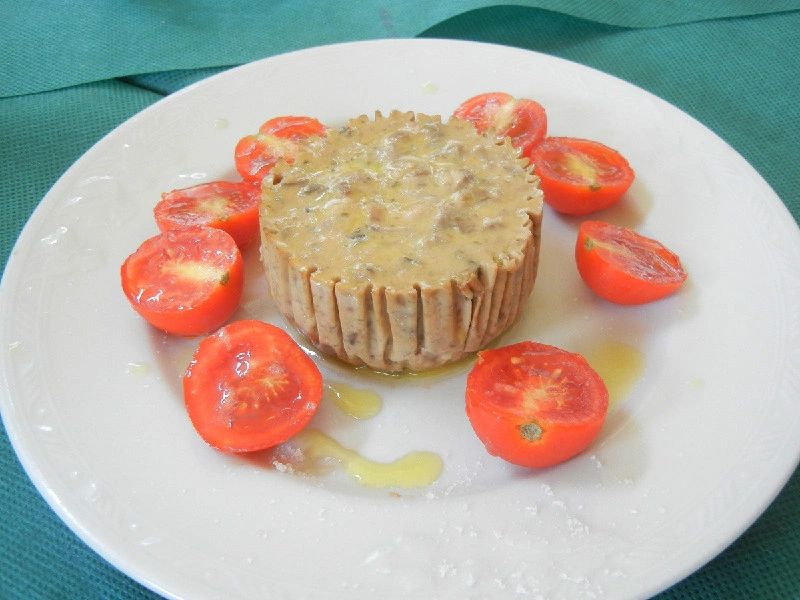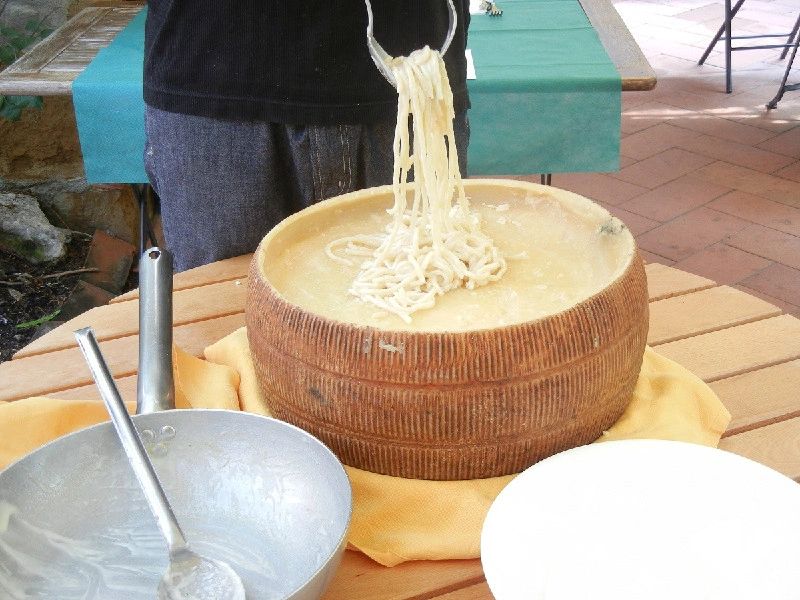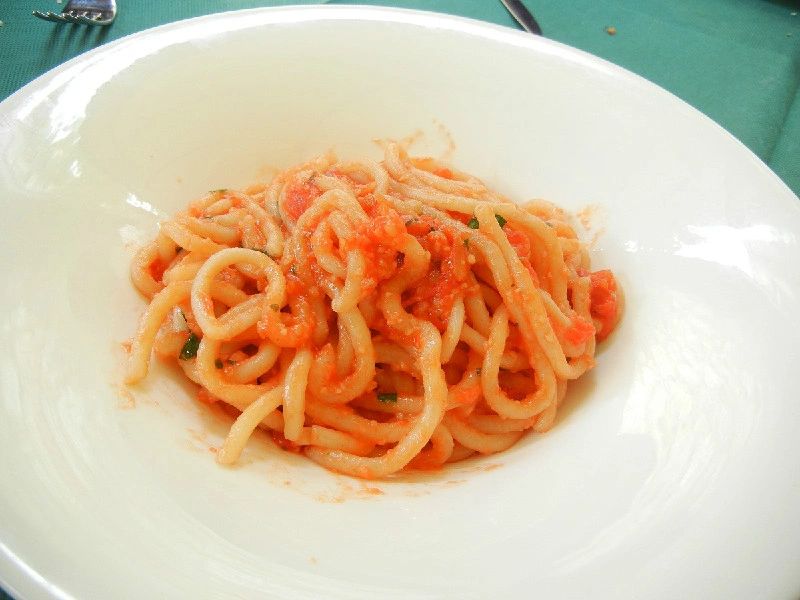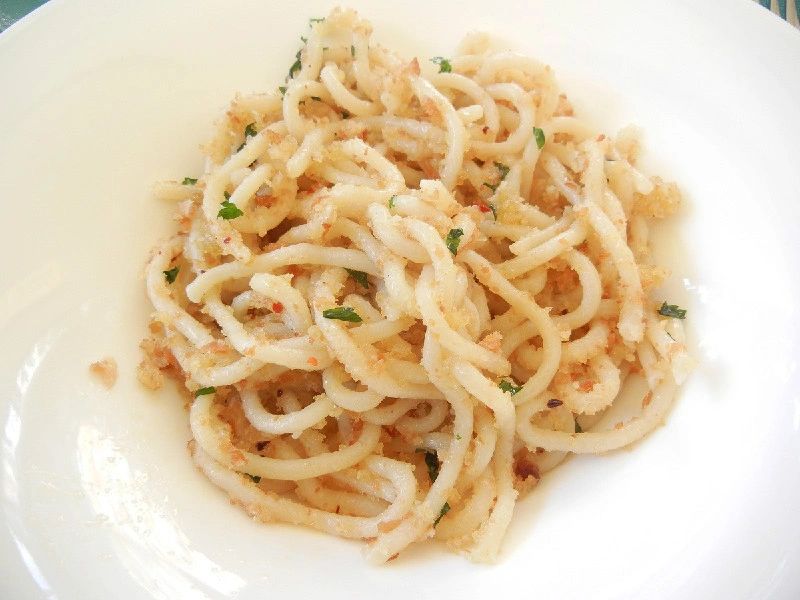 While touring Tuscany we also stopped by for lunch at "Ristorante 13 Gobbi" in Montefollonico. It serves really good Tuscan dishes and is rated highly on tripadvisor.com. We had delicious bruschetta with different Tuscan spread (even a plain bread doused in olive oil was delicious here). We also had Pici pasta, a hand rolled fat spaghetti made with flour and water (no egg). It's a Tuscan specialty. One variety we ordered was just tossed in olive oil and fried bread crumbs. The other one was served with tomato sauce. We also had Pici pasta with pecorino cheese. Two other non-pasta dishes we had were a simple salad with egg white/yolk bits on top and a tasty mushroom flan (never had this before).
Our final stop was in Venice. The gorgeous and decadent city of canals was also popular for its seafood due to its proximity to the Adriatic Sea. We acted like a pack of seagulls who just arrived at the fish aquarium. Venice is notorious for being more expensive than other Italian cities but to our surprise we managed to eat fresh seafood at prices comparable to the other Italian cities we had visited.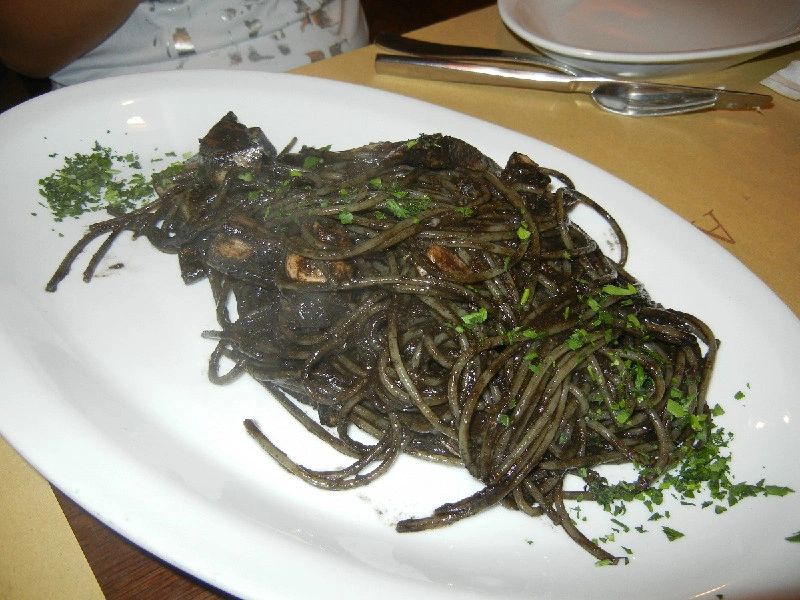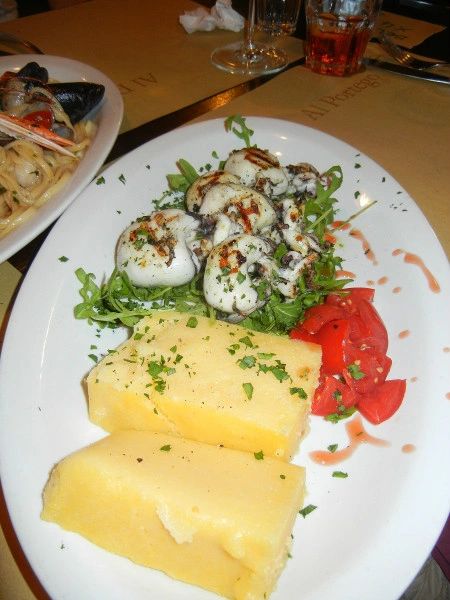 Dinner at "Osteria al Portego" near Campo San Lio. Contrary to popular beliefs, you can eat tasty food at an affordable price in Venice. We started off with some cicchetti (it's like bruschetta eaten tapas style). We would have liked it better if the bread was toasted. We then followed up with some really fresh squid with polenta, pasta with a mix of different seafood and squid ink pasta prepared in a traditional way. The whole check came out to be 20 Euro a person with wine and dessert so that's not bad at all.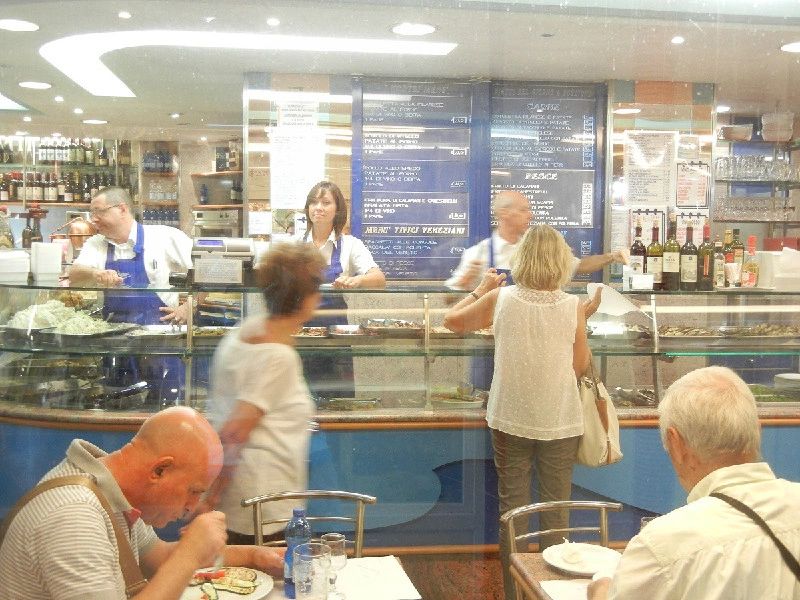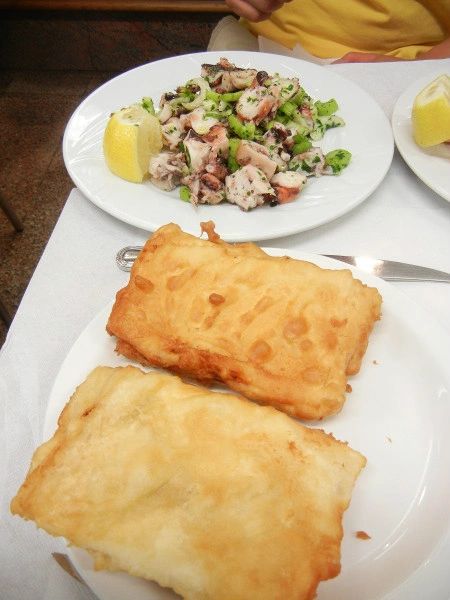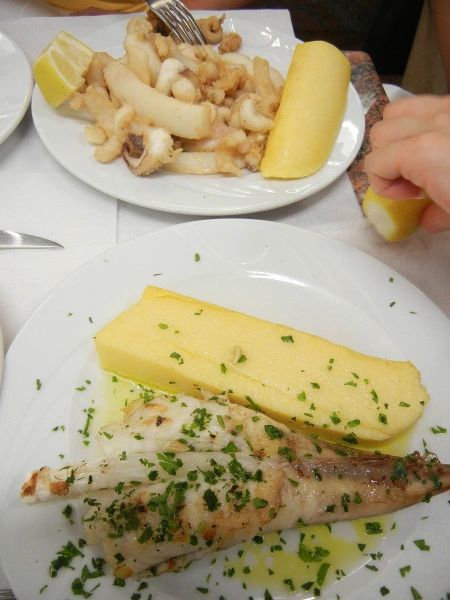 Our value eating continued with a visit to "Rosticceria San Bartolomeo", a self service diner located near Campo San Bartolomeo serving seafood, pasta and sandwiches. The fried mozzarella al prosciutto is a must here. The squid salad, fried calamari and some weird looking fish we got were also very tasty.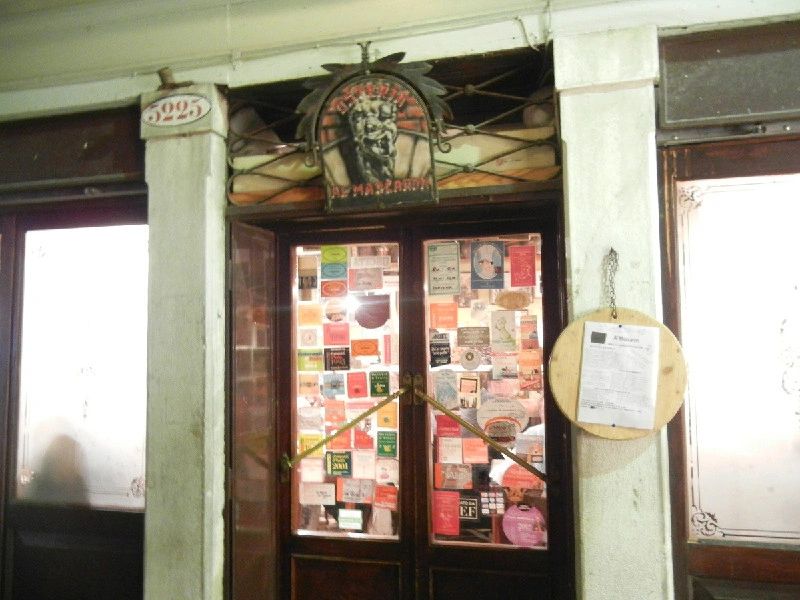 Our last dinner in Italy was spent at "Osteria al Mascaron" on Calle Longa Santa Maria Formosa. They have really fresh seafood but the service was just ok. Its seafood antipasti dish was delicious.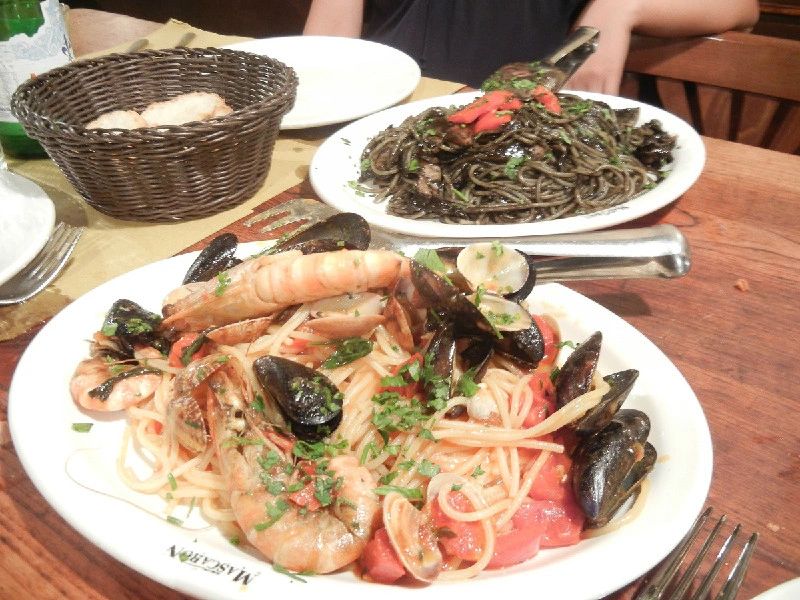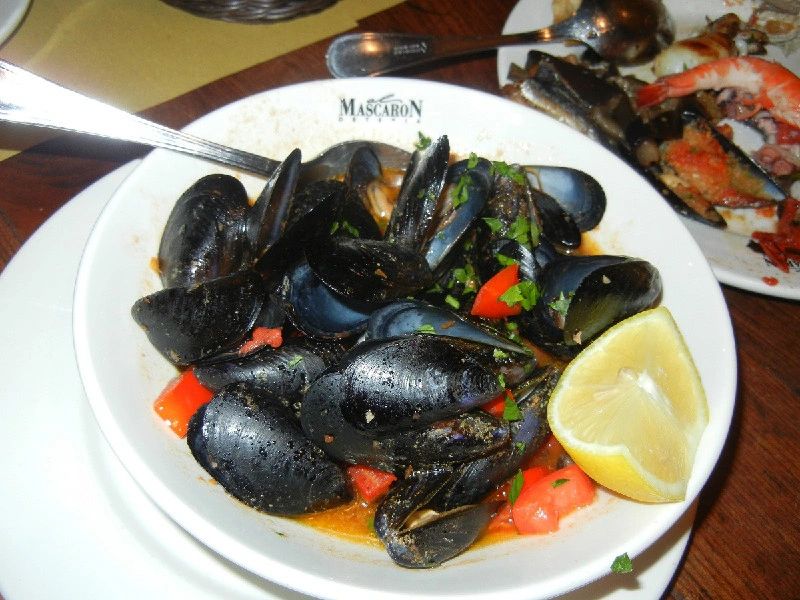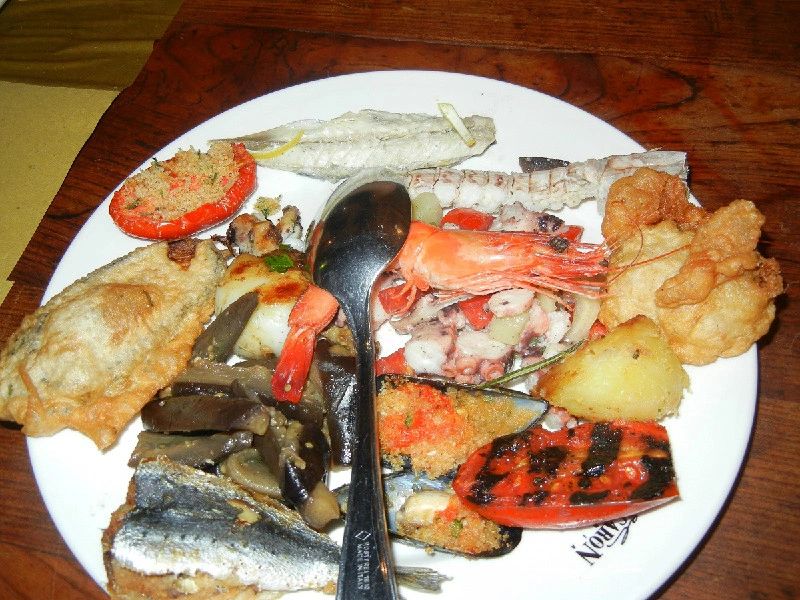 The mussels, however, were cooked with a bit too much wine. For pasta dishes, we had the exact same dishes that we had at "Osteria al Portego", only tastier. Check came out to be 40 Euro per person with house wine that tasted more like spritzer. Not too great of a value compared to the other two spots, but still an enjoyable meal.

In general, food in Italy emphasizes on the freshness of the ingredients, simple preparation and eating seasonably which are big contrasts to the Italian restaurants we find in middle America. We ate really well on this trip, and came back at least 5 pounds heavier. Time to hit the gym.



My Favorite Spots to Eat In Hong Kong

If you are a fan of Chinese food (not American Chinese that is), then you will probably find Hong Kong to be a city where you can satiate your Chinese food fix. Hong Kong's cooking is predominantly Cantonese style given its proximity to Guangzhou, which means you will see an emphasis on freshness of the ingredients used in the dish. Cantonese chefs often harmonize the taste of the ingredients through steaming or stir-frying and they don't cover their taste with thick sauces and spices (which is the exact opposite of Szechuan style dishes). For first time visitors to Hong Kong, the food choices here can be overwhelming. This is a city where people love to eat, and have high requirement for the food they ingest. They disapprove the use of MSG in their food and their uncanny ability to tell if MSG is used in their food is much like their ability to spot a knock off designer bag from a distance.
Like other major cities, Hong Kong restaurants or eating outlets come and go but the ones that I recommend below have stood the test of time. Some have been around for ages (but can still close if they can't afford the high rent charged by the greedy landlords) while others have only opened recently but have been very well received by tourists and locals alike.
Wonton Noodles
Wonton is a popular dumpling in the southern part of China. Unlike the northern style dumplings with thicker skin, wonton skin, which comes in the form of a square wrapper, is very thin. The filling for wontons is ground pork seasoned with salt, spices and green onions. In Hong Kong, shrimp is added to add a crunchy/al dente texture when biting into the filling. Hong Kong wontons are often served with thin egg noodles in a broth made with shrimp shells, pork bones and dried flounder. The broth is heavenly!
Here are my go to spots in Hong Kong when I want to satiate my wonton noodles craving:
2 Sharp Street East, Causeway Bay, Hong Kong
Address in Chinese:
銅鑼灣霎東街

2

號

Shop 3016-3018 on podium level 3 of IFC Mall, 1 Harbour View Street, Central
Address in Chinese:

港景街

1

號國際金融中心商場一期

3

樓

3016-3018號舖
Website:www.tasty.com.hk
* If you miss this, there is also one located in the HKIA airport food court.

Hong Kong Style Diner or Fast Food

HK style diners are like the NYC diners where the servers are rude and they exhibit no patience as patrons hesitate ordering a beef pastrami sandwich or an egg salad sandwich. Except here patrons will have many more Chinese or east-meets-west choices to decide (but no beef pastrami or egg salad sandwich). Hong Kong was once a British colony so afternoon tea culture seems to be a common activity here. Egg tarts, egg toast and even a small bowl of fish ball soup noodles are what the locals will order for an afternoon snack. Late night pub crawlers would often hit up these diners for the same food after a night of drinking. You must try the famous half coffee- half tea beverage unique to Hong Kong diners called "鴛鴦"(yuan yang). It is available hot or cold.

Tsui Wah Restaurant – 翠華餐廳


15D-19 Wellington Street, Central, Hong Kong
Address in Chinese:
中環威靈頓街

15D-19號地下至三樓
Website: www.tsuiwahrestaurant.com

They have multiple locations in Hong Kong, but go to the one in Central after a night of pub crawling in Lan Kwai Fong. This one opens for 24 hours. If you miss it during your visit, there is also one located at the HKIA airport food court, next to Tasty Congee and Noodle Wantun shop.


澳洲牛奶公司 Australian Dairy Company




47-49 Parkers Street, Jordan Hong Kong
佐敦白加士街47-49號地下

An inexpensive place known for its scrambled egg toast, egg custard, macaroni noodle soup and oh, steamed milk. There is usually a long line at the door but the line moves very quickly. Patrons also eat very quickly here. It's more of an "eat-and-run" kinda place and the perfect spot for breakfast if you are in a rush and want to start off your day with a hearty breakfast.
Cantonese Cuisine and Dim Sum

Cantonese cuisine is one of the eight culinary traditions of China and was perhaps the most popular one outside of China before the recent explosion of the Szechuan/northern cuisine popularity. Sauces aside from soy sauce, oyster sauce and sesame oil are used only sparingly and garlic/ginger is often used to mask the seafood smell. Cantonese are heavily into seafood since Guangzhou is close to the water. Cantonese also dig slow cooked soups and a lot of leafy veggies like choy sum or Chinese broccoli (kai-lan).

Yixin Restaurant 益新



G/F Shanghai Industrial Investment Building, 48-62 Hennessy Road, Wanchai, Hong Kong

灣仔軒尼斯道

48-62號上海實業大廈地下
Multiple locations but recommended branch is the one above; Yixin also serves dim sum in the morning.





Often compared to Spanish tapas, dim sum consists of bite-sized portions of tasty dumpling, fried protein, meatballs, rice noodles and sticky rice often served in small steamer baskets or on small plates. There are many places serving dim sum in Hong Kong and you will go no wrong with any of them given how picky the locals are when it comes to Chinese food. However, I have narrowed down four choices for you.

Most Posh Dim Sum Spot (Lung King Heen

龍景軒

)

4/F, 8 Finance St., Central (inside the Four Seasons Hotel)
Address in Chinese: 中環

金融街

8

號香港四季酒店

4

樓

A Michelin 3 stars spot dishing up delicious dim sum
Hottest Dim Sum Spot in Hong Kong Currently (Tim Ho Wan
添好運)
2-20 Kwong Wa St., Mongkok
Address in Chinese: 旺角廣華街

2-20

號翠園大樓

2

期地下

8

號舖
This is the original store. They also have two other locations including one at the IFC mall in Central. Must try its barbecue pork buns! Get ready for a long wait to be seated.
Oldest Dim Sum Spot in Hong Kong (Lin Heung Tea House 連香樓)
160 Wellington Street Central, Hong Kong
Address in Chinese: 中環威靈頓街160-164號
Opened in 1926, this is the oldest tea house in Hong Kong dishing up various dim sum dishes. Not the most sanitary spot in my opinion, and waiting for those old ladies to push the dim sum cart to your table will no doubt put your patience to the test.


Common but Good Dim Sum Spot in Hong Kong (Superstar Seafood Restaurant
鴻星
海鮮酒家)



Shop No. 1005, 10th Floor, Time Square, Causeway Bay, H.K.
Address in Chinese: 銅鑼灣時代廣場食通天

10

字樓

1005

鋪
Multiple locations in Hong Kong Island and Kowloon but recommended branch is the one above.They even have a location in Vancouver.
Roasted Goose
32-40 Wellington Street, Central, Hong Kong
Address in Chinese: 香港中環威靈頓街

32-40

號

Best place to get roast goose in Hong Kong if you don't want to travel all the way to Sham Tseng, a place popular for its roast goose in Hong Kong.



Dessert
Despite the common belief that Chinese don't have good desserts (to the Westerners' standard that is), there are dessert houses in Hong Kong serving up tasty desserts mostly catering to the local taste. Desserts served at HK dessert houses often come in the form of shaved ice and hot soup (its Chinese name

糖水

is literally translated as "sugar water" in English). These desserts are definitely not for you if you are into the typical sweet western desserts.

聰嫂私房甜品


33 Sharp Street East, Causeway Bay, Hong Kong (next to the Holiday Inn Hotel)
銅鑼灣霎東街33號智選假日酒店地下G1號舖
Over the years, I have lost count on how many Hong Kong eating places I have blogged about. Hong Kong is truly a food paradise and any foodie will not be disappointed with the food choices here. So eat away my friends!

Pok Pok NY (It's pronounced as "N-ai")




Andy Ricker may have won "the best chef in the northwest region" category in this year's James Beard Foundation Award for Excellence, but when it comes to cooking authentic Thai dishes from the Northeast and Northern region (and some Vietnamese dishes), I think that job is better left to the Thai/Vietnamese natives. Pok Pok NY (the NY is pronounced as "N-ai") has been generating a lot of positive buzz ever since it opened in Brooklyn earlier this year. So naturally I wanted to try it. My friends and I went there on a Saturday night and waited over an hour for a table. My verdict - the food was good but it was not really worth the one hour plus wait. Frankly there are little hole-in-the-wall places in LA that dish up better food than Pok Pok NY.

Here are some of the notable dishes we had:


Vietnamese Fish Sauce Wings. Tasty but a little too salty for my liking. This dish is also available at Pok Pok Wings (its smaller location) on the lower east side of Manhattan.



Roasted chicken known as "Kai Yaang". The chicken meat was tender and the stuffing was definitely something refreshing (It's stuffed with lemongrass, garlic, pepper and cilantro).


Cha Ca "La Vong" - Vietnamese catfish marinated in tumeric and sour sticky rice served on a bed of rice vermicelli. It's good for a hot summer night.



Pineapple flavored drinking vinegar. Something I needed to wash down those spicy food.

The ambiance at Pok Pok (we sat outside) reminds me of a casual eating joint in Thailand. Perhaps the management of Pok Pok wants its patrons to think that they are actually eating in Thailand and not Brooklyn NY. Even the colorful floral print tablecloth used at the restaurant is like those used at typical mom-and-pop restaurants in the small villages of Thailand.


The subject of food authenticity at Pok Pok NY can be argued either way, but we had a good time nonetheless.



Chinese Restaurant on a Mission



Lately Chinese restaurants serving Yunnan cuisine have been garnering a lot of attention in the NYC dining circle. There is a non-Yunnan food purveyor from San Francisco that opened its first NYC location on the lower east side last month that got quite a bit of attention too. Unlike its Yunnan cuisine counterpart, this place does not serve dishes with chrysanthemum leaves or wild mushrooms, nor does it offer dishes that are light and refreshing. Mission Chinese Food (154 Orchard St) serves up dishes with a heavy spice and flavor profile, reminding its customers of food from the Sichuan and Dongbei (Northeastern) area in China. While there are hits and misses on its menu, Mission Chinese Food is well known for its charitable cause. The restaurant donates 75 cents out of every entree it sells to a local charity where it operates its restaurant. In NY, the proceeds go to the Food Bank of NYC.



The front entrance of Mission Chinese Food is very unassuming. Once customers walk past the creative display/layout of a typical Chinese take out joint, they are greeted by a hectic and noisy atmosphere which reminds them of another Asian restaurant nearby (Lucky Cheng's). The only element missing is the drag queen servers harrassing the straight male diners. Here you will get friendly waitresses screaming on top of their lungs trying to tell you what their specials of the day are.


Lively ambiance with Chef Owner Daniel Bowien, who comped us his delicious Tea Smoked Eel appetizer.

While we enjoyed most of the dishes we ordered, they needed to do a better job in pacing the dishes served. We ordered a lot of dishes and they all came out at once so we felt rushed in eating them. Mission Chinese Food may be a restaurant with a good charitable cause, but it is still a profit oriented restaurant which appears interested in turning the table over as soon as possible so that more patrons can be served, and consequently, more donations can be contributed to the food bank. I certainly hope that is the case!




We donated $7.50 to the food bank with all these dishes we ingested.



Recommended dishes: Tea Smoked Eel, Chilled Buckwheat Noodles, Salt Cod Fried Rice, Stir Fried Pork Jawl and Radishes, Chongqing Chicken Wings (fiery hot!) and Thrice Cooked Bacon.

This is a place worth visiting, but if you want to dine in a relaxed state I suggest that you wait for the hype to die down a bit or go during off hours. They are closed on Wednesdays.



NYMag Was Half Right About Yunnan Kitchen



A few days ago, NYMag.com's Grub Street featured a glowing review on a new Chinese restaurant that recently opened up on the lower east side of Manhattan called "Yunnan Kitchen". The review praises the restaurant for serving Chinese food that is light and refreshing - something that we don't see often at Chinese restaurants in the city. I have had Yunnan cuisine in Taipei and Hong Kong before and I am a fan of it. So you can imagine my excitement when I found out that there was now a Chinese restaurant in Manhattan serving Yunnan cuisine.

Yunnan is the province in China with the largest number of ethnic minorities hence its cuisine largely reflects the cooking of these minority groups. The province also borders Thai, Vietnam and Laos so these neighboring countries also bear an influence on Yunnan cuisine. Some Yunnan dishes are spicy in nature, while mushrooms and flowers are featured prominently in Yunnan cuisine.

I visited Yunnan Kitchen earlier tonight. The dining room is spacious. It features an open kitchen and wooden tables in different sizes (there is even a long communal one) which is quite similar to the decor at Momofuku Ssam Bar. The service is good with attentive and friendly servers.

Yunnan food is known for its xiao chi (snacks) hence it is not surprising to find Yunnan Kitchen serving their food in small dishes. It's good to go with a few other people so you can order many dishes and share them with your dining party. That's what I did, but I only had two other dining companions. We ordered 10 dishes.

My verdict about the food: there are some tasty dishes, but it's not the Yunnan dishes I was expecting.

For starter, they don't even have the famous broth vermicelli noodle soup that every authentic Yunnan restaurant serves. The Chinese name of the noodle soup is loosely translated as "over the bridge rice noodle soup". They also don't have the special pea soup that is staple in Yunnan cuisine.

They do have a few dishes that are authentic that we ordered, and they were delicious.


Salad at a Chinese restaurant? You betcha!
Dish featured in the front: chrysanthemum salad with sesame vinaigrette (the chrysanthemum leaf has a hint of arugula)
Dish featured in the back: wood ear mushrooms with celery, ginko and lily bulbs (a light and refreshing dish).




Dish featured in the front: charred eggplant with sawtooth herb, crushed peanuts and chillies (I liked the texture of the eggplant which was not too soft and had a hint of spiciness).
Dish featured in the back: Yunnan Kitchen's famous fried potato balls (crispy, light and fluffy)


Fried pork belly with mint and Yunnan spices (it's a much thicker and tastier bacon)


Left: Ham rice cake, made with Yunnan's famous Xuanwei Ham (this dish is more Shanghainese if you ask me).
Right: Tofu ribbon salad with mint and cilantro (it's a little too bland for my liking)


Left: special of the day - "ma la" fried chicken wings made with the infamous Sichuan peppercorn (they put a little too much on the chicken hence our tongues were numb after eating it!)
Right: lemongrass chicken cooked with spring onions and fried cubes of Chinese steamed buns (this dish is very Vietnamese influenced; it's ok and I can get it at any Vietnamese restaurant)


Crispy whole shrimp with lime leaf sprinkled on top (shrimps were fresh, but this is a Cantonese dish that you can get at any Cantonese restaurant).



The review on New York Mag was half right. Yunnan Kitchen is indeed a refreshing new entry in a city filled with Chinese take outs that serve fattening American Chinese food. But you won't find the most authentic Yunnan dishes here. It's a good place to visit if you want some refreshing choices as long as you are fine with having somewhat watered down Yunnan cuisine catered to the western palate. Being in New York where there are not many Yunnan restaurant options available, Yunnan Kitchen is good enough for a repeat visit for now.






Can't Rave Enough About The Nomad @ The Nomad Hotel



Chef Daniel Humm from Eleven Madison Park has outdone himself again with his latest restaurant project at the Nomad Hotel (1170 Broadway). The restaurant is more casual compared to Eleven Madison Park. Menu prices seem a little lower too when compared to the Michelin 3-star joint. But food wise, it is every bit as good as Eleven Madison Park. Chef Daniel Humm and his team continue to work their magic here.





This non-alcoholic drink called "La Pina" is to die for. It's made with pineapple, lime juice and jalapeno infused agave.




The bread served for the table was a hot-off-the-oven rosemary zucchini bread



The "Egg" dish appetizer. Poached egg with asparagus, toasted quinoa and parmesan cheese. Simple, comforting yet delicious!




The white meat part of the roasted chicken is prepared with foie gras and black truffle brioche under its skin. The best roasted chicken I have ever tasted!




The dark meat is separated and served with mushroom in a delicious sauce.


The roasted chicken is best paired with this brown ale brewed in Williamsburg NY especially for Nomad.





The "Lemon" dessert - custard with almond shortbread and ricotta. A rather light dessert to finish off a perfect meal.



The whole dining experience definitely went well like chicken and beer, and I can say this is true since I had both on this visit!



.
Chef Kimmy Tang Works Her Magic In My Small Kitchen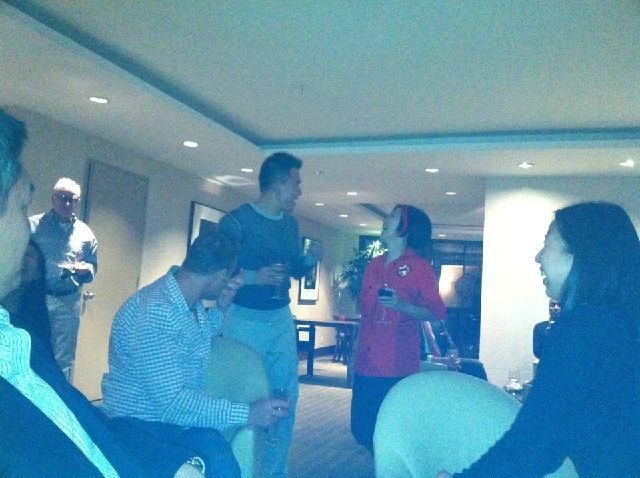 As much as I would like to think that the people who regularly cook in my kitchen are talented (that is if you count assembling prepared meals from Whole Foods as talented), my matchbox sized kitchen often yearns for the respect and use from someone who really knows how to cook. Well its prayers were finally answered this past Friday. Chef Kimmy Tang from 9021pho (http://9021pho.com/) was nice enough to cook in my kitchen for 20 guests. With her capable assistant Geo by her side, the duo prepped and cooked 7 dishes in less than 4 hours. Impressive to say the least! I bet my kitchen had not been worked on that efficiently before.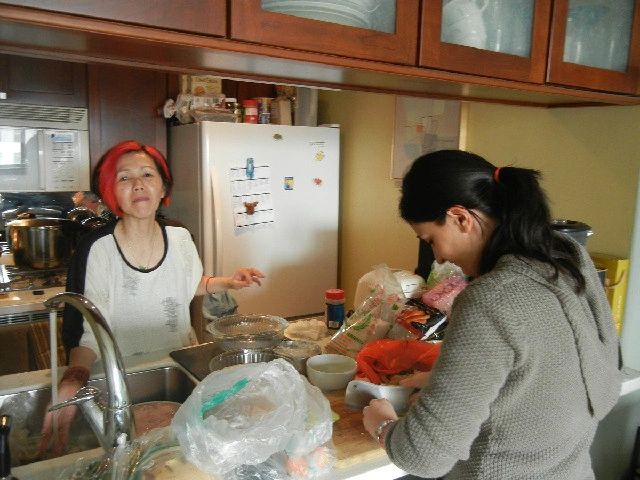 Can you see my kitchen shedding tears of joy?

The dishes made were Vietnamese spring rolls, chicken and asparagus stir-fried with black pepper sauce, dungeness crab soaked with beer (yes you heard it, beer), fried noodles with teriyaki sauce, crispy sole with Kimmy's signature aioli sauce, squid stuffed with crab meat and vermicelli noodles, Kimmy's Asian burger patty (served with no buns hence rejoiced my carb-conscious guests) and spare ribs. We served this at the club house in my apartment building which offered the impressive view of the Empire State building. Needless to say, my guests raved about the food and were very impressed that the talented Chef could dish up these many things in my small kitchen. Big thanks to Chef Tang and Geo for feeding us well that evening! My kitchen, as well as myself, welcome you back anytime!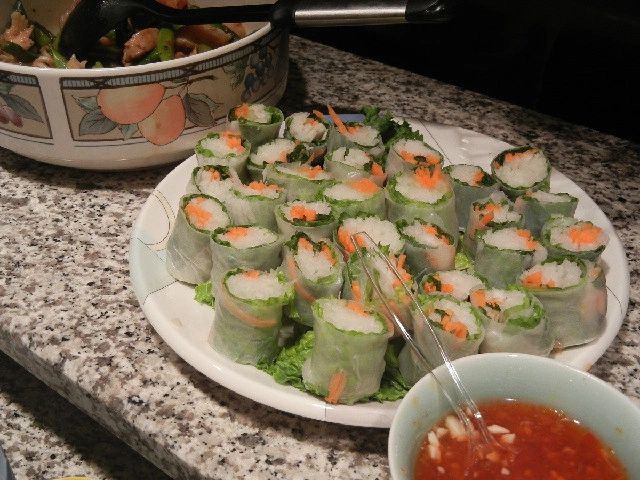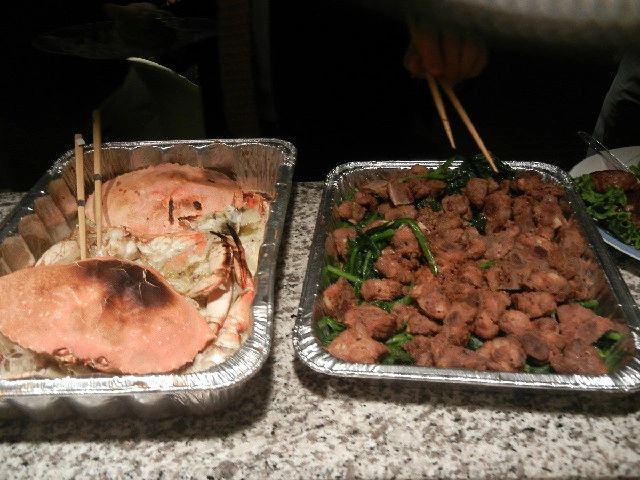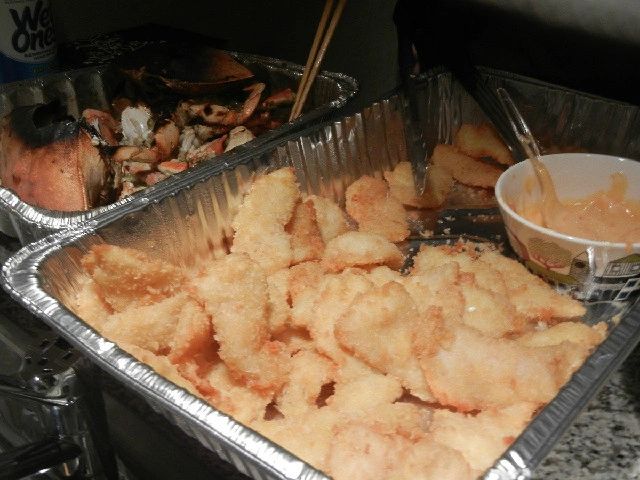 Mouthwatering dishes prepared by Chef Kimmy Tang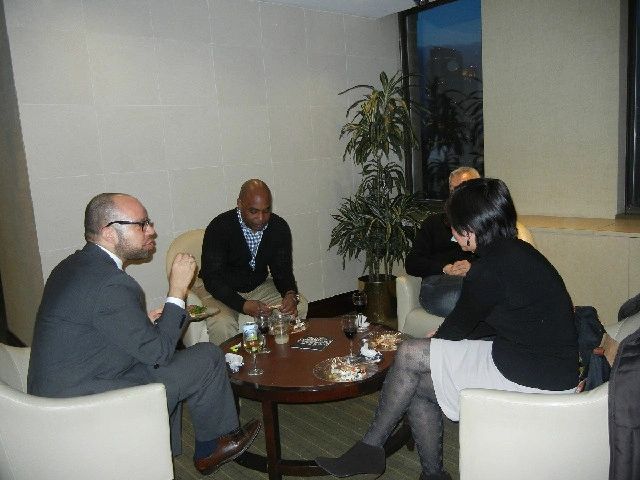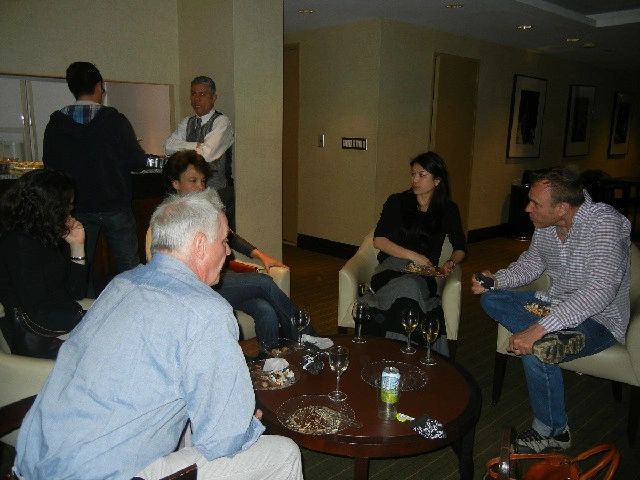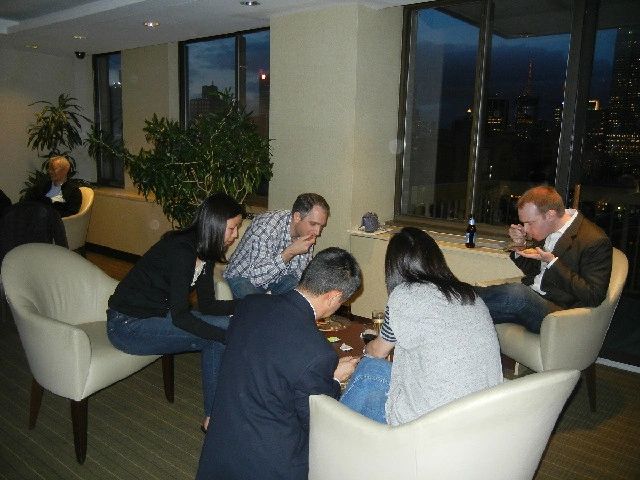 Guests digging into the tasty dishes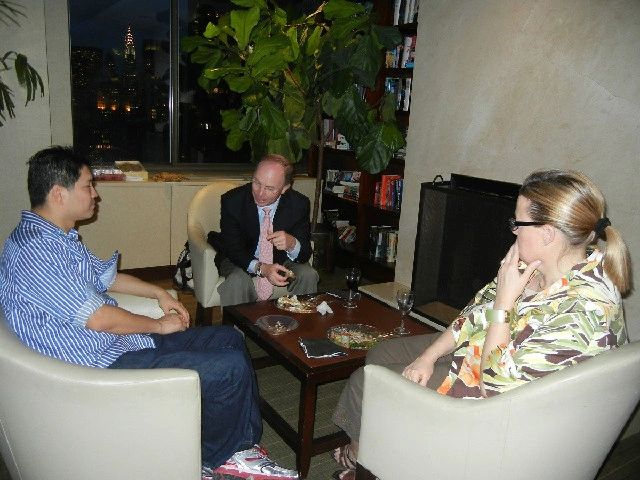 Thomas chatting with Frank and Susan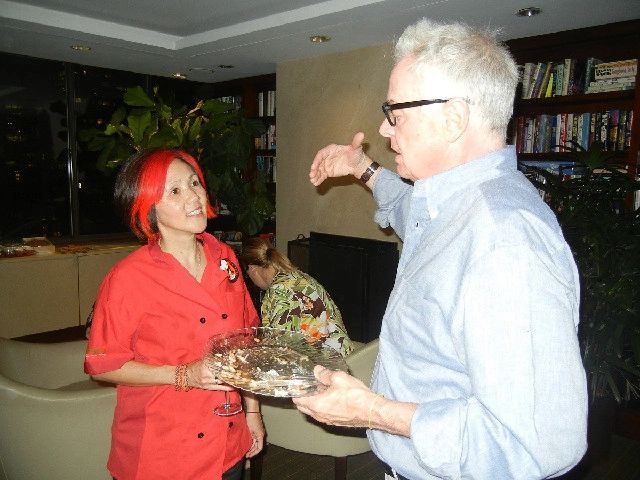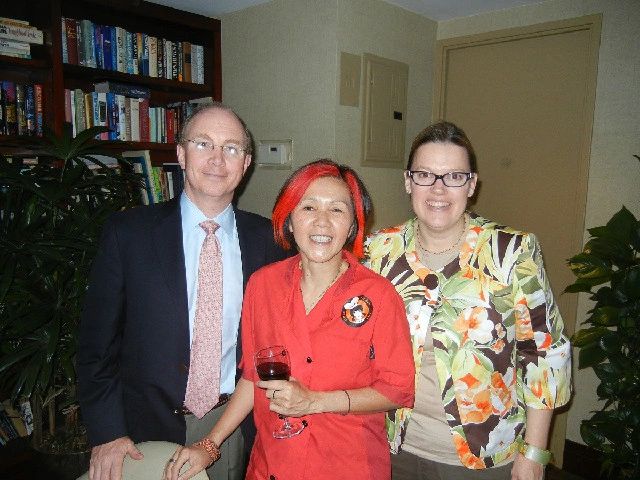 Guests complimenting Chef Kimmy Tang for her culinary talents

A Mouthwatering Meal at 9021Pho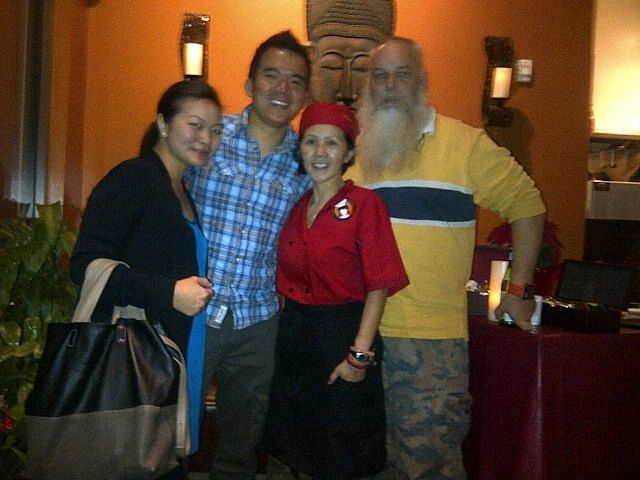 Tonight was a good night for Adele and me because we were the fortunate two to be pampered by Chef Kimmy Tang at 9021Pho. Chef Tang's cooking focused on using fresh ingredients and not masking their taste with a lot of sauces. The dishes we had were all superb.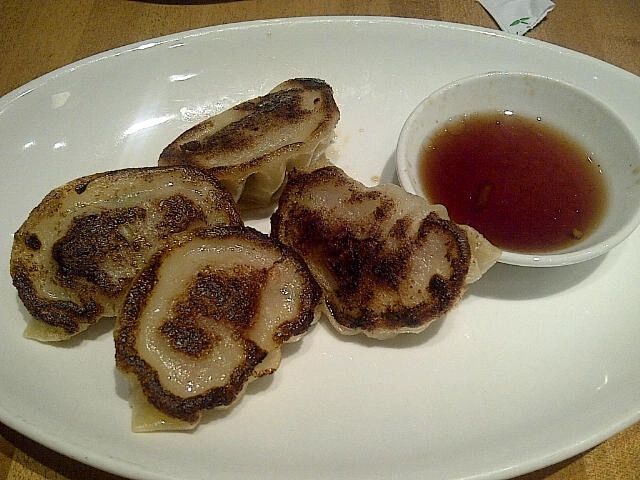 Some chicken pot stickers to whet our appetite. Perfect dumpling skin thickness with delicious chicken filling.




Next we had a medley of delicious appetizers consisting of grilled beef wrapped in vine leaf, crab cakes, vegan spring rolls (the jicama inside made it more refreshing) and Chef Tang's famous spring rolls when she owned Michelia (a French Asian bistro).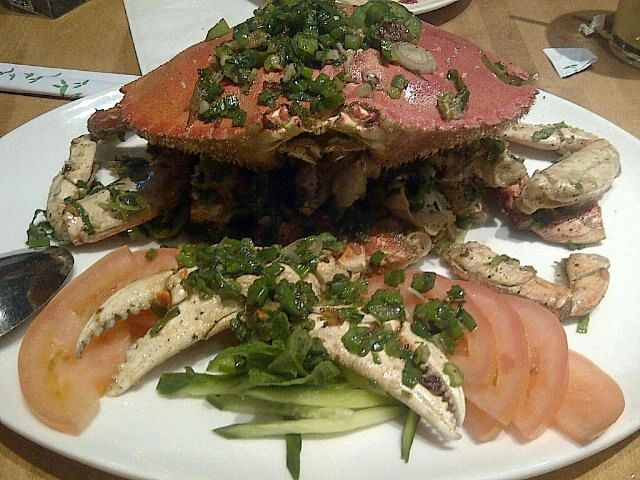 Salt and pepper crab. It's not on the menu but Chef Tang made it for us as a special order. The two of us just ate the whole crab



Grilled pork salad. The pork was well seasoned, tender and had the perfect charbroil taste



Pho Ga. Unlike some pho places, the pho broth at 9021pho has no msg. It was made with aged chicken simmered for an extended period of time to get the best tasting chicken soup.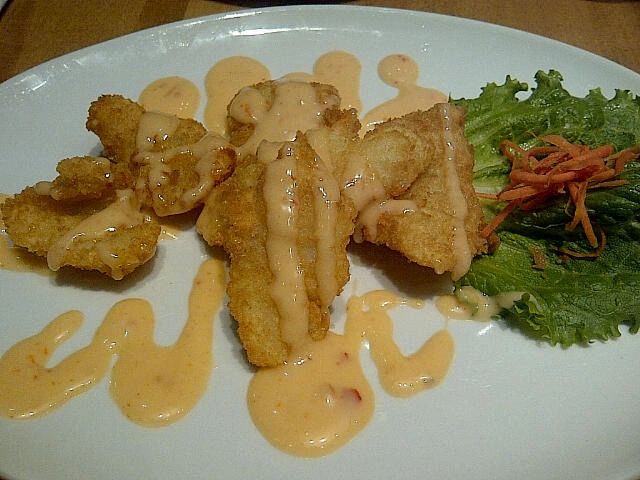 Crispy sole breaded with panko and topped with Chef Tang's original French spicy aioli.

Ah Hong Kong, You Have Fed Me So Well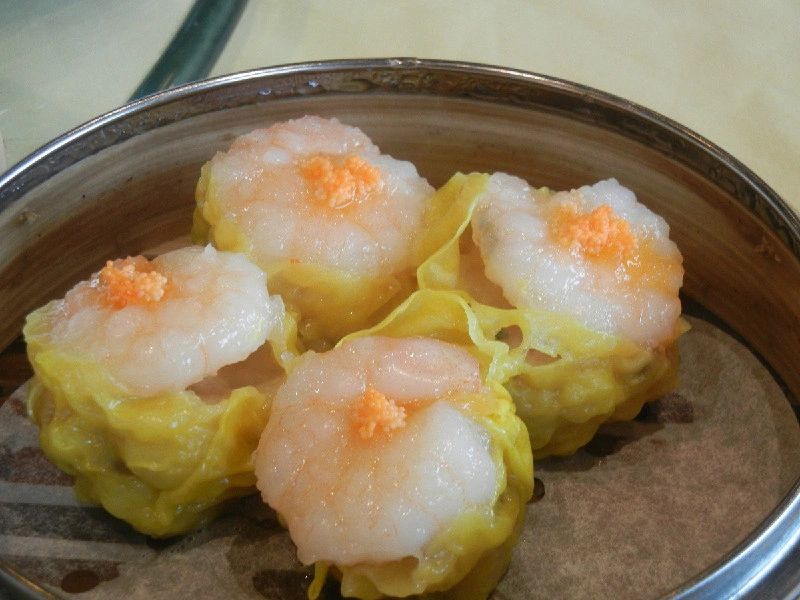 Hong Kong is no doubt the Chinese food paradise. From seafood to wonton noodles, you will never eat a bad meal in Hong Kong. I went there for a quick weekend this Xmas and ate at as many places as I could. I went to Sai Kung for a delicious seafood meal, Causeway Bay for some good Shanghainese and Cantonese desserts and of course, Tai Koo place for a delicious morning dim sum meal. I will let the select pictures I took do the talking here...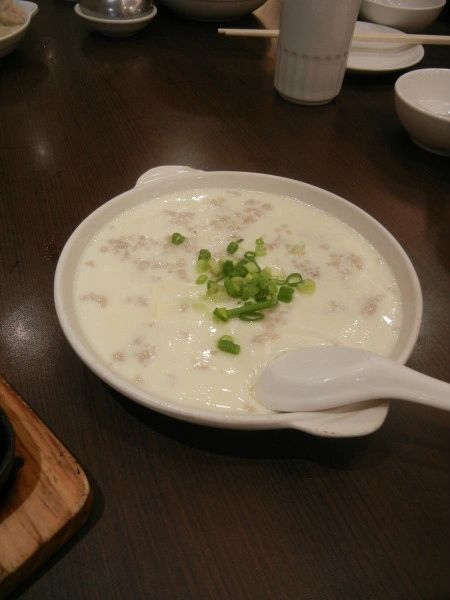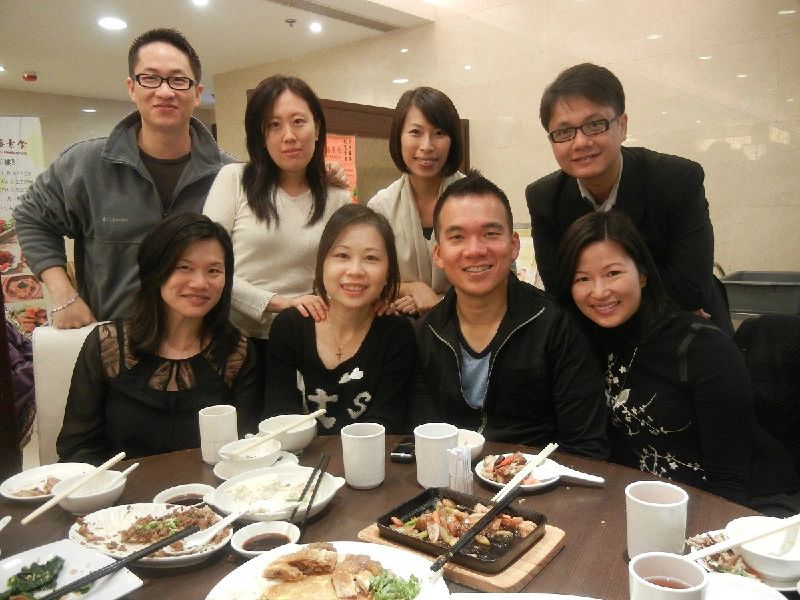 With my college buddies at 住家菜 in Causeway Bay. Pictured here ar eSesame Chicken and Steamed Egg aka "Steamed Water Egg". With water added, the egg comes out with a texture as smooth as a piece of silken tofu. Both are popular home cooked dishes in Hong Kong. This place does not use MSG in its cooking and I can certainly vouch for them!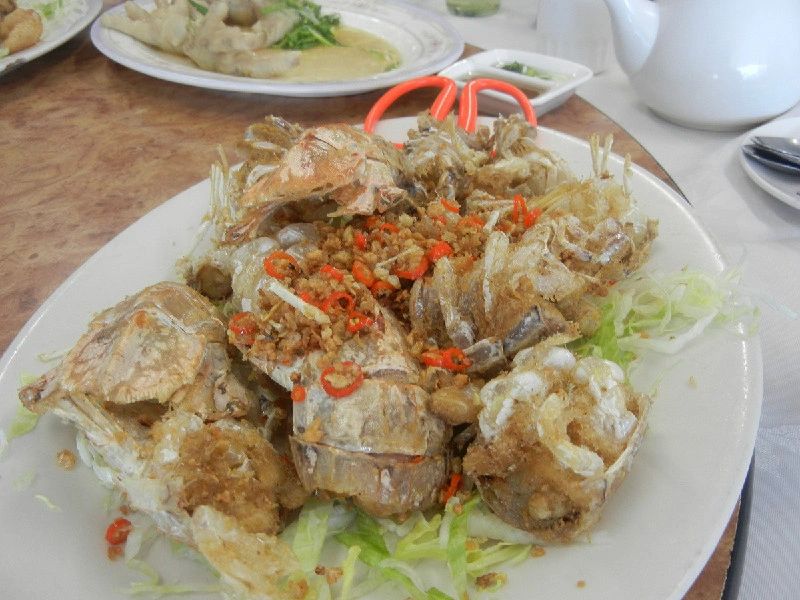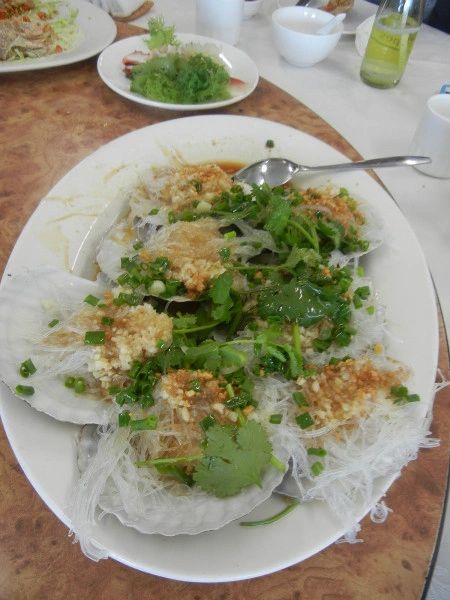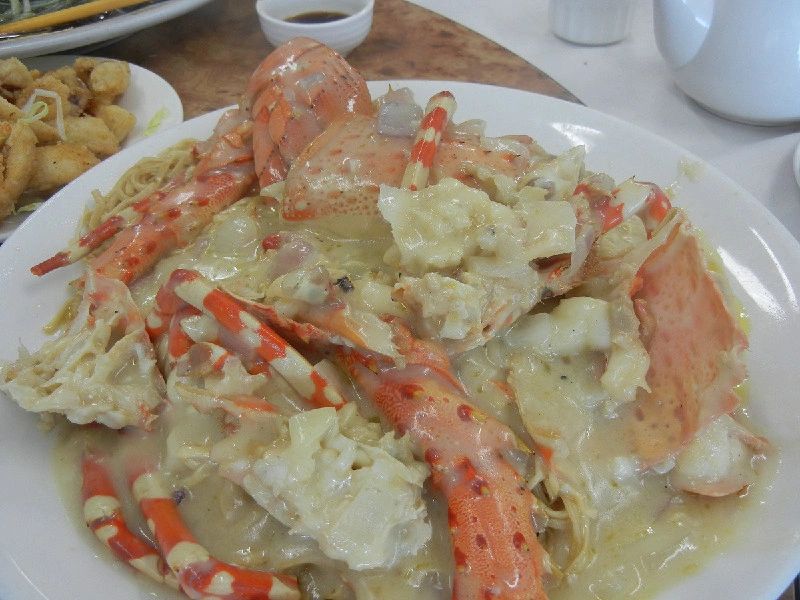 Had a bountiful seafood meal at 通記海鮮野味酒家...one of the many seafood restaurants in Sai Kung Town. Pictured above are mantis shrimp (in Cantonese it is called "shrimp with uncontrollable bladder"), steamed scallops with cellophane noodles, big succulent prawns with sweet soy sauce and lobsters with e-fu noodles.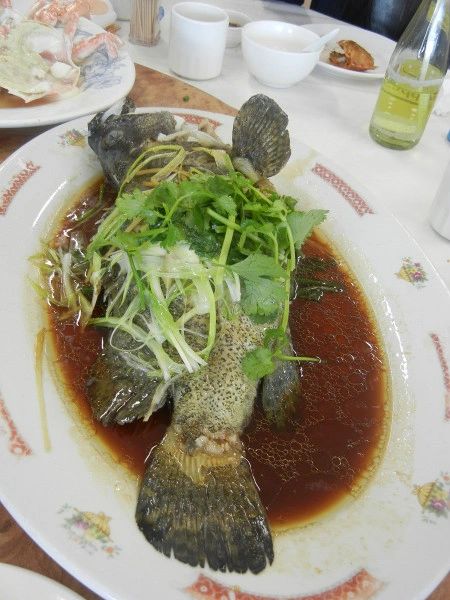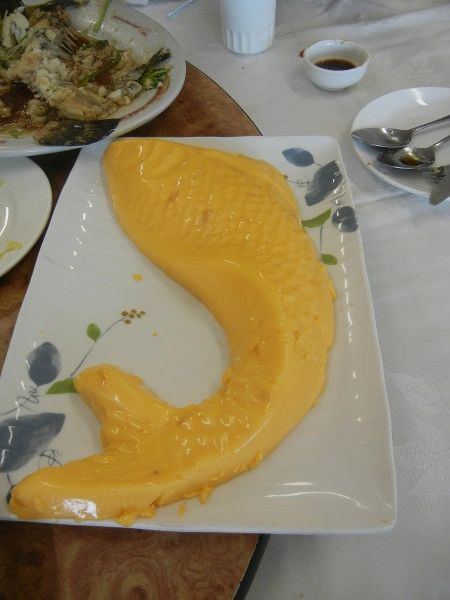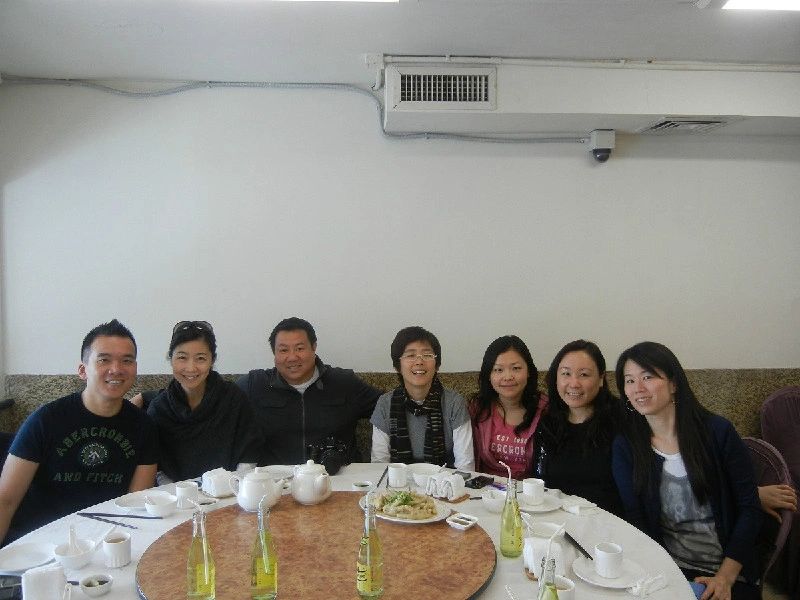 We also had crabs steamed with Chinese rice wine (not pictured here), steamed grouper and mango pudding in the shape of a carp. I think we cleared out the ocean of its habitants. Heartfelt thanks to Amy for setting this up!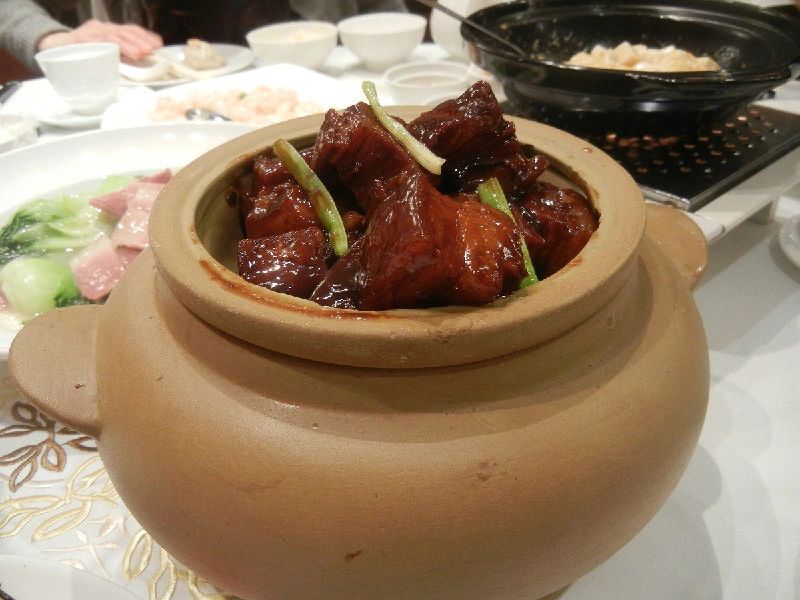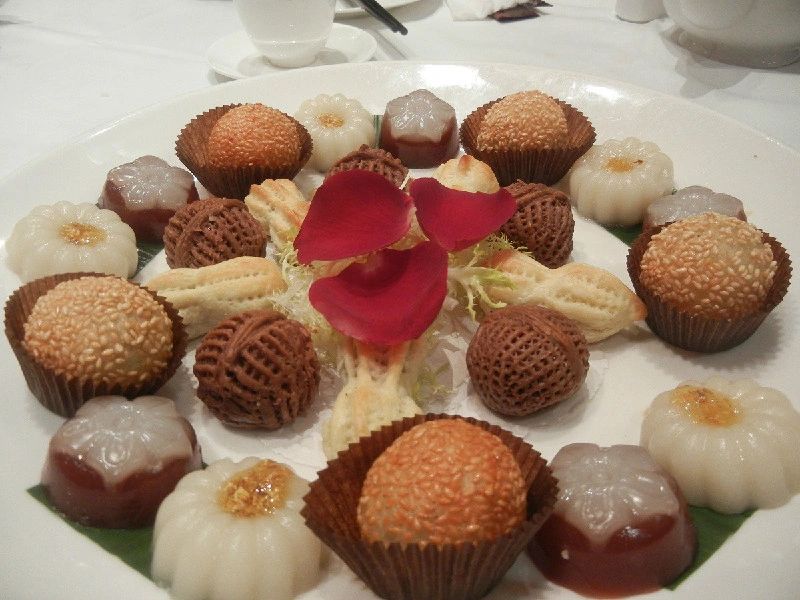 Next stop, delicious Shanghai cuisine at Shanghai Min. It has several locations in Hong Kong. The one we went to was on the 12th floor of the food arena next to Times Square in Causeway Bay. Pictured here are "Grandma Braised Pork Belly" and the not-to-sweet pastries made in the shape of peanuts and walnuts.

And finally, hotpot at home. Hotpot seems to be a favorite thing to do in Hong Kong and it is a very communal experience. People can sit there, cook the food and chat all night. The abalone here was the key attraction.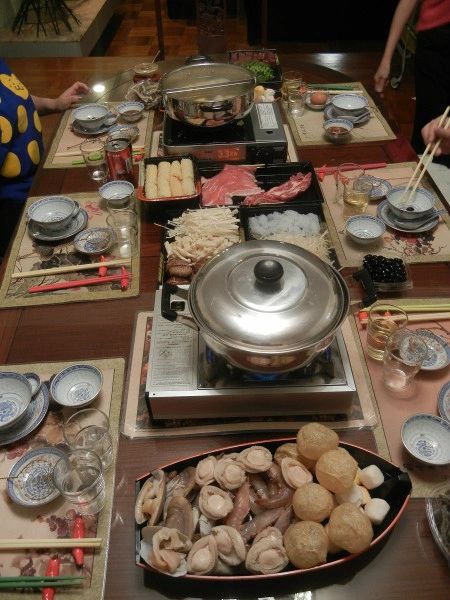 Oh Hong Kong, you have fed me so well! I cannot wait to return next Christmas to eat again!



9021PHO…. What The Pho of a Name Is That?
Despite its tacky name, 9021Pho is a restaurant where the food is tasty, the ambiance is inviting and the service is attentive. Founded by chef Kimmy Tang, who previously owned Michelia (an Asian eatery with a French twist located in Beverly Hills which attracted the likes of Jackie Chan, Wong Kar Wai and Sidney Portier), 9021Pho serves up bowls of healthy pho (no msg is used) and many other tasty Vietnamese dishes. Chef Tang, who has a petite build but a big personality (energetic, jovial and caring), is passionate about cooking. "Watching others eat the food I cook is what makes me happy", Chef Tang quips.
The menu at this Vietnamese restaurant features an extensive selection of the famous Vietnamese soup noodles (pho), Vietnamese sandwiches (Banh Mi), Salads (Bun) as well as other popular Asian dishes like Vietnamese spring rolls and Chinese potstickers. Recommended dishes include the popular Michelia roll (which was brought over from her previous restaurant concept), the fried sol (the flakiness of the flesh covered in a crunchy breading dipped in the special sauce made by the chef is simply culinary heaven), the sweet chili chicken (not the healthiest dish but it's delicious), the mocked chicken (which reminds me of the famous salt and pepper coated chicken bits sold at Taiwanese night markets) and of course, the pho. Pho soups are made from slowly simmering the pork and cow bones for 8 hours and the sweetness of the soup comes from the essence of the bones, not from a bag of MSG.
The prices at 9021Pho are reasonable (by New York City's standard) and the service is pleasant. The West Lake Village location I visited definitely had some eye-candy wait staff. The original location was located in Beverly Hills (hence the name) and a newer location just opened up in West Lake Village. If you are in LA next and would like to eat some fresh and tasty Vietnamese food in a nice setting, this would be my recommendation. If you can look past its name (which frankly is quite memorable), you will find tasty dishes, attentive wait staff and a caring Chef Kimmy Tang waiting for you at 9021Pho.
Cafe China - It's Like Eating In a Westernized Shanghainese Home in the 1930s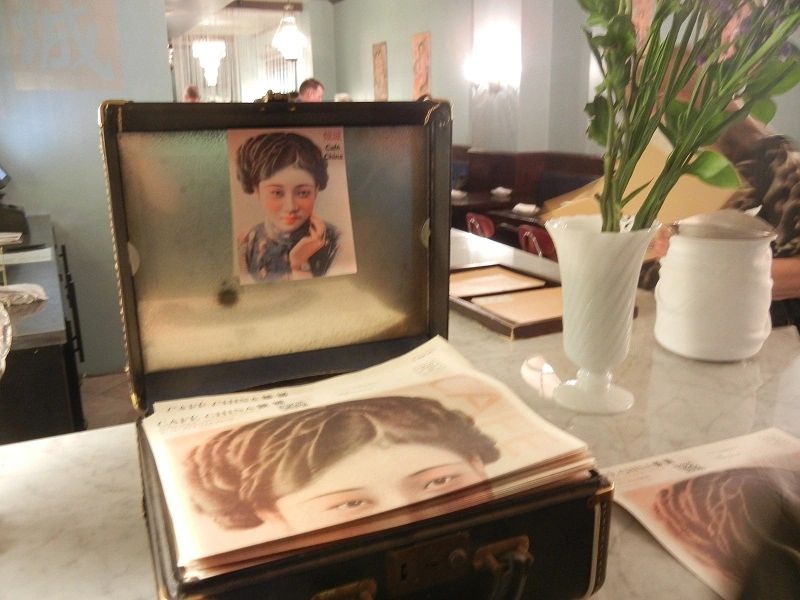 Cafe China (http://cafechinanyc.com/) may have a common name for a typical Chinese restaurant catered to the non-Chinese, but its food and decor are anything but that. Located on the far north end of Murray Hill close to Korean Town, Cafe China offers an ambiance that is reminiscent of the Shanghai in the 1930s - a time when the Chinese city had just embraced western cultures and offered a mix of Asian and Western culture. Vintage posters of Chinese women adorn the soft blue walls in the dining room, and the built in book shelves on one corner of the wall transport diners back to the living room of a westernized Shanghainese home back then. Even the owner wife had a hairstyle like one of the women in the posters, and she was dressed like them too.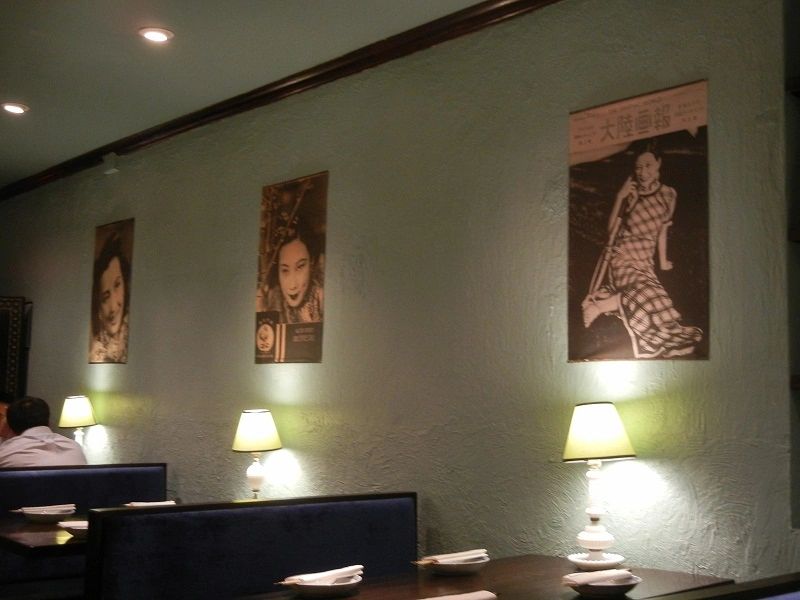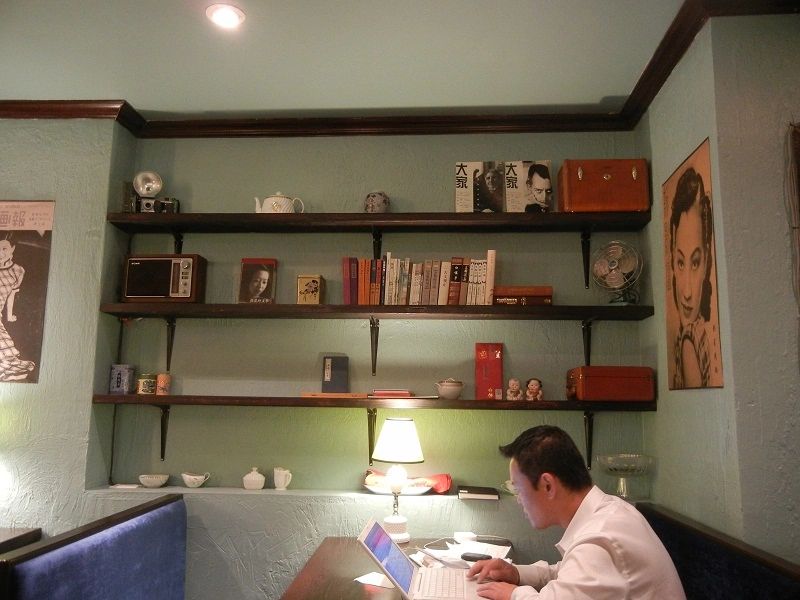 Cafe China may look like a Shanghainese restaurant, but the menu is filled with more Szechuan dishes than Shanghainese dishes -- not surprising since the chef specializes in cooking Szechuan dishes and Szechuan food is all the rage now in New York. We started off our meal with baby cucumber, mouth-watering chicken and pork dumplings in Chili Oil. They tasted good and were just like those served at what I consider authentic Szechuan restaurants in the city. The mouth-watering chicken was very spicy I may add.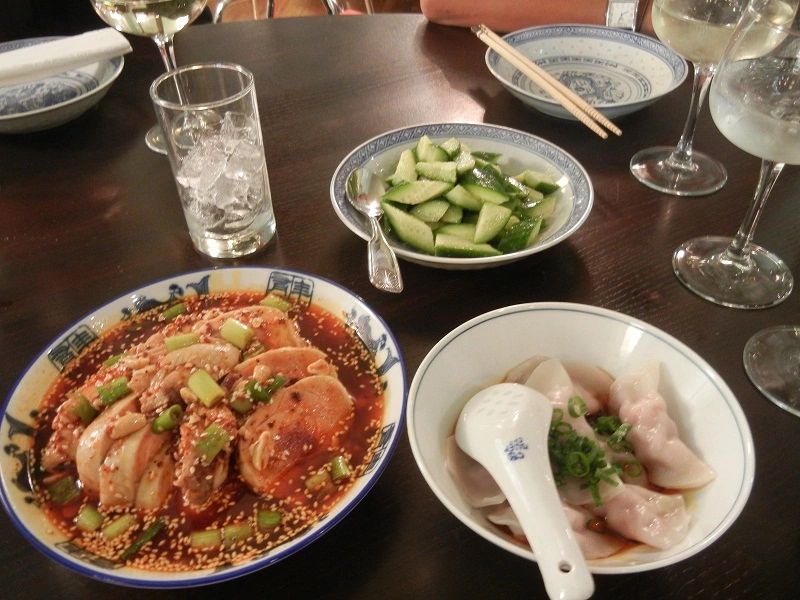 For entrees we decided to go with less spicy dishes. The Tea Smoked Duck was one of the best I had tasted in a while. The Savory Tofu with Shredded Pork reminded me of a home cooked dish. The Three Pepper Chicken was a tad salty for my liking but was a big hit with my friend who insisted on ordering a second dish of it which we did. The Snow Pea Shoots with Garlic and Bok Choi with Garlic were tasty greens we needed after ingesting all those meat dishes.




Open for just over two weeks, Cafe China is the kind of Chinese restaurant not commonly found in New York City. Its dishes are authentic yet its ambiance is not of a typical loud Chinese restaurant. The beautiful setting, tasty dishes and reasonable prices will entice diners to come back for more. Furthermore, it's BYOB for now so you can bring any wine you like and they won't charge you a corkage fee. This really seals the deal for an alcoholic like me.

Pig Island Event on Governors Island NYC - A Pork Nirvana Indeed!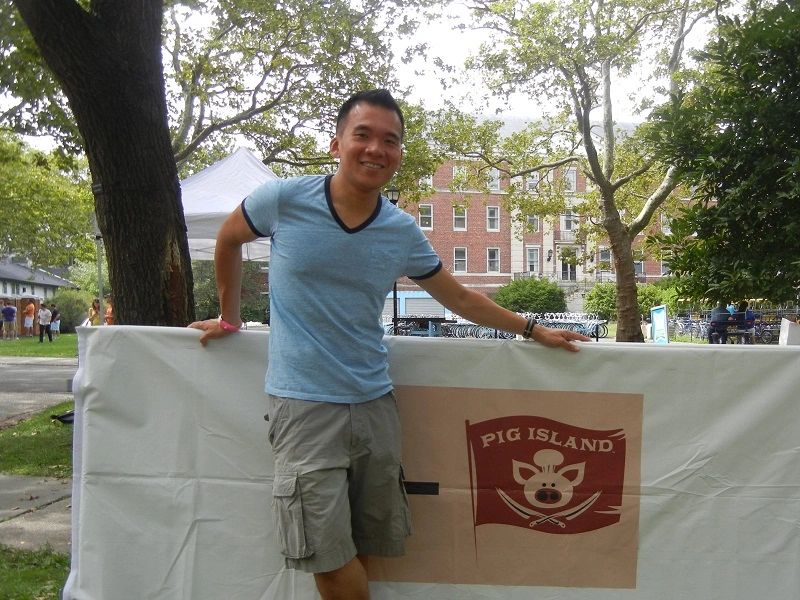 I am a big fan of pork, so when my friend Michele invited me to go to the second annual Pig Island event held on New York City's Governors Island this past Saturday, I could not turn it down. The event sourced over 80 hogs from New York farmers and were prepared by 20 top NYC chefs including Heather Carlucci-Rodrigues (Print), Mary Cleaver (Cleaver & Co.), Jacques Gautier (Palo Santo) and King Phojankong (Kuma Inn and Umi Nom). Specialty craft beer as well as NY based wine and tea purveyors were also there giving out generous portion of their products.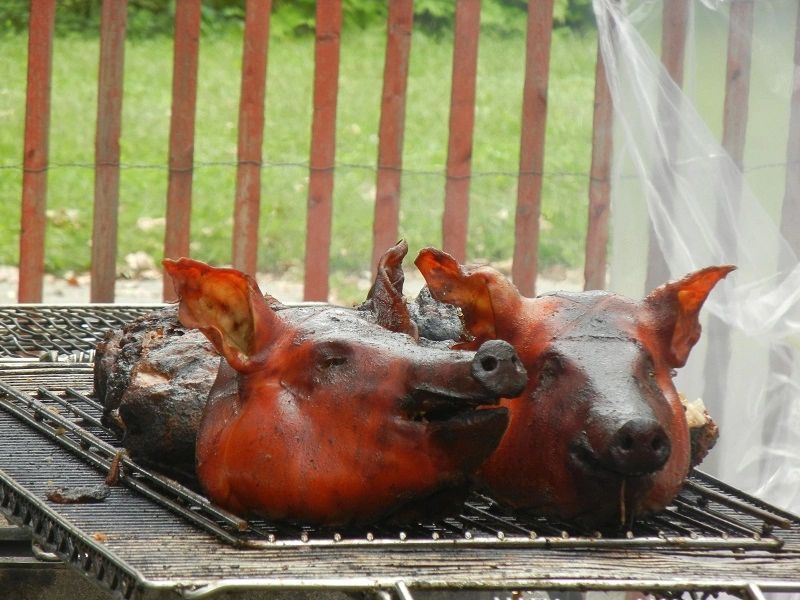 These pigs looked like they were blissfully sleeping, only after they were slaughtered for our enjoyment that is.

There were at least 20 booths dishing up all kinds of pork dishes, and 4-5 booths offering alcoholic and non-alcoholic beverage refreshments. Some booths, such as the one belonging to Palo Santos (which served a great pork taco), had long lines. Some didn't. Michele and I hit up all booths except one that had a line that went at least a few blocks long because of the generous portion it served. We could not be bothered with the wait.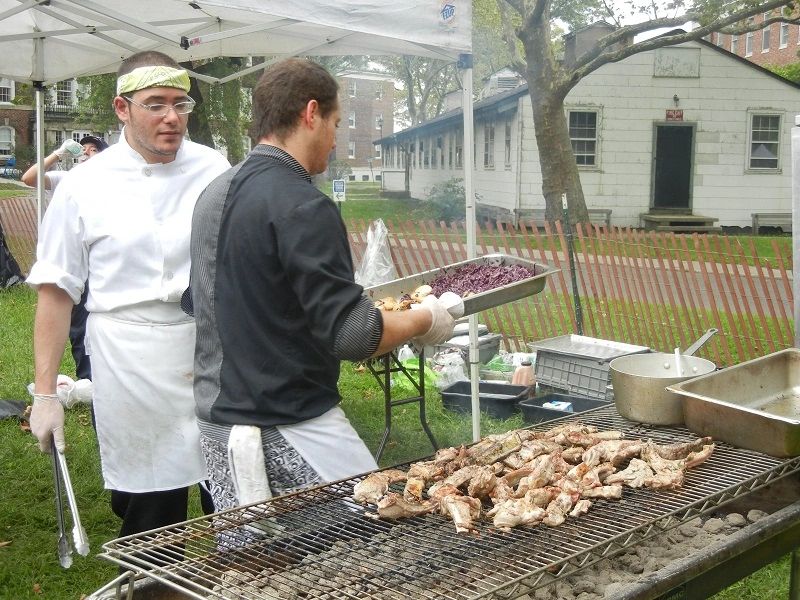 The staff at San Rocco hard at work.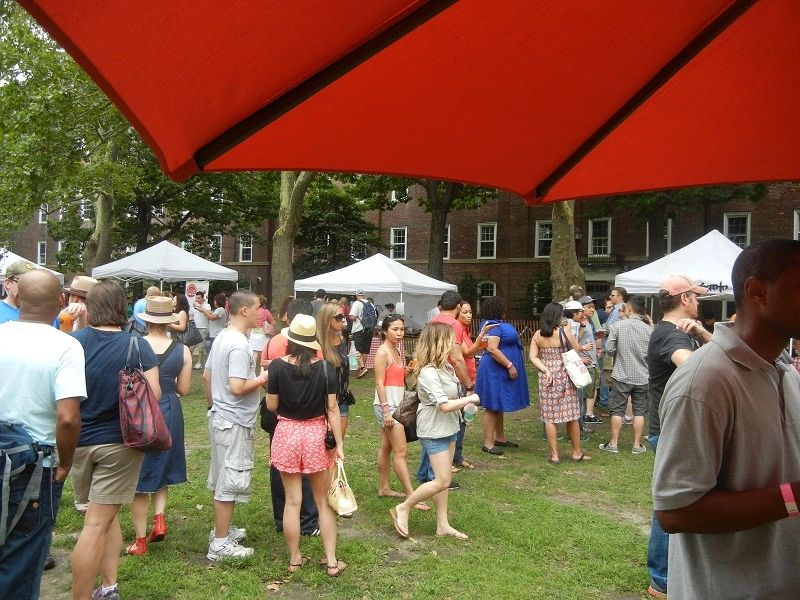 Long lines at the Palo Santo (http://www.palosanto.us/) booth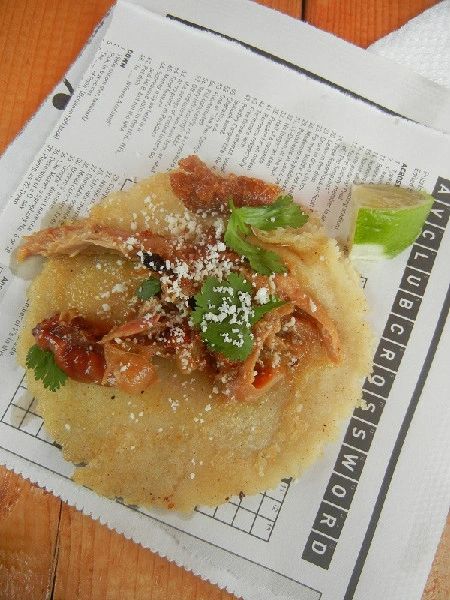 The long wait was worth it. The pork taco served by Palo Santo was delicious.


Since Nordic cooking is all the rage now, there was also a booth that served open faced sandwiches and it was set up by Nordic Food cooking advocates Trina Hahnemann and Paul Neuman. Two kinds were served. One featured meatball with red cabbage and beets. It was funny to be eating this since I had just come back from Denmark a few days ago. The other one featured pork roast with cracklings and relish of tarragon, capers, carrots and picked cucumbers. Both had fresh ingredients and were really tasty.
This was a great event. Unlike other similar events that I had attended so far this year, there was plenty to eat and drink at this event so it was worth the $75 we had paid to get in. We walked around on the Island afterwards. It was a beautiful day and the view of Manhattan on the eve of the 10th anniversary of September 11 just made this eating experience more memorable than usual. We will return next year for sure!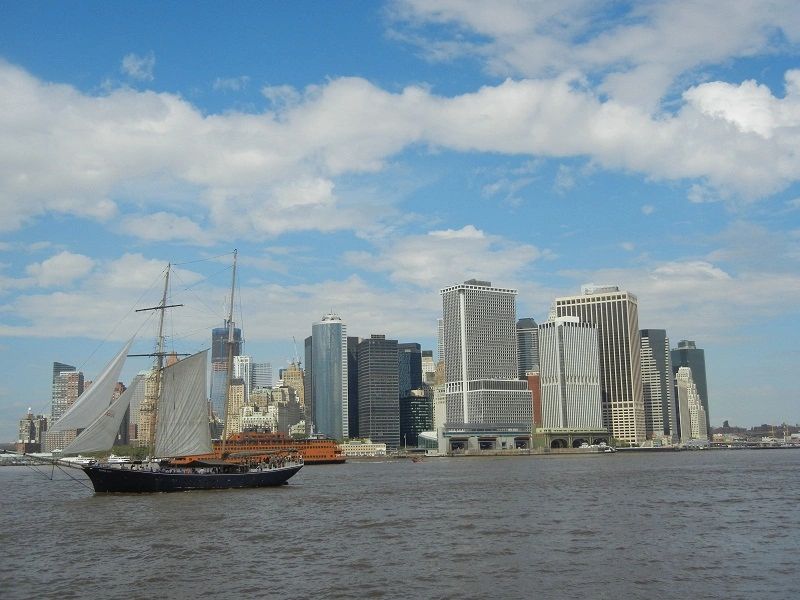 Gorgeous view of Manhattan from Governors Island.


Spicy Crabby Bliss in LA's Ktown


I am not one who likes to work hard for my food. For example, I love eating crabs but I always find eating them to be a tiring task. So when I found out there was actually a restaurant in the southern fringe of LA's Koreantown serving delicious crab soup where the server would prepare the soup table side and break the crabs apart for the diners, I knew I had to try it out.
The chance to do so came this past weekend when I was in LA for a wedding, and I am sure glad I tried it! The restaurant name is Ondal 2 and it is located on 4566. W. Washington Blvd.
There were four of us and we ordered a large pot of spicy crab soup and a side order of seafood pancake. They started us off with a series of side dishes aka panchan. Among them were scallion pancake, chili octopus, egg souffle, sweet seaweed and broccoli. This was a great way to start our meal.
Next came the seafood pancake. It was much thicker than the ones I usually have at other Korean restaurants but it was delicious and still crunchy on the outside.
Our pot of spicy crab soup arrived as we were savoring the seafood pancake. The aroma of the crabs wafting from the pot only made us hungrier. Our large order came with four flower crabs (much like Maryland crabs). They were sitting on a bed of bean sprouts with mushrooms sprinkled over them. Our Korean server (who spoke great Mandarin by the way) cut the crabs into pieces and used the crab shell as a bowl by placing some crab meat, roe, bean sprouts, rice and soup in it. The soup was tasty featuring a strong crab stew flavor. We were sure glad we went with moderate spiciness (5 out of 10) because it was spicy.
We were full but had to leave some space in our stomach for the noodle our server added into the pot. She came out with a piece of raw noodle dough and started dropping piece by piece into the pot. Much like the way someone would make homemade pasta, she let it simmer until the dough became pieces of tender and chewy noodle.
We were supposed to finish our meal with fried rice (according to the Koreans and Chinese, no meal is a complete meal until you have had rice) but we were so full so we had to decline it. Had we ordered it, our server would have cleaned out the pot and started adding crab stock and stir frying cooked rice, kimchi, onions and vegetables in the pot. The rice would pick up some flavor from the crab left in the pot and become this tasty, tangy and spicy dish. Too bad we didn't have any room in our stomach for it.
Our dessert was a bowl of cold barley soup with a bit of shaved ice. It was a great way to finish off a spicy meal. The meal cost a reasonable $30 a person including tips and 2 large bottles of HITE beer (Korean beer). Ondal 2 provides a great value from every aspect (food taste, food quality, service and ambiance). It even provides its diner a little apron to wear so that they won't have soup stain on their shirts. I highly recommend this place for group dining.
In my opinion, Ondal 2 takes "creative- and multi- mealing" to a whole new level and the poor crabs were recycled over and over again to produce multiple dishes. None of their parts were wasted. The crabs sure did not die in vain for us.


A Big Tub of Goodness in Chinatown

I always wanted to eat
Poon Choi
(
盆菜)
so when my friend Daniel told me a restaurant in NY Chinatown actually served it, I jumped at the chance of trying it.
Poon Choi
, which literally means "a tub of vegetables" in Cantonese, is a traditional dish that originated from the Guangdong province. Rumor has it that Poon Choi was created during the late Song Dynasty when an emperor ended up in the Guangdong Province in his attempt to flee from the Mongolians. When the emperor and his army arrived, the poor local villagers there gathered up all the best food they had to serve them. Since there were not enough containers to use, they put all the finished dishes in one wooden washbasin, hence the birth of
Poon Choi
.
Poon Choi
was traditionally served during religious rituals, festivals, special occasions and wedding banquets in villages. Now you can eat it at restaurants which serve authentic Cantonese cuisine.
The restaurant we went to was
Three Ocean Seafood Restaurant (金輝海鮮城)
located on 53 Bayard Street. The decor and service are just like any typical Cantonese restaurant in Chinatown. You will have to pre-order the
Poon Choi
at least a day before since they need a day to prepare it.
We were served a bowl of shark fins soup before our main course arrived. I know it is not environmentally friendly to eat shark fins but there was almost none in the soup (it is pricey after all). It is all about the broth which is made with crab meat and egg. It was tasty bowl of soup.
Then the creme de la creme, the eagerly awaited
Poon Choi
arrived.
Ah layers of heaven. The top layer featured abalone, fried oysters, clam, jellyfish, squid and broccoli. The second layer featured lobsters, roasted chicken, fish maw, pork belly with preserved vegetables and fried tofu. The third layer featured beancurd, sea cucumber and pigskin. Chinese radish was in the bottom. Personally I would have liked if they used bean thread noodles instead of Chinese radish to line the bottom of the tub since the former can suck up all the juice and gravy of what's above it. Nevertheless, it was a delicious mish mash of food. Somehow the different items, cooked separately, just blended well together.
30 minutes into it and we were three quarters done. We were sure a hungry bunch. The price was $40 per order. Since the portion was big, we only did 6 orders to be shared by 12 people. It was a good deal.
To me,
Poon Choi
is like a potluck party except everyone decides to pour what they bring into one big tub instead of serving them separately. I suggested to my friends we should try this serving concept the next time when we have a potluck party but I doubt my spamwich will go well with anything.

Memorable Dinner at Blue Hill at Stone Barns


I was lucky enough to be invited to a dinner at Blue Hill at Stone Barns. Located in Pocantico Hills, this farm to table dining concept is a favorite of many New Yorkers who yearn to eat food straight out of a farm. Yes there is a Blue Hill restaurant in the city and the ingredients used at that restaurant are shipped daily from this farm. But being on a farm and eating food grown there are definitely something us city dwellers rarely experience, so the trek up to Pocantico Hills is worth making, especially when your mode of transportation up there is a stretched limousine. Our 45 minutes' ride felt more like a 15 minutes' ride as we chatted and sipped champagne.
We took a quick tour of the farm and quickly made our way to our table (we couldn't wait to taste the food). While the cooking method was straightforward and ingredients were simple (there were no fore grais or truffles), it was the freshness of the ingredients that made our dishes taste oh so delicious. My experience almost made me want to live on a farm.. only if it's for 2 days and there is wifi service.
We went with the 5 course tasting menu and it was worth every dime (well someone else's dime since I didn't pay for this meal). This was definitely one of my top 5 meals eaten in the last few years.
The list of ingredients used at this famous farm to table dining concept. They don't give out menus here and the chef was nice enough to write down some of the dishes he prepared for us that evening. This was a big help since I was so mesmerized by the freshness and taste of the food that I failed to remember exactly what we ate.
A little summer cocktail to start us off. This was "Rhubarb Collins" made with rhubarb gin, rhubarb syrup, lemon juice and soda water. It was refreshing.


Mini pea burgers sitting on a bed of sesame.


Spring lettuce heads with haricot vert (a fancy name for green beans). So fresh!


Berkshire pig with shelly beans and ham hock.


Alaskan salmon with cucumber, dill and tomatoes.


Cornish cross chicken with heirloom grains and peas.


I think this was the best bread I have ever had.


Eggs so fresh (that it makes you think the kitchen just snatched it from its hens) sitting on top of a Red Fife brochetta.


Dessert time! Strawberries and cream with Blue Hill signature farm milk jam.
Website: http://www.bluehillfarm.com/food/blue-hill-stone-barns

Northeastern Thai Cuisine in the East Village
Zabb Elee
(pronounced as Sab E Lee) does not sound like a name for a typical Thai restaurant in the city (it means "delicious" in Thai). But then again this latest Thai budget eatery located in the East Village (75 2nd Avenue) does not serve food that is typically served at Thai restaurants here. Visibly missing from the menu are pad thais, pad sew eews or green/red/panang/massaman curry of any sorts. In fact, there is only a small section on the menu titled "Bangkok Rice and Noodles" which consists of only 10 rice or soup noodle dishes that you will find at any street vendors in Bangkok, like Nam Tok (dark noodle soup with morning glory, scallion, cilantro, bean sprout and pork/beef) or the Chinese style Ba Mee (egg noodle soup with roasted pork). What dominates
Zabb Elee
's menu are the famous Northeastern Thai dishes (known as the Isan cuisine) which tend to lean towards Laotian cuisine due to the proximity of the region to Laos. Some items from the Isan cuisine like larb (a Thai salad consisting of ground meat, shallot, fresh mint, scallion, cilantro and best served with sticky rice) and green papaya salads are standard offerings at typical Thai restaurants in the States. But usually you won't find more than 2 or 3 of these dishes there. At
Zabb Elee
, there are at least 5 varieties of larb or papaya salads. There are also dishes like marinated salted fried pork, sweet sausage or sour pork sausage that you will not find at other Thai restaurants in the city. Pork appears to be the preferred protein used by chef Ratchanee Sumpatboon, who is simply known by his friends as "Poo". Chef Poo used to be the chef at Poodam's, an Isan restaurant in Astoria Queens that is now closed.
The foods at
Zabb Elee
are delicious though some can be oily and most are spicy (if you can't take spicy food, make sure to order everything MILD). Fortunately there are a few dishes on the menu for those with a milder palate, like kao mun kai (steamed chicken on ginger rice). The drink menu is also rather extensive. Cocktails like lychee martini as well as local Southeast Asian beers like Singha and Beerlao can all be ordered for less than $10. The prices of its menu items are also very reasonable. No items cost more than $15 and a majority of the items cost between $5 and $10.
The dining room of
Zabb Elee
is typical of any restaurant in the East Village -- small and a little cramped. It is also sparingly decorated and has very bright lighting so diners can see what they are putting into their mouths. I like this place a lot because the food is tasty and it is not not typical of those served at other Thai restaurants in the city. The prices are affordable too. I just hope the restaurant has staying power since the place it occupies has changed concept so many times in the past few years. It was a Thai restaurant for many years (SEA Thai) then it became a Vietnamese concept for a brief period before it was converted into this regional Thai place. The good news is, they all belong to the same owner.
Marinated Salted Fried Pork with dipping sauce (savory and the meat was not too dry)
Pukk Boong Moo Korb (Sauteed morning glory with crispy pork). Tasty but a tad oily, it was definitely a spicy dish!
Yum Koon Chieng (shallot, celery, tomato, picked garlic, fresh chili, lime juice served with sweet sausage). The sausage was tasty and reminded me of the famous Taiwanese sausage.
Nam Tok (dark noodle soup, morning glory, scallion, cilantro, bean sprout and pork). Tasty broth featuring subtle herb flavors. Tasted good spicy or not.
Marinated chicken wings with dipping sauce. Well marinated but a tad dry.
Restaurant website: http://zabbelee.com/contents/home.html

Omakase Kaiseki Dinner at a discount


A while back, Travelzoo was selling a $169 deal where you can enjoy a classic Omakase Kaiseki dinner for 2 at
Hakubai
, the upscale Japanese restaurant situated in the Kitano hotel on 66 Park Avenue. Since the famous chef's special usually costs $185 per person, I purchased it without hesitation and called to make a reservation at the restaurant for the following month.
The reservation took place yesterday. The dinner was a multi-course meal and it lasted for a couple of hours. While many of the items tasted delicious and were made with the freshest ingredients (well, they have to since a lot of them were raw), the portion was a little small and it definitely did not leave us with the overly stuffed feeling. We did leave the table feeling satiated and not hungry. While this is certainly a good dining practice (not leaving the table feeling like you have eaten a horse), I don't think I would be happy if I had paid the full price ($185 per person excluding tips and tax) for it. Perhaps portion size was somewhat reduced for those who bought the meal with a discount. Either way I was glad I had not paid the full price for it.
Here are the courses we had:
Appetizers:
Sesame tofu, fava beans with wasabi (great texture!)
Broiled green vegetables (fresh tasting)
Deep-fried white fish marinated in special vinegar (loved the vinegar which does not have an overbearing taste)
Kelp with herring role (interesting texture -- the crunchiness is something I dig)
Simmered eggplant (nothing to write home about)
Octopus, seaweed and cucumber marinated in vinegar (again the vinegar is doing its magic here and the octopus was fresh)
Appetizer served separately:
Steamed egg custard with crab meat and brown rice mochi (a little bland for my liking plus I don't find the rice cake to be a good addition)
First course:
Assorted sashimi served on a bed of ice (fresh fish. the abalone was sweet).
Second course:
Lodster tempura (the lobster meat was sweet and tender and the batter was light and crunchy. Loved it)
Third course:
Grilled silver cod with sea urchin, deep-fried asparagus wrapped in beef and thinly sliced salad (melting the sea urchin on the piece of cod was ingenious! The salad was also refreshing. Took a bite of the beef and it was coated with tasty crunchy flakes -- not a beef person here).
Main course:
Assorted sushi and red soy bean miso soup (Sushi was great but was really surprised by the sweet tasting miso soup which is something you don't get from Japanese restaurants here everyday. They used the red miso from Nagoya)
Dessert:
Green tea ice cream, fruit and Japanese jelly with soybean flour and brown syrup (the jelly was interesting and the fruit was fresh, but the green tea ice cream was substandard at best)

Nom Wah Tea Parlor - A Throwback To The Old Chinatown Days
Located on 13 Doyer Street in Manhattan's Chinatown,
Nom Wah Tea Parlor
(http://nomwah.com/) has a front entrance that does not necessarily attract the most serious dim sum eaters. It looks more like an old cafe selling traditional Chinese pastries to older Chinese patrons. "Old" is the relevant word here -- since
Nom Wah
was first opened next door on the same street in 1920, back in the days when Chinatown was nothing more than a crime ridden neighborhood filled with opium dens and gambling houses. It moved to the current location in 1968, after serving dim sums to Chinatown regulars and visitors for almost half a century.
I walked past this place at least once a month and was never interested in patronizing it, since I thought it was one of the many regular pastry shops in Chinatown. I did not know it served dim sum until I read a review about it on NY Times recently. It was a positive review so I decided to check it out.
While the exterior of the restaurant looks somewhat dilapidated, the interior reminds me of a scene in the movie "In The Mood For Love". It looks like a place where Maggie Cheung, wearing a classic qibao, and Tony Leung, donned in a black suit and a skinny tie, would go to for one of their many lunch or dinner affairs. The yellow walls, red booths and red-and-white-checked tablecloth give diners the impression that they have traveled back in time. When renovating the place last year, the new owner Wilson Tang (a man in his early 30s who took the restaurant over from his uncle) kept the decor largely unchanged to maintain a nostalgic ambiance. He did eliminate the cart-pushing service format and go with the list order format instead. Now diners can enjoy every made-to-order item fresh and steaming hot.
Prices here are reasonable and the portions are big. While every dim sum item meets the standard of seasoned dim sum eaters (save the steamed rice rolls with shrimp -- the rice rolls are too thick), my three favorite items are the egg battered fried egg rolls (wrapped in an egg-crepe and then battered which keeps it moist while it is deep-fried), the Turnip Cake with XO Sauce (the cubed size turnip cake, soft with a crunchy shell, is stir-fried with a savory XO sauce) and the steamed roast pork buns (the roast pork filling is simply heaven). If you are a sweet tooth and the four dessert items not the list do not satiate you, go for its almond cookies the size of a Krispy Kreme donut. They are stacked up on a cake stand at the tea bar decorated with Tiffany-blue shelves and padded metal stools.
Are there better dim sum places in New York? Of course there are. But will you find some place as nostalgic as this serving better than average dim sum dishes? I highly doubt you will. This is a place that tourists will find fascinating and older locals will appreciate if they want to take a trip down memory lane. Even the young ones will find it chic to eat here.

A little Tebaya's Crunchiness and Goodness in Chelsea
Located on 19th street between 6th and 7th avenue is a little shop dishing up some say the best fried chicken wings in the city. While Korean fried chicken wings are all the rage now, this Japanese joint called "Tebaya" continues to drive in hordes of loyal fans wanting its succulent and tasty fried chicken wings, Fried without batter, the wings are claimed to have been imported all the way from Nagoya, Japan (a city known for its chicken). I find that claim a little hard to believe since we can get plenty of quality and inexpensive wings sold here by Purdue and Tyson. But the chicken is so good here so I will not doubt what the owner says. The chicken is fried twice in soy oil to maintain its crunchiness on the outside and juiciness on the inside. Needless to say, this process does not make the wings to be very healthy food but it's all about the taste and enjoyment here. The fried wings are then doused in a special "Teba Sauce" to give it a unique garlic flavor. If you ask me the sauce is just made of simple ingredients like soy sauce and pepper but the chicken, especially when eaten hot, is just pure heaven. It is so good that it will even make your Japanese friends scream "Sugoi Oishii!".
Aside from fried chicken wings, Tebaya also sells items like curry, salads and sandwiches, but the main draw here are the wings.
Tebaya
144 W.19th Street
New York, New York 10011
http://www.goojapan.com/tebaya/index.htm

Haitian Comfort Food in Park Slope, New York
My dear friend Sumi came up with a great idea of doing a monthly ethnic food dining out club and I was all for it. We meet up regularly anyway but this gives us a reason to get together at least once a month. We still haven't decided on the name for our group. I proposed G.L.E.E (Group Loving Ethnic Eats) but no one seemed to have responded positively to that. Ugh whatever :)
Our first eating out spot was a popular Haitian restaurant in Park Slope called
'Kombit Bar and Restaurant'
located on 279 Flatbush Avenue in Brooklyn (http://www.kombitrestaurant.com/). The place had a very casual and homey feel. Though there was only one server working the tables, her friendliness more than made up for the slow service provided on a busy Saturday night. The dishes served here were delicious. I did not find them to be a gastronomical feat. They were more like comfort food which my body yearns for on a dreary winter night in February. We shared the Griot (crispy cubes of fried marinated pork) Tasso (lamb version) as our appetizers and many of us went with the Gumbo Shrimp as our entree choice. They were both tasty. I am a fan of plantains and each entree here comes with a side of green plantains (frankly I prefer the sweet ones) and rice. Don't forget to ask for the famous Piklis (a spicy home-made hot pepper condiment) to go with your meal and down it with Prestige, the famous Haitian beer.
The best part of the restaurant was the Chinese feng shui
bagua
mirror hanging in front of the men and women bathroom. An odd sight to behold in a Haitian restaurant but this was the third day of Chinese New Year and I was happy to see something Chinese in a Haitian restaurant. Well, this is New York after all so anything goes.
We decided that our next eating spot would be Polish food. Not protesting at all since I love myself some polish sausages!
Appetizer: Griot (crispy cubes of fried marinated pork served with fried Taro root and plantains). A plate of fried stuff!
Entree: Gumbo shrimp with some nicely cooked Okra. Plantains on the side of course.
The cooling Haitian beer.


Heaven Sent Taiwanese Style Breakfast in LA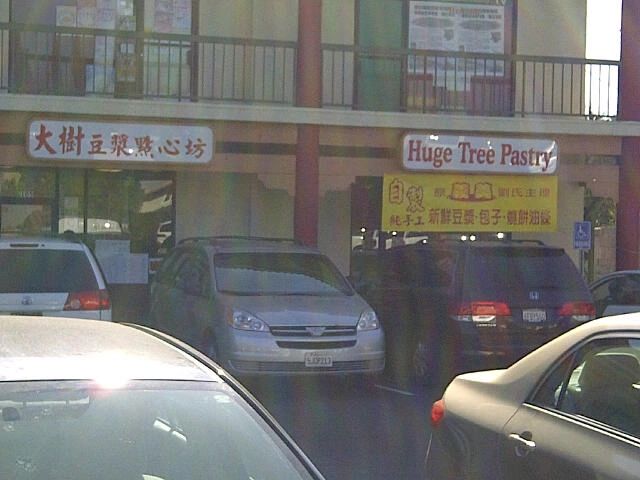 Yi Mei Pastry (義美餅家) in Monterey Park used to be my place of choice when I wanted some authentic Taiwanese style breakfast in LA. But since it closed down because its neighbor's shop caught on fire, I had been looking for another place equally good to tie me over but sadly I couldn't find any. Fortunately I was surfing on yelp.com last week and stumbled upon the news that the owner of Yi Mei Pastry had recently opened another place down the street from the original location. It bears a new name too. It's now called "Huge Tree Pastry - 大樹豆漿點心坊" located on 423 N. Atlantic Blvd #105-106 Monterey Park CA 91754.
For those who are not familiar with Taiwanese style breakfast, it is a meal consisting of soymilk and baked dough products. The soymilk can be sweet or savory, and often eaten with sticky rice roll and a series of doughy items like fried curlers, turnip roll and a tasty pastry with egg yolk filling (蟹殼黃).
I was elated to try out the new location (by the way, I didn't see any HUGE tree infront of the store). It was definitely more spacious than the old location with a few more tables for dine-in customers. It also has a toilet (there wasn't one in the old location). The menu was the same as the one in the original location and I ordered my usual items. I had a savory soymilk, a sticky rice roll with fried egg, a turnip roll and the pastry with egg yolk filling. Food came out quick here and I devoured all of it within 20 minutes. I even ordered one of the egg yolk filling pastries to go. The lady who worked there recognized me and asked me if I was sick of the snow in New York City yet. I told her if I wouldn't mind it as much if I had breakfast like this to keep me warm everyday. Unfortunately I can't even find a comparable one in NYC, even in the Taiwanese populated Flushing.
Check this place out if you like to stay your day with a heavy breakfast. You won't regret it.
Trays of freshly baked pastries and other prepackaged food greet you as you enter the shop
Savory soymilk, sticky rice roll with fried egg, turnip pastry and pasty with egg yolk filling - can I have these for breakfast every morning?

Eva - A Gem in West Hollywood


I checked out this fine dining spot with my dear friend Adele and Nicole during my recent visit to LA and loved it. Even though the food selection was limited and there were only twelve items on the menu (half of them were appetizers and the other half were entrees), the ingredients used were fresh seasonal items and the dishes were cooked to preserve and feature the freshness of these ingredients. Being hungry as always, we ordered three appetizers to start. We had Little Gem and Mustard, Organic Egg and Truffles and Pumpkin Ravioli and Winter Spice. The salad (Little Gem and Mustard) was fresh and simple. Our two favorites were the egg and the ravioli. Every bite of the ravioli was filled was a tasty and rich pumpkin filling and I tasted a hint of cinnamon in the filling. The egg was soft and I liked everything that is truffle- flavored anyway. For entrees, we all ordered the scallop dish. Three perfectly seared scallops plated with 2 carrot sticks, fried kale and cilantro -- talk about simplicity as its best. The scallops reached a state of near perfect caramelization with a crispy exterior and a tender interior.
The three appetizers we had
The scallop entree.
We finished our meal with three delectable desserts. The Butterscotch Pudding was a little too sweet for my liking (what can I say - I am Asian and we generally don't like super sweet desserts). The chocolate cake was decadent and I could never turn down chocolate. But the best was the lemon pudding cake. It was perfectly suited to my taste since it was not too sweet and I find the lemon zest refreshing.
The service provided was friendly and attentive. The dining room was small but cozy. The decor reminds you of an upscale home on the hills.
This place is pretty pricey so don't come here expecting a budget meal. But it is worth every dime you spend.
In short, this is a place for a New Yorker who is looking for fine dining restaurants like those in the Big Apple. And as one, I sure wasn't disappointed coming here.
Eva Restaurant: http://www.evarestaurantla.com/



Eating Well in Penang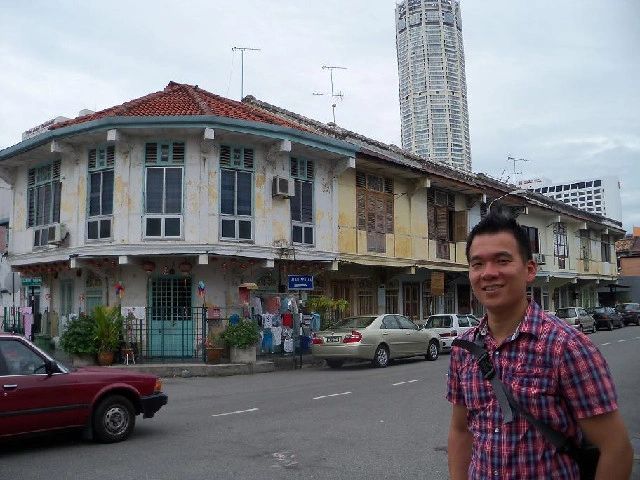 My hawker food eating adventure continued in Penang this week. Known as 'Pulau Pinang' in Malay, Penang houses one of the UNESCO's 250 world heritage sites. This Malaysian state of approximately half a million people is best known for its cultural diversity and most importantly, food. Many travel write-ups mention that Penang is the central of Malaysian food (though people who live in the Malaysian capital, Kuala Lumpur, would highly disagree). With Malaysian restaurants located as far as New York City and London bearing names like 'Penang' or 'Penang Express', there is no denying that Penang has a strong association with authentic and good Malaysian food. I wanted to find out if Penang really surpassed Kuala Lumpur as the capital of Malaysian street food so I dragged my sister Nicole along with me on a street food binge fest.
After a swift check in at the Traders Hotel, a business hotel owned by Shangri-La offering very affordable room rates (USD100 per night), we set out to conquer the street food of Georgetown, an area of the island where there is a large concentration of street food vendors or what they call here, hawkers. Like many places, I had made a list of places to hit. I also wanted to visit unknown vendors in order to discover great food without relying on the recommendation of others. Given my tight schedule, I was on the mission to find the best of these typical street food of Malaysia.. Assam Laksa, Prawn Noodles, Char Kuay Teow, Rojak, Otak-Otak and Cendol.
Like the rest of the country, there are many coffee shops which house different hawkers selling a variety of dishes. The owner of the coffee shop usually sells beverages only. Picture a room (often not air-conditioned) with ten to twelve roundtables of different sizes surrounded by food stalls. The patron will have to approach the hawker to order the food (indicate the dish you want since they sometimes sell more than one thing and the size since they often offer 3 sizes - small, medium and large), the hawker will then ask you where you sit (you usually just point to the direction of your table) and then you will pay up when the hawker delivers the food to you (at an average price of USD1-2 per bowl of noodles, the hawker food is very affordable in Penang).
Our first stop was at
Yi Yuan Coffee Shop
located on the corner of Lorong Selamat (Lorong means lane in Malay) and Jalan McAlister (Jalan means road in Malay). This coffee shop houses a vendor selling fried noodles for over 70 years now. Its famous noodle is the "Hokkien Stir-Fried Noodles" without the use of black sweet sauce, hence the dish is not brownish in color like the typical Hokkien noodles. The dish has a lot of oysters which replace the taste of the sweet sauce. It was delicious and unique. Next we wanted some fruit to help with the digestion so I suggested to get some 'Rojak', a Malaysian salad featuring fruits and vegetables like unripened mangoes, jicama, cucumber and a tar-like sweet shrimp paste with peanut bits as dressing. We went to a hawker named
Majestic Rojak
housed in a coffee shop on 14 Lorong Swatow. This hawker has been selling its famous rojak for 20 years and we were not disappointed. In fact, I even bought a few containers of the rojak sauce to bring back to NYC with me.
"Hokkien Char Oyster Mee". It's popular because unlike other typical Hokkien stir-fried (char means stir-fried), this one doesn't use black sweet sauce hence it doesn't have the dark brown color that others have.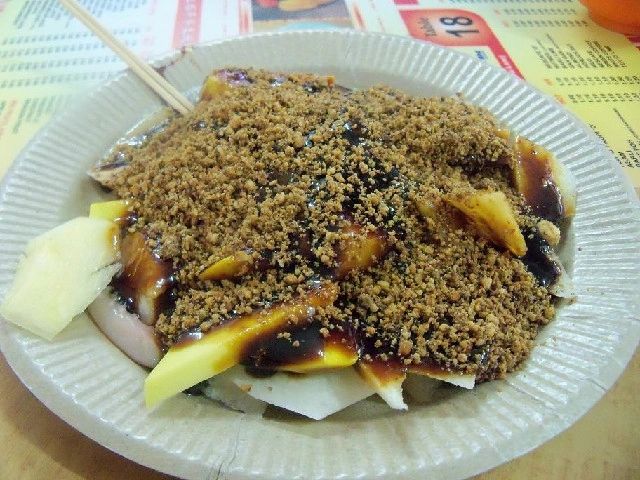 Malaysian salad called "Rojak" -- consisting of cucumbers, unripened mango slices, jicama, pineapple slices and sweet dressing sprinkled with peanut bits. The hawker called "Majestic Rojak" on 14 Lorong Swatow has been serving this dish for 20+ years, and the lady who runs the stall is hilarious.
Char Kuay Teow (fried flat rice noodles) is a must have when visiting Penang.
Low Eng Hoo Coffee Shop
on 82 Lorong Selamat dishes up some tasty ones (though the wait can be horribly long -- we waited 45 minutes for ours which is not the typical Hawker food serving speed). The wait was however worth every minute of it. The noodles were not too dry or wet, and the shrimp flavors blended well with the eggs, sprouts and chives. Some also said that this was the most expensive Char Kuay Teow vendor in town as it charges RM7 (USD 2.3) per small plate of the noodles. We stumbled upon a culinary surprise as we waited for our plate of stir-fried noodles. The lady who ran the beverage business in the coffee shop asked if we wanted to try the Otak-Otak made by her sister. There was no actual stall selling that there. We said "Why not?" and the next thing we knew we were feasting on the best Otak-Otak I had had in a while. My sister even ordered twenty to bring home to my mom.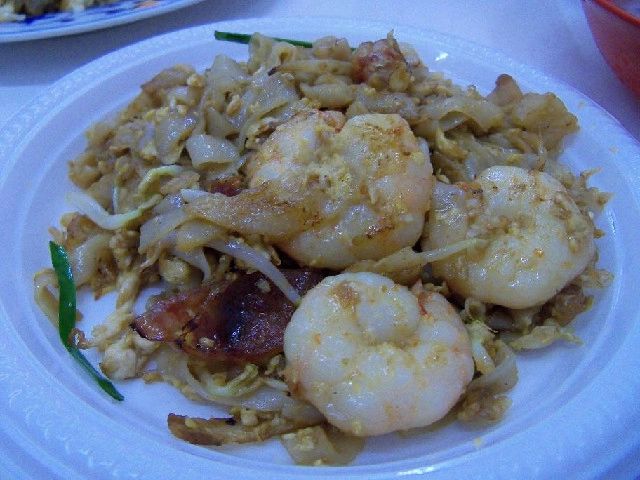 Char Keoy Teow or Stir-Fried Flat Rice Noodles (I have heard people calling this the "Malaysian Pad Thai"). Unlike Pad Thai, this is not sweet. It has a savory taste of garlic and prawns mixed with eggs, sprouts and chives -- all cooked in a seasoned soy sauce. This is probably the most popular hawker food in Penang.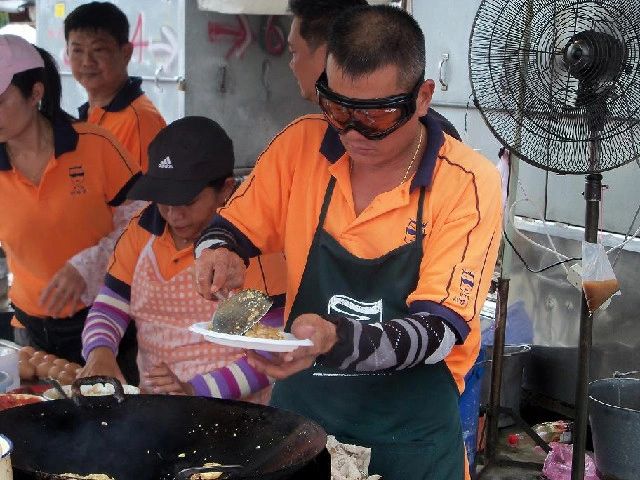 You know it's some serious shit when the cook wears a protective goggle to stir-fry his noodles.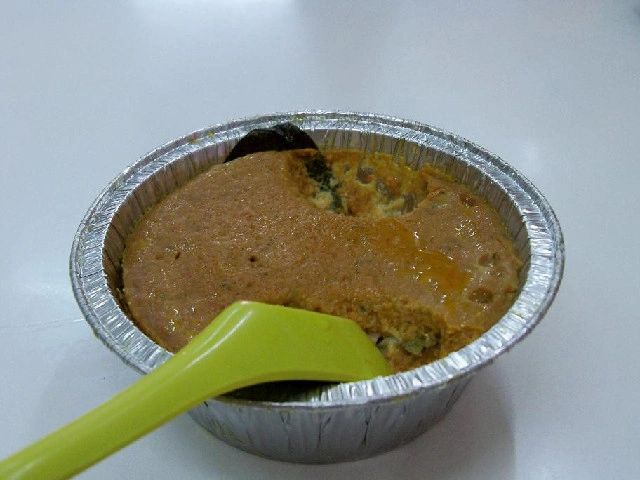 Otak-otak is a popular Baba/Nyonya dish made of fish paste, chilies, garlic, tumeric, lemon grass and coconut milk.
Assam Laksa is the signature dish of Penang and
Low Eng Hoo Coffee Shop
had the best one out of the three Assam Laksa hawker I patronized. The fish broth has a good sweet and sour balance (Penang's Assam Laksa tends to be a little sweeter in general) with the mint leaves and the pineapple bits enhancing the flavor of the Mackerel fish. Besides having a good Assam Laksa hawker, this coffee shop also houses a shaved ice vendor that has been selling its popular 'cendol' and 'ABC shaved ice' for almost 30 years. We had four bowls of 'cendol' from different hawkers and this was probably the best we tried (although we find the Malacca's version to be better). The ABC was also really good. They did like to add a scoop of ice cream to their ABCs here which made it more like an ice cream float.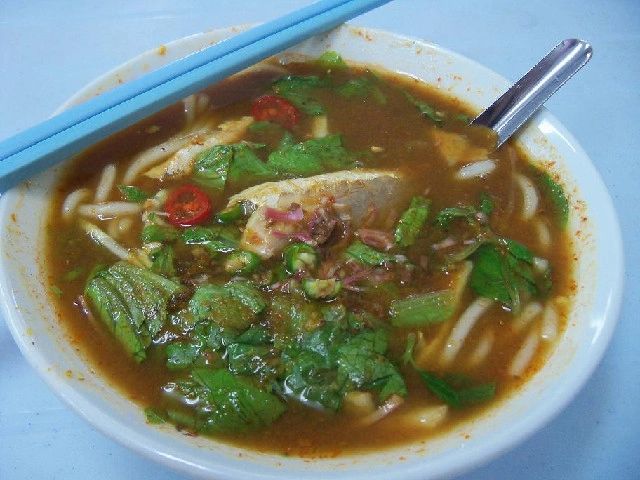 Assam Laksa - the signature dish of Penang. It is noodles in hot and sour fish broth garnished with various vegetables, including mint leaves. The noodle used here is the thicker rice vermicelli noodles. I went to three places to try this noodle soup and find that the hawker at Low Eng Hoo Coffee Shop dishes up the best one of all three.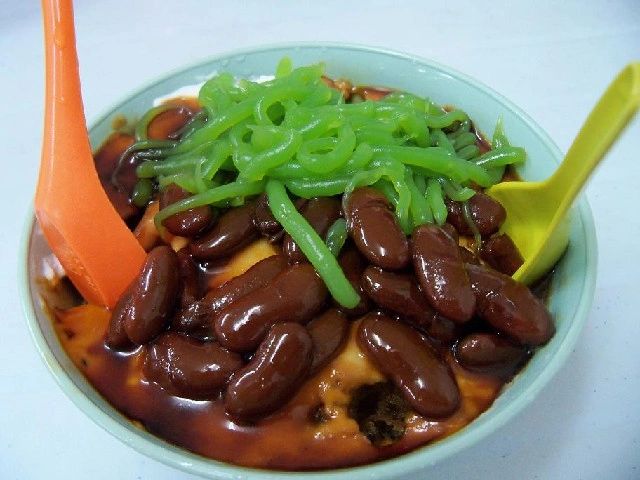 'Cendol', a shaved ice dessert consisting of coconut milk, worm-like green jelly, red bean, glass jelly and palm sugar. Another must get at Low Eng Hoo Coffee Shop. The hawker has been selling this since the 70s. But in general, I prefer the Cendol in Malacca.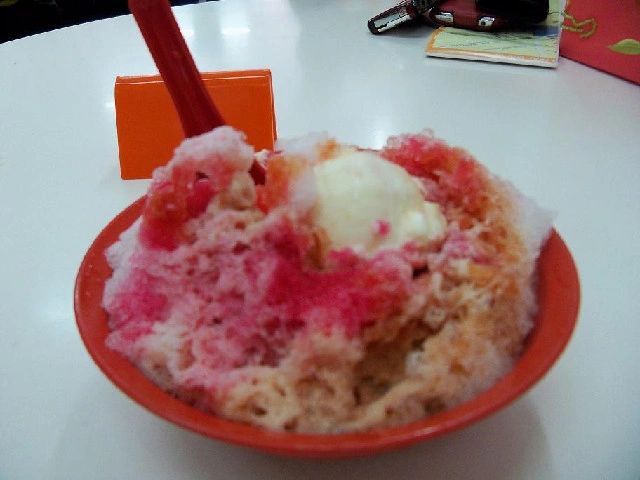 Its ABC (standard shaved ice) is also good. In Penang, they add a scoop of ice cream which makes it more like an ice-cream float.
Forget about the hawkers on Gurney Drive that sell overpriced hawker food that usually cater to foreign travelers. To eat where the locals eat, we went to
Lebuh Cecil Food Court
(Pusat Penjaja Lebuh Cecil) for lunch and
San Cafe
for dinner.
Lebuh Cecil Food Court
, located on Lebuhan Carnavan between Lebuhan Cecil and Lebuhan Harriot, houses at least 20 hawkers selling typical Penang street food under one roof. From the Nyonya kuehs to curry mee, the taste and quality of food here is top notch, and inexpensive too! I really fancied the prawn noodles (aka Hokkien noodles) and the curry noodles here. The soup for both dishes were so flavorful. I was so tempted to get a second bowl of each but my full stomach protested. This place is good to come for breakfast and lunch.

Lebuh Cecil food court has at least 20 plus vendors selling all Penang's popular street foods. This is where the locals come to eat. The other side of this space houses a wet market.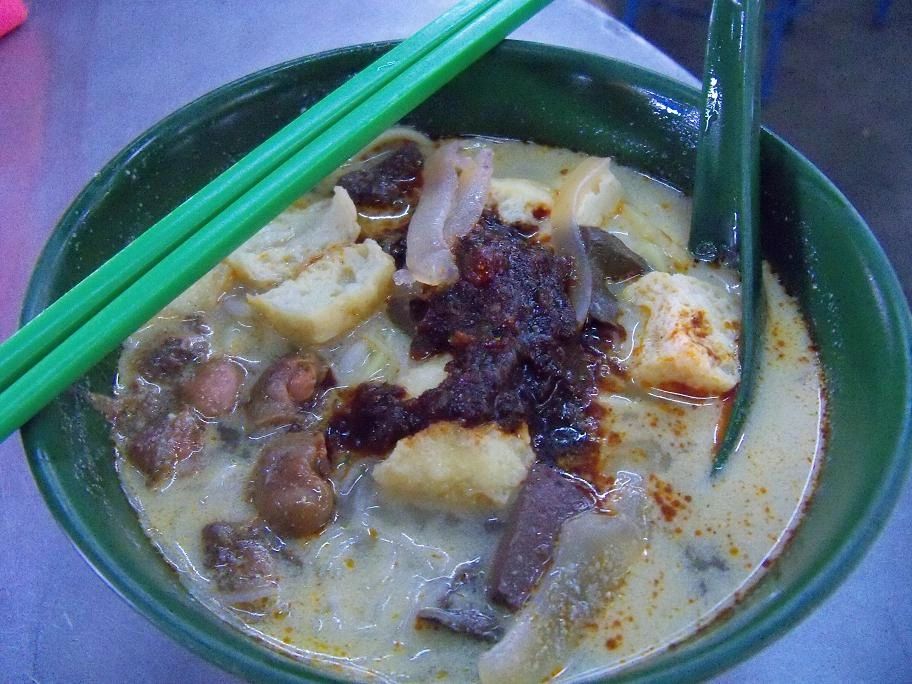 This curry noodles was also to die for. When first served, it looks white on top because of the coconut milk mixed in the soup. Now this is the real "White Curry" (take that Restaurant Hot Bowl Nyonya Delights!).
This is the best Hokkien Prawn Noodles I had in Penang. The soup was just bursting with rich shrimp flavors.
Unlike
Lebuh Cecil Food Court
,
San Cafe
features its hawkers out in the open. I didn't like every dish sold here but the belacan fried chicken, the 'chee cheong fun' and the 'lobak' were good (especially the belacan fried chicken -- it wasn't something I had tasted before). The place only opens for dinner and stays open until midnight or so.
This is what you must try at
San Cafe
. The famous belacan (shrimp paste) fried chicken.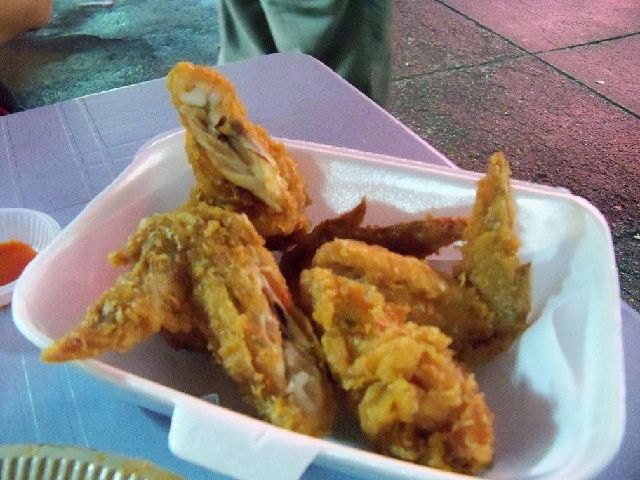 The skin is crispy and the batter has a light belacan seasoning. It was delicious.
The "White Curry" touted by
Restaurant Hot Bowl Nyonya Delights
on 16A Lorong Abu Siti was a load of crap. It was actually a bowl of Thai's Tom Kha (coconut milk) soup. It did not have any curry elements in it. For those in need of a cooling down from the heat and humidity, there is a fresh coconut vendor down the street from the restaurant. Here you can coconut with juice that is sweet or sour.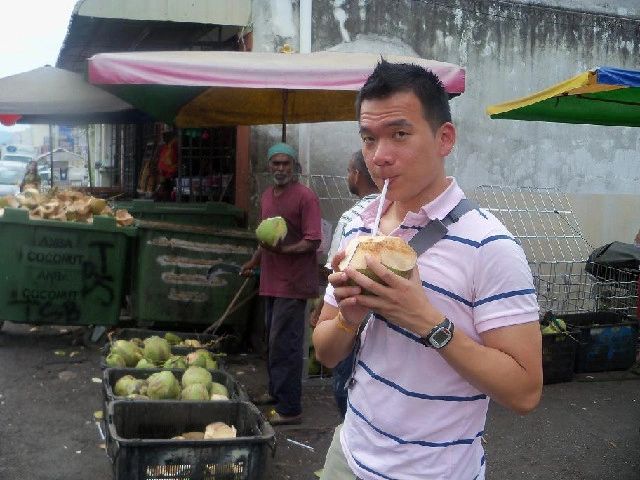 Ah, refreshing and sweet coconut water!
We also ate things like 'Ban Chang Kuih', Nyonya kuihs and 'Apom Balik' from hawkers located on the street and they were all good. One 'Apom Balik' hawker, who was recently featured on some TV food show, left us with a really bad impression since he refused to sell us 5 'Apom Balik's saying that the minimum order they took was 20. That is the problem with food shows sometimes. They tend to ruin the modesty and sometimes, quality, of an eating place (not like we had a chance to try the food there but I am sure it was substandard - sour grapes' talk here). In this case, we went to the hawker next to it and got what I am sure was equally tasty 'apom balik'.
I loved eating these "ban chang kueh" growng up. Often with peanuts as its filling, it comes in two varieties (hearty thick or crispy thin). Both are like pancakes.
Mr Chooi cooking his "Apom Balik".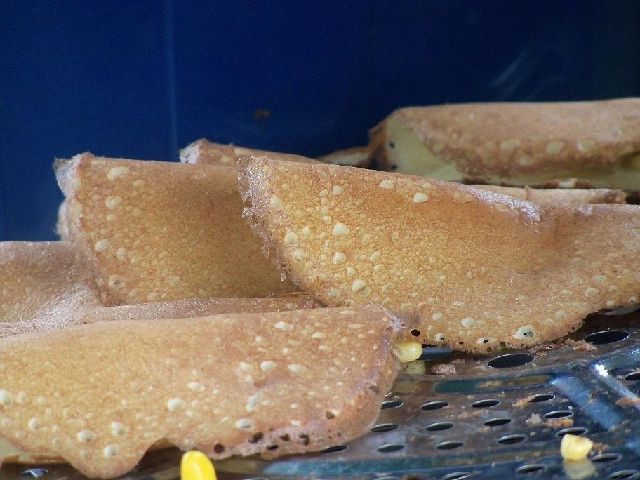 "Apom Balik" is like a light fluffly pancake which has slices of banana and some sweet corn in it. I think it's good but nothing spectacular.
Unlike Malacca, where I had only a semi-good eating experience, my experience of eating in Penang was great. The hawker food here is not only inexpensive, it is also very tasty. Now I can finally understand why Irene, my childhood friend who spent her childhood in Penang and now lives in Connecticut, misses the food in Penang so much (I got her a couple jars of those tasty rojak sauce to remind her of childhood home). To me, Penang serves up a few authentic hawker food that are emblematic of Malaysian food. The capital Kuala Lumpur still has a greater variety of Malaysian food. So in terms of being the universe of Malaysian food, Kuala Lumpur still reigns supreme.
For more pictures of food in Penang, go to
http://www.kodakgallery.com/gallery/creativeapps/slideShow/Main.jsp?albumId=411991244903&ownerId=83685447203

Semi Good Eating Experience in Malacca City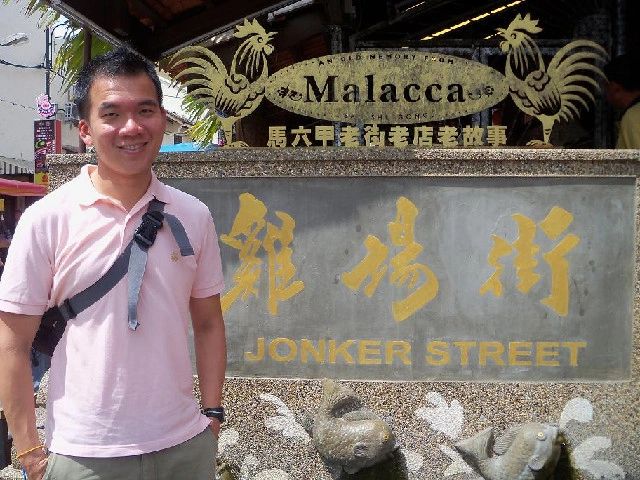 The holiday season is all about gaining weight so I continued my mission to do so by heading to Malacca City in hopes for a day of good eating. Malacca City, a UNESCO world heritage site since 2008, was ruled by many sultans and colonized by the once powerhouses of Europe like Portugal, The Netherlands and England until Malaysia gained her independence 53 years ago. As a result of this, the city enjoys a rich culinary history and hence serves up some pretty tasty food especially the 'Peranakan' cuisine, also commonly known as 'Nyonya-Baba' cuisine, which is a mixture of Chinese, Portuguese, Dutch, Indian, British and Malay cooking. The dishes are mostly spicy in nature. 'Nyonyas' and 'Babas' are Chinese men or women who came from China to trade in Malacca and ended up marrying the Malays there. A lot of them look Chinese but don't speak the language. Instead they speak fluent Malay. Aside from the 'Nyonyas' and 'Babas', you will find a small population of Portuguese people in Malacca. They are the descendants of the Portuguese colonists from the 16th and 17th century. Calling themselves as 'Kristang' (an old slang sounding like "Christian"), they still practice many of the ancient traditions that were passed down to them since the colonization days. They also contributed to the rich culinary cuisine that visitors can find in Malacca today.
A good place to start eating is Jonker Street. The street is lined with many restaurants and street vendors selling food popular in Malacca, like Chicken Rice Balls, "Otak-Otak" and "Cendol". Unfortunately, my eating adventure did not start out with a bang. The Chicken Rice Balls I had at
Famosa Restaurant
, while tasty, came with substandard meat dish accompaniments. The Cendol I got from the shaved ice street vendor at
Jonker 88
(which had a line that was half a block long) lacked the aroma of the coconut milk and palm sugar. The two saving graces were the "Otak-Otak" I had from a street vendor a few blocks away from
Jonker 88
and the Pineapple Tarts at
Pooh Keon Enterprise
on the same street. The fish paste wrapped in the banana leaves had a good flavor and was grilled, at the risk of sounding cliche, to perfection. The pineapple tarts reminded me so much of the ones I had during Chinese New Year when I was a kid. The hearty pineapple jam sitting on top of a buttery, melt-in-your-mouth shell. I could finish the entire box easily but had to refrain myself to save space for other food.
Chicken Rice Ball at Famosa Restaurant. It's essentially Hainanese chicken rice rolled into the shape of a ping pong ball. The rice is flavored with chicken broth. Back in the old days, the field workers would roll their rice into a ball so that the heat would stay longer as they worked in the fields. Now it's eaten more as a novelty by the Chinese visitors to Malacca. While the rice was savory and delicious, I cannot say the same for the meat dish accompaniments (roast duck/pork and BBQ pork). Even Big Wong in NY does it much better than Famosa Restaurant.
Kedai Kopi Chung Wah
serves the best Chicken Rice Ball, as evident by the long line formed next to the restaurant.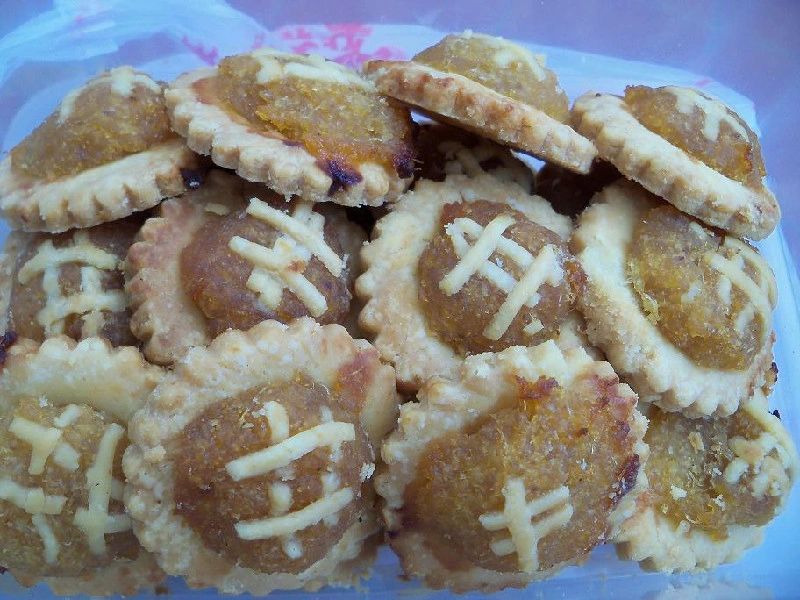 Pineapple tarts from
Pooh Keon Enterprise
on Jonker Street. The hearty pineapple jam sitting on top of a buttery, melt-in-your-mouth shell. This is heaven!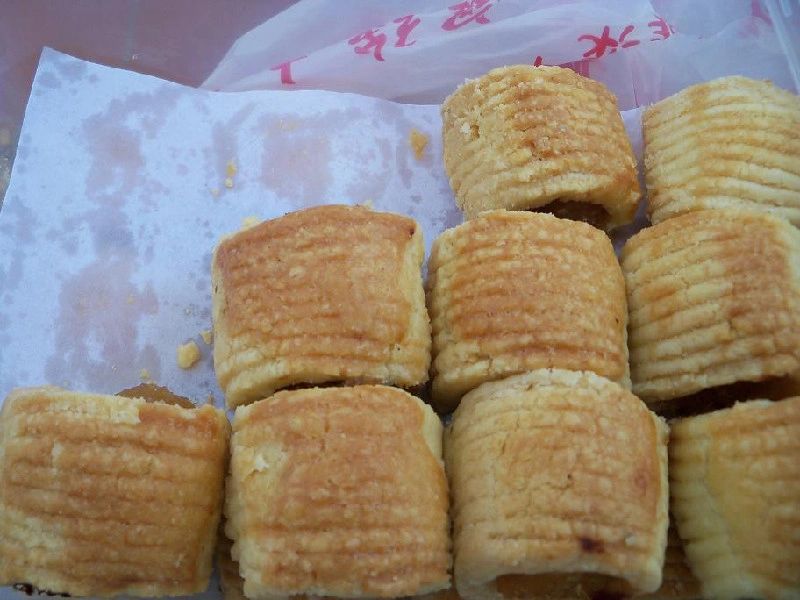 These ones were shaped more like a pineapple with the fillings inside. The buttery taste of the shell actually overpowered the taste of the pineapple fillings. Still they were good. This is how really pineapple tarts/shortcake should be made, my fellow Taiwanese friends!
My luck of getting good food took a positive turn after I left Jonker street. First I went to
Donald and Lily's
in the neighborhood for another bowl of "Cendol". This one surely did not disappoint. The aroma of the coconut milk blended well with the aroma and sweetness of the palm sugar, the soft jelly and red bean and the finely shaved ice. Then a quick visit to the Portuguese Village to give time for my body to digest all the food I had eaten before heading to
Cottage Spices
(171, Taman Melaka Raya
)
for an early dinner. With simple decors,
Cottage Spices
does not look like a typical Nyonya/Baba restaurant in Malacca (the typical ones are usually decked out with a bunch of Baba/Nyonyas paraphernalias).
Cottage Spices
had a few dishes that didn't disappoint. They include the "Otak-Otak" and "Kangkung Belacan".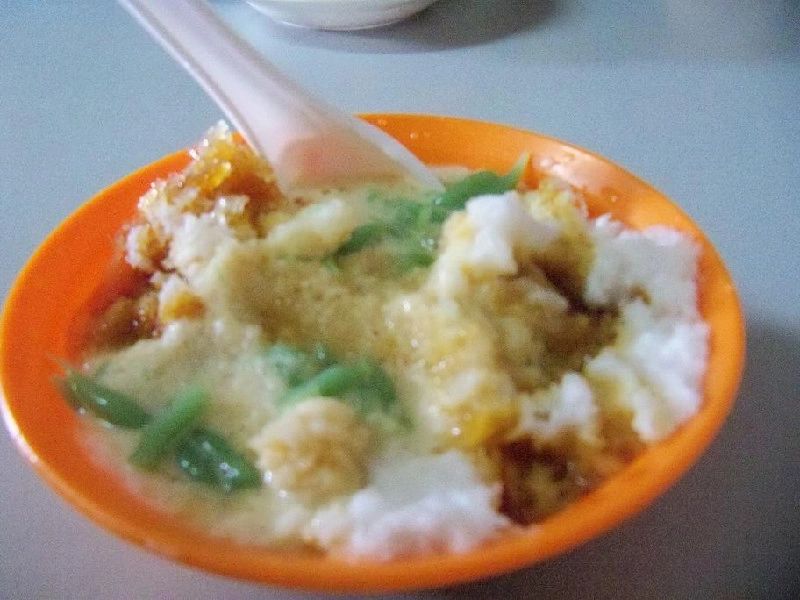 The cendol at
Donald and Lily's,
a much tastier one compared to the one sold by the vendor at
Jonker 88
.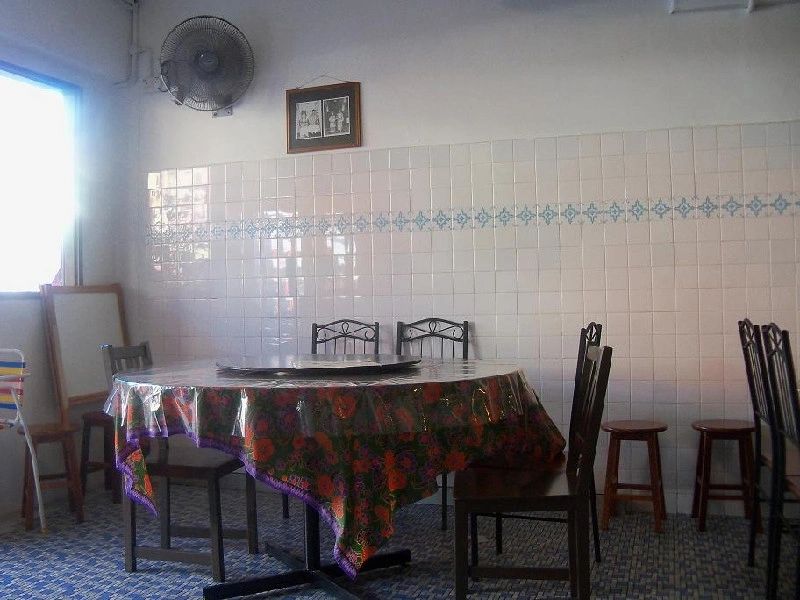 The dining area of
Cottage Spices.
The otak-otak dish served here was amazing. It is a dish made of fish paste, chilies, garlic, tumeric, lemon grass and coconut milk. Wrapped in banana leaves, it is first softened by steaming, then grilled or further steamed.
Chicken Pongteh, a popular Nyonya/Baba dish. It is cooked with preserved soy beans, dark soy sauce, sugar and other ingredients. This slightly sweet, chili-free dish is a hit with kids and made daily in some Nyonya households. I think is is an average dish only.
So what's my verdict of the food in Malacca? Well there is nothing here that you cannot find in Kuala Lumpur, the capital of Malaysia. It is worth a trip if you want to combine your eating with some sightseeing since Malacca has many unique and beautiful colonial buildings. The city is after all one of the 250 UNESCO world heritage sites. However, it is not worth coming down here just for the food, unless you really want authentic Nyonya/Baba cuisine.
A unique house I passed by featuring two door gods. They are usually placed on each side of an entry to a temple, house, business establishment to protect the premise from evil spirits.
For more pictures of food in Malacca, go to
http://www.kodakgallery.com/gallery/creativeapps/slideShow/Main.jsp?albumId=370244244903&ownerId=83685447203

Street Eats in Bangkok
Bangkok is known for its street food. Somehow, patrons who sit on the side of the street in close proximity to traffic manage to ignore the constant carbon monoxide emissions and savor their food like they are at some Michelin guide restaurants. The patrons can be inches away from a line of cars waiting to turn at a narrow junction, but they don't seem to mind this risk a bit. To these eager street diners, the quest for some fresh and inexpensive seafood is worth the risk of getting run over by a car. While this road side dining set up is illegal in the States, it is not in Bangkok, especially the Chinatown section of Bangkok.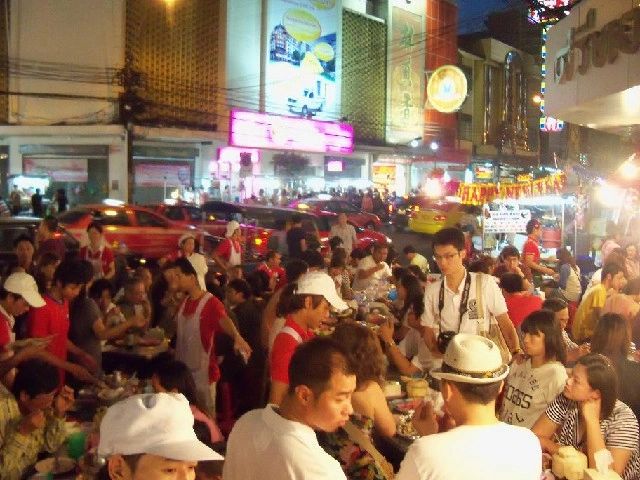 Busy dining corners on Yaowarat Road in Chinatown.
Diners are drawn to fresh and inexpensive seafood cooked on the street corners like this one.
Chinatown is also known for its shark fins soup and bird's nest soup -- both highly regarded delicacies in the Cantonese cuisine. Much to the disapproval of my PETA and environmentally conscious friends, tourists (especially those from Hong Kong) flock here to eat these delicacies. There are many restaurants here with signs touting these items. For the sake of research, I ordered a tiny little bowl of shark fins soup but I am sure at the price of USD10 a bowl, this was cellophane noodles and not actual shark fins (so please hold the hate emails, my PETA friends).
Nam Sing, one of the many restaurants (but a popular one) serving bird's nest and shark fins products.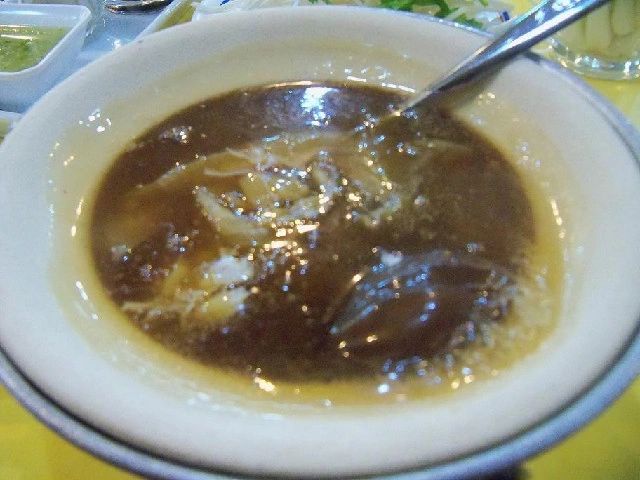 The shark fins soup came in a thick brown broth.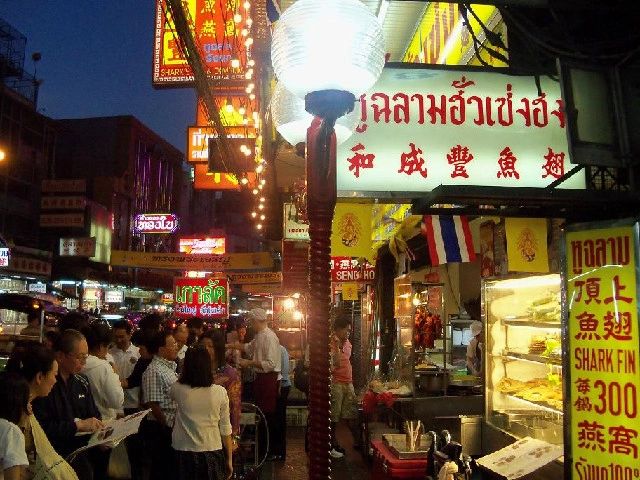 Another famous restaurant on Yaowarat Road specializing in bird's nest and shark fins products.
Still feeling hungry, I hit up these street vendors for more food.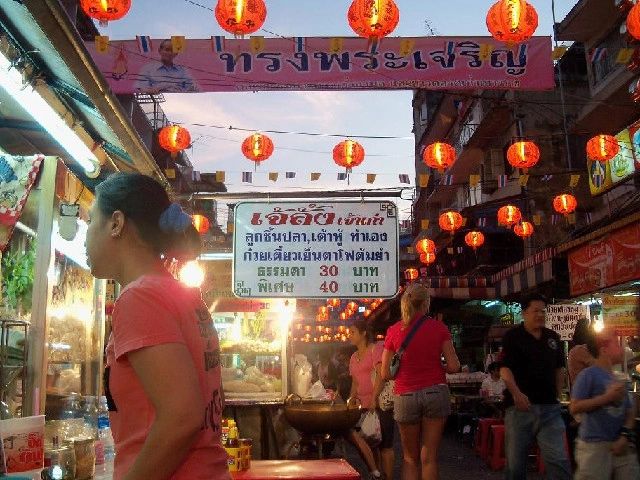 I think the lanterns are a little tacky.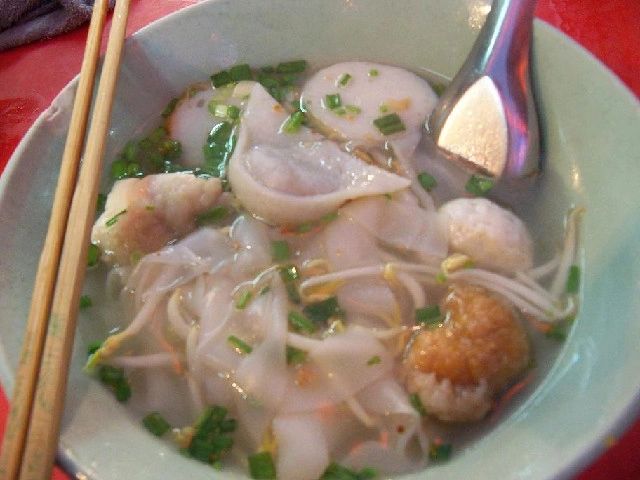 Dumpling, fish balls, tofu, bean sprouts and wide noodles swimming in a clear and tasty broth - a tasty simplicity!
Hoi Jaw